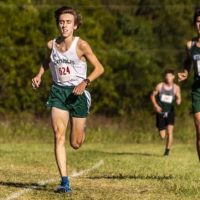 By Dana Harding (For OzarksSportsZone.com)
Springfield, Mo. — Tuesday's Irish Invitational cross country meet featured temperatures in the low 70s, with just enough of a breeze to make for a pleasant outing for spectators.
138 runners from 18 schools took on a wide-open course set atop the Springfield Underground complex.
Boys Race
In the boys race, Springfield Catholic's Jack DelVecchio displayed a patient strategy and strong finishing kick to take the victory in 17:00.58 and become the first Irish runner to win the event since Stephen Kielhofner in 2017.
"Starting with the gun, I just wanted to hold a steady pace the whole time," DelVecchio said. "I didn't want to start off too strong and then die out, so I just held a steady pace, and then it all kind of panned out how I wanted it to."
DelVecchio and Mt. Vernon's Tristan Gaddis trailed Neosho's Kaden Cole throughout the first half of the course.
CLICK HERE FOR PHOTOS OF THE BOYS RACE
On the long, quarter-mile straightaway leading into the second loop, the Catholic senior surged into the lead and began putting distance between his competitors.
"Right after I finished the first lap, I was kind of drafting going into the wind," DelVecchio said. "And then, I just figured that it was time to make the move, because I heard some people coming up behind me. I just wanted to gain some space at that moment and try to gain a substantial lead that would be hard for people to catch."
Gaddis finished in second place with a time of 17:08.32, while Cole was third in 17:31.69.
College Heights Christian's Caleb Wicklund was the first small-school runner to cross the tape. The junior's time of 17:44.14 was also good enough for fourth place overall.
The team titles were won by Strafford and Bolivar.
One of only two Class 1 and 2 schools to field a full team, the Indians scored a perfect 15 to best second-place Hermitage (41) in the small school competition.
In the Class 3 and 4 competition, Bolivar's bunch approach paid off in spades, with all five runners placing in the top ten for a score of 30. Neosho was second with a score of 72.
Top 15 Boys
1. 17:00.58 – Jack DelVecchio, Springfield Catholic
2. 17:08.32 – Tristan Gaddis, Mt. Vernon
3. 17:31.69 – Kaden Cole, Neosho
4. 17:44.14 – Caleb Wicklund, College Heights Christian
5. 17:51.72 – Cale Thiessen, Bolivar
6. 17:52.15 – Blake Goodman, Bolivar
7. 17:52.51 – Hunter Davis, Bolivar
8. 17:52.97 – Tanner White, Bolivar
9. 17:53.27 – Peter Bowling, Bolivar
10. 17:53.58 – Ethan Billingslea, Bolivar
11. 17:53.81 – Will McCracken, Bolivar
12. 17:57.08 – Logan Carnes, Carl Junction
13. 18:09.46 – Cooper Hayes, Neosho
14. 18:12.58 – Dylan Higgins, Carl Junction
15. 18:26.42 – Anthony Mancuso, Springfield Catholic
Top Two Boys Teams Class 1-2
1. 15 – Strafford
2. 41 – Hermitage
Top Three Boys Teams Class 3-4
1. 30 – Bolivar
2. 72 – Neosho
3. 75 – Carl Junction
Girls Race
In the girls race, Nevada's Calli Beshore made up for lost time in a big way, taking the lead early and cruising to a 20:21.99 first-place finish.
Beshore missed last season's race as a junior due to an injury.
"I tweaked my hamstring at a meet before this," Beshore said. "Everyone else ran, but I didn't get to."
While the Lady Tiger senior, once again, entered the event feeling the effects of hard racing over the weekend — Nevada participated in the University of Arkansas Chile Pepper XC Festival — Beshore was determined to power through.
CLICK HERE FOR PHOTOS OF THE GIRLS RACE
"I'm still a little sore from Chile Pepper on Saturday, but I felt pretty good during it," Beshore said. "I just want to go out, push as hard as I can and give it my all."
Beshore crossed the first mile with a sizeable lead on her nearest competitors, Carl Junction's Alanza Montez and Hillcrest's Rebecca Loya.
Loya closed on the second lap, but was unable to challenge for the lead, finishing in second with a time of 20:30.98. Montez finished in 20:45.98 for third.
In the Class 3 and 4 competition, Carl Junction placed all five runners in the top ten to take first place honors with 32 points. Nevada finished second with 59.
As the only Class 1 and 2 school to field a full squad, Strafford easily won the small-school title.
Top 15 Girls
1. 20:21.99 – Calli Beshore, Nevada
2. 20:30.98 – Rebecca Loya, Hillcrest
3. 20:45.98 – Alanza Montez, Carl Junction
4. 21:18.71 – Grace Bishop, College Heights Christian
5. 21:24.79 – Anna Burson, Springfield Catholic
6. 21:36.24 – Allie Rains, Nevada
7. 21:38.85 – Mayson Montez, Carl Junction
8. 22:07.02 – Avery Morris, Nevada
9. 22:09.50 – Hannah Franks, Carl Junction
10. 22:10.21 – Abbey Goebel, Carl Junction
11. 22:28.76 – Reagan Smith, Marshfield
12. 22:33.16 – Kaitlynn Franks, Carl Junction
13. 22:47.84 – Jayden Adams, Neosho
14. 22:55.51 – Riley Briggs, Carl Junction
15. 23:06.54 – Abigail Lampke, Bolivar
Top Girls Team Class 1-2
1. 15 – Strafford
Top Three Girls Teams Class 3-4
1. 32 – Carl Junction
2. 59 – Nevada
3. 70 – Bolivar