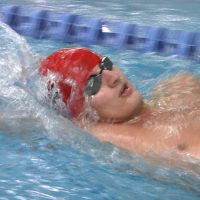 There are a couple things people already know about Central swimmer Joe Tetlow —
"He's really good at breast stroke," Central swim coach Wendy Shepard said.
"Oh he's a really good breast stroker, his 100 breast is good. He might win state," said Logan-Rogersville swimmer Drew Atwood.
Joe is coming off a fourth place state finish in the 100-yard breast stroke last year. While his arms and legs propel him through the water, the gears in his brain are constantly working too.
"I mean he goes to Central, so he's a smart dude. He's in the IB program. It basically means you're really smart," Atwood said.
"He's very shy about his intelligence, but we all know better," said Shepard.
So as he prepares for his final season at Central, he's also focusing on the future of the program.
"I think the biggest role that I have on the team is to keep the size of our team," Joe Tetlow said. "The better experience I make for the younger people and the freshman, the bigger of a team we'll be in the future."
"To be 17-18 years old and to be able to see that and execute that is definitely a kudos to him," said Shepard.
And while he wants to make the swim team stronger, he's also thinking about what's next for himself.
"I'm looking to go to Mizzou, I know they have a good journalism program there. It'd be cool to do sports. I've always wanted to be an executive for a basketball team, but that's a really selective job," Tetlow said.
Those that know Joe believe he'll be successful no matter what he does.
"I think no matter what he wants to do, he will do it. It may be a little tougher than he's expecting, but he's going to perservere and make it through," Shepard said.