BRANSON — In just two years, Branson's Priscilla Williams has created must-watch basketball wherever the Pirates play.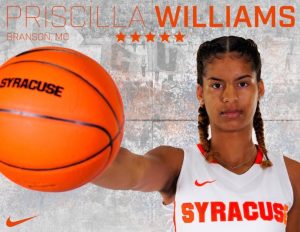 Starting next year, Ozarks fans will have to continue watching her on tv.  Priscilla announcing on Twitter she's giving her verbal commitment to Syracuse.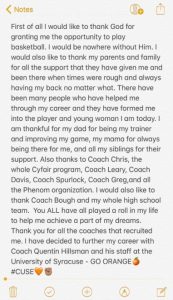 When Williams' family moved to the Ozarks at the end of her freshman year, she already had one, official offer.  The University of Houston offered her a scholarship out of eighth grade.
Heading into her senior year, ESPN has Priscilla ranked as the 11th best Class of 2020 female basketball player in the nation and the third best guard.
Last winter, Williams reached the 1,000-point plateau at Branson midway through the season.
Priscilla played in only 15-games her sophomore year.  She averaged 31.7 points per game and 12.6 rebounds per game.  Williams left the team and school midway through her sophomore year for a disciplinary incident.
Priscilla returned to school for the 2018-19 season and regained her eligibility.  Over Williams' junior year, the 6'3″ guard averaged 27.8 points-per-game and 10.1 rebounds-per-game.