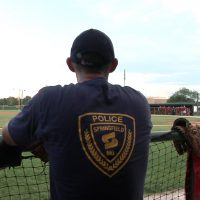 National Night Out was created as an opportunity for local law enforcement to connect with their community in a fun environment. On this day in Springfield, its become a tradition for the police department and fire department to face off in a softball game.
"It's always good to get out here and compete with them, of course we work with them day in and day out, so it's nice to get out here and have a little fun," said Major Greg Higdon with the Springfield Police Department.
The first two years, the police department has won.
"Well of course, of course we want to win – again. But you never know," Higdon said.
This year it was anyone's ballgame.
"Look at these guys. We're really confident," said Joel Grieshaber, a rescue specialist for Springfield Fire Department.
But this games isn't really about who wins or loses. It's about bringing the community together.
"I just came out to support them and watch. I work with all of them on a day to day basis, so I'm just out here supporting," said Mercy Hospital EMT Hailey Seaton.
The police department won 22-8, for its third straight win on National Night Out.