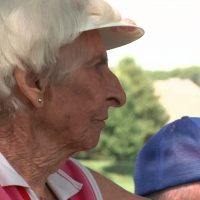 90-year-old Rose Fellin has spent her fair share of time on the golf course, but that's not where she got to know the Springfield golf legend Payne Stewart. Rose worked at a bank with Payne's mom, and got to know him pretty well. 
"I knew him from the time he was born until he died," Fellin said.
Rose and Payne Stewart were close enough that he brought her back a gift from a tournament: a caddie seat that she carries with her at the Price Cutter Charity Championship. 
"See if you're on the golf course and it starts to rain, you just take your seat that you've been carrying, and you push it down like this you've got an umbrella," said Fellin.
She's had some fond memories of her own on the golf course. 
"I have a couple hole in one ash trays. It's all luck," Fellin said.
But nothing compares to her gift from Payne.