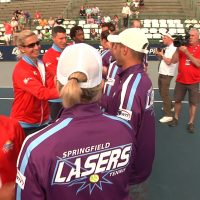 "Last year's team was so much fun. Two days into this one and it's been a great one already," said Missouri State Tennis coach Mallory Weber. She and former Southwest Baptist Tennis player Sherif Abohabaga are alternates for the Springfield Lasers.
"College tennis is way different than playing with the pros, but it's a great experience being here in Springfield with the Lasers," said Abohabaga.
Both were alternates last season when the Lasers won the World Tennis Championship.
"You know we got the Championship shirts and hats and everything, but the experience is bigger than anything else we could get. Just to see them train and be that close, it's amazing, and they're the nicest people," Weber said.
And they're happy to be back with the team again this season.
"In the beginning I was a little nervous to step on the court," Abohabaga said. "They don't give you the feeling that they're cocky. They give you the feeling that they're way better than we are, and they are way better than us, but it's just a great experience for me, and I'm happy to be here again this season."