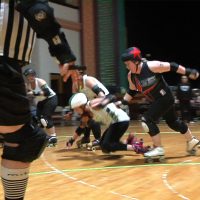 Roller Derby is intense.
"Roller Derby is a full contact sport that's like football, meets rugby, on skates without a ball," said Springfield All-Star Tristan Colvard.
"It is an adrenaline packed, hour-long, fight for your life,"  said All-Star Furious Black
But for the Springfield All-Stars, roller derby is more than just a sport.
"It's just this addiction. Once you start you don't want to stop," said All-Star Flodacious. "It's just like a high, it's absolutely a high I cannot shake."
To some it doesn't make sense.
"How does it work? I'm still confused. What does the one with the stripes do? Now is the jammer the one with the star? We get lots of questions," Colvard said.
"A lot of people think it's staged," said Flodacious.
But despite some common misunderstanding, the goal isn't just to hit people.
"I'm a blocker, so I'm going to try my hardest not to let somebody go by at all costs, whether I get beat up or they get beat up," Flodacious said. "We keep the opposing jammer from going through to score points, all while trying to help our jammer get out to score points."
Whether fans understand the game or not, close to a thousand show up to the Shrine Mosque for free admission at every game.
"And the roar of the crowd when you do something pretty awesome, the adrenaline just goes over you, it's hard to explain until you're there and it's happening, and it's you and your team," said Flodacious.
"It's really exciting to see kids with their autograph books say, 'that was really cool,'" Colvard said.
The crowd's cheers, used as fuel for the team's addiction to the sport that has given them so much.
"It showed me at a time in my life that I didn't think I was worthy and valuable, that I am," said Colvard.
For some of the team, Roller Derby is simply a part of their lives.
"I don't know, it's my passion. People really want me to shut up about it a lot," Colvard said.
"I almost quit once, and my grandson said, 'I like to watch you play roller derby,' so I was like, oh gosh, okay. I'll roll out of bed every day in pain for the next few years and do it," Flodacious said.