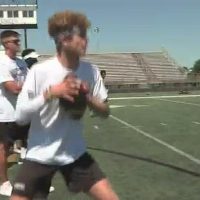 Kickapoo's Cross Elmquist took over as QB1 his junior year.
"Last year he was kind of a pocket guy, we didn't want to run him a whole lot and overload him on things he had to learn," said Chiefs head coach Nate Thomas.
And in preparation for the season, Elmquist knew he had to do more than just show up to summer practices, so he signed up for the Manning Passing Academy and spent a week learning from the best down in Louisiana.
"Just knowing that I needed to run an offense that I've never been a part of," said Elmquist.
"I was mind blown just walking into the camp. Just seeing 1,100 kids follow you in that you've never seen before," Elmquist said.
Cross didn't know it, but he wasn't the only kid from the Ozarks working on his spiral.
"We were just meeting everyone and I was like, where are you from? And he was like, Nixa. I'm like, Missouri? Are you kidding me? So, that's how that started and we've been friends ever since," said Elmquist.
Nixa quarterback Reid Potts was there for his second year, honing his skills.
"I'd say quickness with my release and my drop. They emphasize that a lot, you have to get it out fast," Potts said.
"Trevor Lawrence and the quarterbacks from Alabama and Clemson, just knowing they're coming," said Elmquist. "Learning from Division-1 quarterbacks and using what they use and SEC-type games and use it here at class 6 schools."
Elmquist and Potts hope to learn even more at this year's camp later in the week.
"I'm just going to take what I learned from last year and apply it this week," said Elmquist.
"You can always be better, you can always be faster," said Potts.