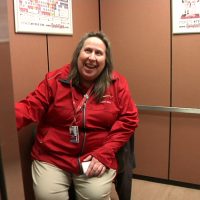 Springfield Cardinal baseball is back, and so is Mary Sunderman.
"Yay! It's back! We got it back, yes!" Mary said.
15 years ago, Mary was offered a position.
"Elevator, sure. I'll work in the elevator," said Mary.
And after a long off season it's time for Mary to step back into her favorite role.
"This is believe it or not, this is my dream job. I wouldn't want to be anywhere else," Mary said.
Whenever you step into Mary's elevator, you're always greeted with a happy hello. Whether it's friendly conversation, or a joke, or an empty elevator dance party, Mary knows how to have fun. And with this many seasons under her belt, Mary has become a fan favorite.
"It's very humbling, people are like hey Mary, how are you doing? I'm like, go Cardinals," said Mary. "To me they're all family. I may not know their names, but I know their faces and it's so much fun to see them even outside of the stadium."
Mary greets familiar faces with open arms; whether it's opening day or not.
"I get a lot of hugs, yeah, I get a lot of hugs throughout the season," said Mary, "They're family. When you've been here for 15 years, they've just become well, like you said, family."
Heading into her 15th season, Mary hopes for at least 15 more.
"I'd be lost without this job. I just love it. I can't tell you that enough. It just makes me smile, said Mary. "I love coming here, I love seeing everybody. there's just no place like home."
There's no question, the ballpark feels a little more like home with Mary around.