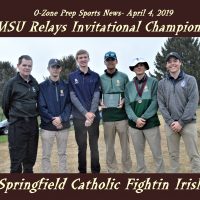 By Don Eskins (For OzarksSportsZone.com)
25 teams competing in three different classes showed up at the Bill and Payne Stewart Golf Course in Springfield on Thursday to battle for this year's 2019 MSU Relays Invitational Golf Tournament title.
This year the overall title would go to the Springfield Catholic Fightin Irish. The Irish, who also hailed as Class 3 champions, posted a 310 for their day's work which was four strokes better than Class 4 winner Glendale who came in at 314.
Laying claim to the Class 1 & 2 title were the Willow Springs Bears. The Bears registered a 333 to top the Greenwood Blue Jays who slid past the Fair Grove Eagles 364-365 for the runner-up spot.
The Irish also claimed this year's overall individual title, at the MSU Relay sweepstakes, as junior Walker Tynes defeated Lebanon's Cooper Hess on the first hole of a sudden death playoff. Both Tynes and Hess had finished regulation play carding identical 73's, top overall scores for the tourney.
CLICK HERE FOR PHOTOS OF THE TOURNAMENT
Tynes got some unexpected help when Hess pushed his drive out of bounds as the playoff got underway.
"I fought my swing all day," said Hess. "When I teed off I got behind the ball and hit a big draw out of bounds."
"I was laying three on the backside of the green and was trying to decide to chip or putt," said Tynes. "I putted but came up about twelve feet short. Cooper had made a great chip off the front of the green but had come up two or three feet short. I knew that I'd have to make the putt to win the hole and the tournament- and I did."
Claiming the Class 1&2 individual championship was Presten Richardson. Richardson edged out Greenwood's John Sharp who shot a 79 and Willow Springs' Brandon Marcak who registered an 80 for top honors in his division.
After dropping Monday's SPS tournament title to Glendale, 323-328, the Irish were happy to make a trip to the winner's circle.
"Getting the team win today felt great," said Tynes. "We all played well down the stretch, something we're going to have to continue to do if we are to get where we want to go this year."
"We started out on the back nine today and had a pretty rough start. The trees especially seemed to get in the way," said Irish coach Don East. "But when they crossed over to the front side things began to really pick up. We had one kid shoot even and another under so the kids really turned things around for us. I'm really proud of them. They didn't give up, they just kept playing and good things happened."
Although coming up on the short end of the scoreboard with Catholic this time the Glendale Falcons did manage to win the Class 4 division of the MSU Relays. A feat that head coach Chris Obert says shows that his kids are moving in the right direction.
"Our younger kids are starting to step up a bit. Hopefully they'll be able to continue knocking off a few more strokes as the year progresses," said Coach Obert said. "Conner Obert finished second in his class, with a 74, and was tied for the overall third spot so he had a good finish today."
The following are individual scores for class winners:
Class 1&2: Willow Springs Bears
1. Brandon Marcak- 80, 2. Jackson Bailey- 84, 3. Ryan Cawvey- 81, Garrett Graves- 88 and Owen Duddridge- 109.
Class 3: Springfield Catholic
1. Walker Tynes- 73, 2. Walker Serrano- 76, 3. Dane Puckett- 77, 4. Joe Muenks- 84 and 5. Calvin Sanders- 92
Class 4: Glendale Falcons
1. Conner Obert- 74, 2. Dawson Meek- 76, 3. Luke Ogden- 83, 4. Adam Floyd- 81 and Josh Burri- 89.
Individual Class Champions
Class 1&2: Presten Richardson- 78 Miller
Class 3: Walker Tynes- 73 Springfield Catholic
Class 4- Cooper Hess- 73 Lebanon
Class 1&2 Results
Team:
1. Willow Springs- 333
2. Greenwood- 364
3. Fair Grove- 365
4. Clever- 396
5. New Covenant- 404
6. Thayer- 498
Top Medalists:
1. Presten Richardson- 78 Miller
2. John Sharp- 79 Greenwood
3. Brandon Marcak- 80 Willow Springs
Class 3 Results
Team:
1. Catholic- 310
2. Rolla- 326
3. West Plains- 340
4. Bolivar- 353
5. Logan-Rogersville- 357
6. Monett- 368
Top Medalists:
1. Walker Tynes- 73 Catholic
2. Clayton Kaiser- 74 Monett
3. Walker Serrano- 76 Catholic
Class 4 Results
Team:
1. Glendale- 314
2. Lebanon- 332
3. Rockhurst- 335
4. Willard- 336
5. Kickapoo 'A'- 351
6. Glendale 'B'- 353
7. Kickapoo 'B'- 366
8. Waynesville- 395
9. Parkview- 412
Top Medalists:
1. Cooper Hess- 73 Lebanon
2. Conner Obert- 74 Glendale
3. Dawson Meek- 76 Glendale