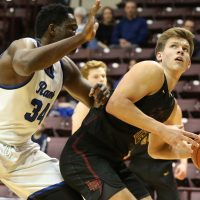 By Kai Raymer (For OzarksSportsZone.com)
Almost five months ago, the Logan-Rogersville Wildcats made a list of team goals for the 2018-19 season.
They'll finish with many checkmarks.
Blue and Gold Tournament champs. Conference champs. District champs.
Victories over several prominent opponents. A trip to the final four for the first time since the mid-1980s.
"We met them all," Wildcats coach John Schaefer said of his team's preseason goals.
He joked: "Maybe we should've put 'state champions' on there. Maybe that's where we screwed up."
The Wildcats finished fourth in Class 4 after a 52-47 loss to Ladue Horton Watkins on Saturday at Hammons Student Center.
Luke Vandersnick scored a team-high 17 for Logan-Rogersville. Josh Linehan added 12 points for the Wildcats, who finish 24-7 overall.
Logan-Rogersville's last final four appearance before this weekend came in the 1985-86 season.
"I love every single one of these guys on the team," said Wildcats senior Ryker Strong. "I love all the coaches. Everyone cares about each other. We fought together to get here."
Ladue led from start to finish, but a fourth-quarter run by Logan-Rogersville made it a one-possession game with under 60 seconds remaining.
CLICK HERE FOR PHOTOS OF THE GAME
"I thought we had a chance (at the end). We had them on their heels," Vandersnick said. "We just kept pushing and pushing to get it, but didn't make enough (shots) in the end."
The Wildcats trailed by 14 entering the fourth quarter. A 7-0 spurt cut Ladue's lead to 40-33 with 5:50 remaining.
"I thought we really competed today and gave ourselves a chance to win," Schaefer said. "We showed a lot of grit and played through adversity."
But from there: a dry spell.
Trailing 40-33, Logan-Rogersville had four straight empty possessions. Jaylen Boyd's basket at the 2:42 mark increased Ladue's lead to 42-33.
Boyd finished with a game-high 22 points on 9-for-13 shooting. In Ladue's semifinal loss on Friday, he had seven points and shot 2-for-11 from the field.
"(Friday), I didn't play as good so I knew today was going to be the last game," Boyd said. "I just came out and played as hard as I could for my boys."
Vandersnick's three-point play brought Logan-Rogersville within 44-41 with 55 seconds left. The Wildcats again cut Ladue's lead to three (46-43) on a pair of free throws by Linehan.
Ladue sealed the win by going 6-for-6 at the free throw line in the final minute. Before that final stretch, Ladue had made only 12 of 22 free throw attempts.
This weekend marked the first final four appearance in program history for a Ladue, a public school in St. Louis.
"It's tough to play a game like this, although we felt fortunate to be able to finish on a winning note with our season. Not a lot of teams get to do that," said Rams coach Chad Anderson. "I was really proud of our kids for how they came out strong and battled."
Logan-Rogersville shot under 40 percent from the field (15-for-43) for the second day in a row. Overall, the Wildcats shot a combined 5-for-34 from 3-point range in their two final four games.
"It was another first-half start for us that wasn't very good," Schaefer said. "We didn't shoot the ball very well. That's two days in a row not shooting the ball very well."
On Saturday, Logan-Rogersville stayed in the game thanks to free throw shooting. The Wildcats went 14-for-16 at the line.
Ladue led 28-20 at halftime and outscored Logan-Rogersville 12-6 in the third quarter.
"We've made big plays throughout the season to get us to this point," Schaefer said. "Same guys taking those shots today, (the shots) just rimmed in and out and we had a different outcome. That's basketball."
The Wildcats will graduate a four-player senior class: Drew Mac, Caleb Lowe, Strong and Vandersnick.
Ladue Horton Wakins 52, Logan-Rogersville 47
Logan-Rogersville 8 12 6 21 — 47
Ladue 18 10 12 12 — 52
Logan-Rogersville (24-7 overall) – Jaylen Boyd 22, Bryce Bussard 9, Moses Okpala 9, Evan Schneider 8, Henry McIntosh 2, Frankie Goebel 2
Ladue (21-9 overall) – Luke Vandersnick 17, Josh Linehan 12, Addy Miller 5, Ryker Strong 5, Cade Blevins 4, JJ O'Neal 2, Zach Bergmann 2