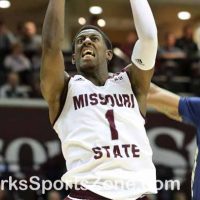 SPRINGFIELD – Missouri State used a 24-1 first-half run while holding visiting Bradley without a field goal for nearly 14 minutes to help pace a 55-37 Bears' victory here Saturday and help MSU sweep a two-game Missouri Valley Conference home stand.
Keandre Cook led all players with 16 points and 10 rebounds, his second double-double of the campaign, while Tulio Da Silva added 12 points. The Bears (10-11, 4-4 MVC) also got seven points and seven rebounds off the bench from Kabir Mohammed.
Bradley (10-11, 2-6 MVC) was led by Nate Kennell's 11 points, while Elijah Childs contributed 10 points and seven boards.
The Braves took an 8-4 after a jumper by Luuk van Bree just over five minutes into the game before Mohammed ignited Missouri State's best scoring run of the season. The junior from Nigeria tossed in a wide open 3-pointer from the right side to get MSU within one, and the Bears were off to the races.
Before Bradley made a free throw with 5:14 left in the opening stanza, Missouri State had scored 17 unanswered points to lead 21-8. Three-pointers by Jarred Dixon, Jared Ridder and Cook in that run were critical, with Josh Webster scoring a layup and Da Silva throwing down a rim-rattling dunk.
The visitors would not make a field goal until there were just 46 seconds remaining until the intermission and MSU had built a 28-9 lead.
Missouri State continued its momentum in the second half with Dixon posting four points before the first media timeout, and Da Silva converting a rare four-point play. Dixon's free throws at the 17:29 mark gave coach Dana Ford's club its biggest lead of the afternoon, 36-16.
Bradley would get no closer than 12 the rest of the game.
After the Bears defeated Loyola Chicago, 70-35, on Wednesday to kick off the home stand, Missouri State became just the second MVC team in the shot clock era to hold back-to-back conference foes to 37 points or less. Illinois State did so during the 1985-86 season.
With a 35-25 rebounding advantage, four blocked shots, six steals and 13 forced turnovers buffing up an impressive MSU defensive resume, few took notice of an average offensive showing for the home side. The Bears made a season-low 35.4 percent from the field on 17-of-48 shooting and managed 8-of-19 (.421) from 3-point range.
Bradley was 16-of-42 (.381) from the field, 2-of-10 (.200) from bonus distance and just 3-of-10 (.300) at the foul line.
The Bears begin a two-game league road swing Tuesday at Valparaiso before heading to UNI on Feb. 2. Missouri State returns to JQH Arena on Wednesday, Feb. 6 to battle rival Southern Illinois in a regionally-televised showdown.
Tickets for the SIU game are available now at MissouriStateBears.com or by visiting the Old Missouri Bank Box Office at JQH Arena, (417) 836-7678, during regular box office hours.
#MSUBears