By Jordan Burton (For OzarksSportsZone.com)
To say the Ozarks was robbed would be putting it mildly.
During the summer, less than a month before the high school football season began, two-time all-state running back Ray Weston – widely considered one of the state's top backs – suffered a torn ACL during camp, causing him to miss his senior campaign at Carl Junction.
Nearly five months to the day, Missouri State signee Tyem Freeman will miss the remainder of his senior year with a torn ACL and partially torn meniscus.
Freeman, who was averaging 26.1 PPG, 6.3 RPG, 3.4 APG, 2.7 SPG and 1.6 BPG, knew the moment it happened that something wasn't right.
"I went for a layup and missed it and there was give and then I tried to jump again and my knee popped and I just went down," said Freeman. "I'd never felt it pop like that before."
With just a few minutes remaining in the third quarter of Parkview's 68-52 win over Ozark, the Vikings lost one of the most dynamic players in SPS history.
Now, this isn't a story about what could've been for either Weston or Freeman. Their individual stories are far from written and will likely hold several more chapters of freakish athletic accomplishment.
But what is unique about the two standout athletes is their bond.
Carl Junction basketball star and SBU signee Trent Smith – who knows Freeman through the summer circuit – introduced the two and a friendship began.
Weston, a bowling ball known for his combination of speed and power on a football field, had been courted by several Division One programs for his promise as a running back. He racked up 4,476 yards from scrimmage and 65 touchdowns in his three seasons at Carl Junction.
Not one, not two, not three…#GetOffMehttps://t.co/zGS5qfNAML

— Bleacher Report (@BleacherReport) October 28, 2015
Freeman, a human highlight reel on the hardwood, is a viral sensation in his own right, known as one of the nation's top dunkers.
It may have been a mutual friend that brought them together, but culture, music and Division One dreams forged their friendship.
"We took a picture and then just became friends," said Freeman. "I'm one of his biggest supporters and he's one of mine. Our bond is brother strong."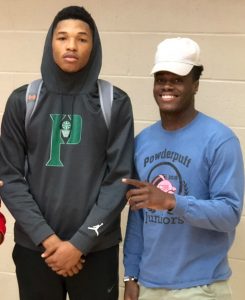 Weston agreed, adding: "That's my boy. We're very close and talk almost daily; we never go too long without talking to each other. We are like brothers in our eyes and we love each like we're blood family."
After finding out about Weston's torn ACL in July, Freeman tweeted this in support of the injured back.
Prayers for my brother @Rayquion_Weston all love for this dude and you will get through this injury you have suffered keep your head up bro and love you ❤️???? pic.twitter.com/Fh2ewm69tu

— Tye Freeman (@TyemFreeman) July 12, 2018
Weston struggled with words when finding out that Freeman had officially torn his ACL as well.
"He told me over the weekend that he might have torn it," said Weston. "When I found out, I was in tears. I told him last week that I loved him and I just hope for the best and that's everything will be okay. I'm here for him and he knows he'll always have someone. I told him it sucks, it sucks so bad but everything will be okay."
All Love from this side brotha. ???????? take yo time and rest up cause when it's our time again. ain't no resting. ???? pic.twitter.com/y22aF1VHA0

— Ray Weston (@Rayquion_Weston) December 17, 2018
Weston knows this struggle firsthand.
Unlike Freeman, Weston didn't get to play a single minute of his senior year and unlike Freeman, Weston was undecided on what his future will look like.
He's seen some schools completely lose interest in recruiting him. Weston even believes he lost friends because of the injury and the perceived change to his status.
His journey back has not been an easy one and won't be moving forward. But it's one that will only strengthen his resolve and succeed as an athlete and man.
"I learned you just got to deal with it and better yourself throughout this whole process, battle against yourself and be the best you can be always," said Weston. "I learned you just got to face the fact and accept what happened too. There was a time of me saying no this didn't really happen, this can't be true blah blah but you just got to face it and start over on the new grind.
"I can't wait to play football again. I'm so hype. I also had to learn that it all happened for a reason and that God has a plan for me and he's going to help me through all of this."
The trial is something that helped Weston mature emotionally. He's hoping his experience can make it easier for Freeman to overcome the mental aspect of the injury.
There's also a silver lining for both Weston and Freeman.
Although the early signing period has started already, Weston will be taking official and unofficial visits in the very near future, with the hope of selecting a program in the coming weeks.
Weston is back to working out and lifting weights. It'll be a long process, but he's slowly regaining the explosiveness and athleticism that made him a high-level prospect. He feels like his knee is progressing quickly, with the 220lb back already back into a running and jumping routine.
There is even the possibility that Weston will compete in track this spring, another step towards getting his body in the best shape possible by the time Fall 2019 rolls around.
And the next team that Weston plays for will be getting a player with a different mindset.
"It will mean a lot to me play for a coach and program that believed in me even after the injury," said Weston. "Wherever I go I'm bringing a load; no one knows how ready I am to be back on the field. I've been working and I'm going to keep working. I want to be dominant when the time comes again. I'm going to bring so much passion to the game wherever I go. To any coaches and programs who passed on me, I want them to keep that same energy."
While Freeman is just in the beginning stages of his journey, fans could ultimately see a more athletic player at Missouri State.
As an eighth grade football player, Freeman suffered a slight tear to his left ACL, the same knee he injured last week. That injury didn't require surgery – and clearly didn't impact his explosiveness – but Freeman jokes that he may come back better than ever.
"After the past four years, who knows, maybe I'll get more bounce than I've ever had," said Freeman.
The situation is difficult for any athlete to encounter, especially when it's a high school senior that was on the verge of a historic season.
Missouri State Coach Dana Ford was positive with Freeman following the news, and it's extremely likely that, barring a setback, Freeman will suit up for the Bears next winter without restriction.
"When I heard ACL tear I just quickly thought about how it would hurt the team and all of our goals that we had for this season," said Freeman. "Coach Ford basically told me stay positive and he's praying for me and hopes to see me back on the court soon.
"I've received so many calls, texts and DMs of people wishing me well. It helps keep me positive to know that everyone is pulling for me to get healthy. I'm just excited to get back on the court again."
When Freeman does get back on the court, few will be as excited as Weston.
Asked what the moment will be like, it's safe to say Weston expects some fireworks.
"I already know my boy's hungry," said Weston. "He's going to come back with so much built up energy; he's gonna go off. I can't wait to watch him again. All love for my guy."