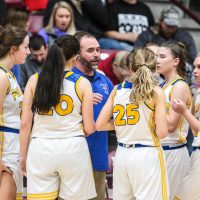 By Dana Harding (For OzarksSportsZone.com)
Last season, Fordland eclipsed the 20-win barrier for the second time in three years.
The Lady Eagles notched a 22-7 record, falling to Hartville in the district championship.
Head coach Kevin McDaris, entering his 18th season at Fordland, was pleased with his team's overall performance.
"We were 22-7 last season and fell just short of our goals of conference and district champs," McDaris said. "We played a tough schedule last season and competed very well. Six of our seven losses were to district champs."
Fordland says goodbye to graduated seniors Danielle Bailey, Lexi Stoll and Brooke Hyder.
"They were an excellent group of leaders for our team, and they were willing to do whatever was needed," McDaris said. "We will miss them this year, and it will be very hard to replace what they meant to our team."
CLICK HERE FOR ALL THE WINTER SPORTS PREVIEWS
The Lady Eagles return six players with varsity experience, led by 5-foot-4 all-district senior Sophie Sparks. The all-district selection made 63 3-point shots last season for Fordland, while shooting 35 percent from beyond the arc.
"Sophie is our spark plug," McDaris said. "She can score in a variety of ways and also gets her teammates involved. She also led or was second in every statistical category."
Fordland also returns 5-foot-5 senior Emily Whiteford, 5-foot-6 junior Abi Southard, 5-foot-9 junior Kenzie Branson, 5-foot-4 junior Kayleena Lucas and 5-foot-6 sophomore Mahalia Burks.
"We have three returning starters and the top two off the bench coming back," McDaris said. "Our bench players do not have much varsity experience, so we will rely heavily on the returning players."
A pair of 5-foot-6 freshmen will also look to challenge for playing time this season in Tessa Feeback and Madi Weddle.
With a shortened roster, Fordland's bench will be tested early and often this season.
"Our biggest challenge is numbers," McDaris said. "We do not have much depth because we only have nine players coming out this season, and three of those players are freshmen. We will try to get them some playing time early in the season and, hopefully, they can be contributors by midseason."
Despite the limited experience on the bench, the Lady Eagles do feature one of the area's stronger guard rotations in Sparks, Whiteford and Southard. All three should reach 1,000 career points this season.
"Guard play is our greatest strength," McDaris said. " We have three experienced guards who have started since their freshman season. All three are good shooters and also can take the ball to the rim."
Following a Nov. 12 jamboree with Miller, Verona and Southeast Vernon County, Fordland tips off the regular season Nov. 26 with the Fordland Invitational Tournament.