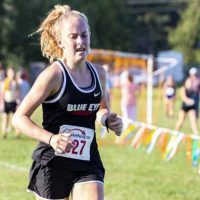 By Dana Harding (For OzarksSportsZone.com)
Nixa, Mo. — If you enjoy cross country meets held in desert-like conditions, Tuesday's Nixa Invitational was right up your alley.
With temperatures hovering around the 90-degree mark, Nixa's Inman Elementary course proved to a little tougher than in years past.
Southwest and Branson tallied victories in the boys Class 1-2 and 3-4 races, while Blue Eye and Ozark ran away with the girls events.
Boys Class 3-4 Race
In a hotly-contested battle, Branson edged Nixa 31-45 to take top team honors in the boys big-class race. The Pirates log-jammed four runners in the top five, including overall champion Kiefer Dooley. While Nixa's depth was on display — all seven runners placed in the top 20 — the Eagles couldn't match the top-heavy Branson attack.
Dooley crossed the line with a time of 16:57.07 to best Nixa's Eros Sustaita's 17:15.13. Branson's Braeden Decker took third with a time of 17:18.67.
CLICK HERE FOR PHOTOS OF THE RACE
Branson's senior leader opted for a conservative pace at the start before making his move near the halfway point of the race.
"It's really hot," Dooley said. "My lungs — they were feeling it today. I wanted to go slower at the start and see what that front pack would do with the pace. At around a mile and a half, that's when I started trying to leave them."
Dooley had hoped to see Carthage senior Clayton Whitehead at the meet, but the Tigers weren't in attendance. Whitehead currently holds the state's second-fastest time of 15:25.30.
"I like having someone ahead of me and trying to run them down," Dooley said. "I just tried to think of the pace someone like Clayton would be setting and adjust to that."
CLICK HERE FOR FULL RESULTS OF THE RACE
Top 5 Boys Class 3-4
1. 16:57.07 – Kiefer Dooley, Branson
2. 17:15.13 – Eros Sustaita, Nixa
3. 17:18.67 – Braeden Decker, Branson
4. 17:28.20 – Reece Long, Branson
5. 17:36.60 – Zachary Seitz, Branson
Top Five Boys Teams Class 3-4
1. 31 – Branson
2. 45 – Nixa
3. 139 – Ozark
4. 153 – Springfield Catholic
5. 214 – Monett
Boys Class 1-2 Race
Southwest scored four runners in the top ten and five in the top 15 to take top honors with 33 points. The Trojans bested runner-up Spokane (54 points) and third-place College Heights (92 points).
CLICK HERE FOR PHOTOS OF THE RACE
Individual honors went to Chadwick senior Evan Smith.
Smith pulled away from the field in the first mile and never looked back, finishing over a minute ahead of second place with a time of 17:36.75. Blue Eye's Chris Lemp finished second in 18:42.77, and Wheaton's Marek Smith was third in 18:51.07.
CLICK HERE FOR FULL RESULTS OF THE RACE
Top 5 Boys Class 1-2
1. 17:36.75 – Evan Smith, Chadwick
2. 18:42.77 – Chris Lemp, Blue Eye
3. 18:51.07 – Marek Smith, Wheaton
4. 19:17.94 – Travis Sickles, Southwest
5. 19:35.26 – Xander Deshields, Southwest
Top Five Boys Teams Class 1-2
1. 33 – Southwest
2. 54 – Spokane
3. 92 – College Heights
4. 117 – Wheaton
5. 125 – Diamond
Girls Class 3-4 Race
In the meet's closest team battle, Ozark's girls edged Christian County rival Nixa 58-63 to take top honors. Paced by Alexis and Brocklyn Barber's 1-2 finish, the Lady Tigers placed three runners in the top five.
CLICK HERE FOR PHOTOS OF THE RACE
The Barber twins pushed the pace, and by the first mile mark, the Lady Tiger standouts had opened up a comfortable cushion on the field.
Alexis surged ahead of her sister in the final mile to finish in 19:27.34. The senior's time was 30 seconds ahead of Brocklyn's second-place 19:57.85, and nearly a minute and a half ahead of third-place finisher Alicen Ashley of Nixa (21:07.27).
CLICK HERE FOR FULL RESULTS OF THE RACE
Top 5 Girls Class 3-4
1. 19:27.34 – Alexis Barber, Ozark
2. 19:57.85 – Brocklyn Barber, Ozark
3. 21:07.27 – Alicen Ashley, Nixa
4. 21:45.22 – Ellie Kitchin, Ozark
5. 21:51.70 – Jada Hubbert, Parkview
Top Five Girls Teams Class 3-4
1. 58 – Ozark
2. 63 – Nixa
3. 81 – Hollister
4. 130 – Buffalo
5. 132 – Parkview
Girls Class 1-2 Race
In another case of twin magic running wild in Southwest Missouri, Blue Eye utilized its own version of the 1-2 sister sweep to win the small class team competition. Freshman twins Avery and Riley Arnold paced the Lady Bulldogs to a 42 point finish, besting second-place Sparta's 66-point effort.
Just as the Barbers did in the large-class race, both Arnolds pushed the pace out early.
"I'm most comfortable going out hard and then settling into a pace," Avery said. "My goal was to break 20 today. Obviously, that didn't happen, but I just tried to stay close to the [pace vehicle]."
CLICK HERE FOR PHOTOS OF THE RACE
Avery surged ahead in the final mile to take the first-place victory in 20:39.63. Riley finished in second place with a time of 20:59.14, and College Heights' Grace Bishop was third in 21:31.99.
While Avery has enjoyed the lion's share of meet victories thus far in the duo's first season of high school competition, Riley has won her share of battles during practice. She talked about the benefits of being sister-rivals on the course.
"It's competitive," Riley said. "But, we both love each other, and it helps us to just keep working hard."
The sisters also are quick studies of the area cross country scene. Blue Eye and Ozark don't compete directly during the season, but the pair keeps a close eye on their twin counterparts to the north.
"Just seeing their times is pretty incredible," Avery said. "I just hope I can run that really soon. I want to break 20."
CLICK HERE FOR FULL RESULTS OF THE RACE
Top 5 Girls Class 1-2
1. 20:39.63 – Avery Arnold, Blue Eye
2. 20:59.14 – Riley Arnold, Blue Eye
3. 21:31.99 – Grace Bishop, College Heights
4. 21:53.41 – Macey Penner, Mountain Grove
5. 22:40.80 – Kylee Lang, College Heights
Top Five Girls Teams Class 1-2
1. 42 – Blue Eye
2. 66 – Sparta
3. 70 – Southwest
4. 73 – Fordland
5. 86 – Marion C. Early