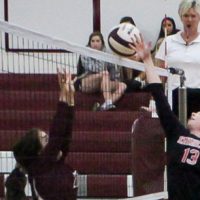 By Chris Parker
Eminence and fourth-year coach Brooke Brawley are coming off a 20-10-2 season which ended with a district semifinal loss to rival Winona.
This year they have the tall task of replacing the production left by graduated all-state players Wendy and Mariah Smith. That duo combined for 591 of Eminence's 828 kills last season.
"Mariah and Wendy were powerhouses," Brawley said. "Wendy was an incredible hitter and brought a lot of power from the front row as well as backrow when she attacked from back there. Mariah's strength was her back row. Having her on back row with our libero Kasey Wood opened up a lot of opportunities for our front row. When she was on back row, we didn't worry about putting the ball from the front row down. The two of them had an energy and talent that every team needs."
A heavy amount of leadership responsibilities will fall on the shoulders of setter Sydney Williams. She accounted for 702 of an available 734 assists last season. Williams, who Brawley described as the heart of the team, will remain at setter this season after flirting with a move to a defensive position on the back row.
"I expect Sydney to do what she does every year, and lead her team to another winning season. We may have lost a lot of talent but we still have some key components on our team," Brawley said. "She has been our Conference Player of the Year for the last two years. I expect her to be that again."
CLICK HERE TO SEE ALL OF THE FALL SPORTS PREVIEWS
Taylor Van Steenis will see a much bigger role in her senior season after finishing third on the team in kills with 98 last season.
"This season, Taylor knows how big of a difference she will make and she has worked twice as hard to get where she thinks she needs to be to make a huge difference in this year's season," Brawley said.
"Taylor is hitting the ball very hard this year and is making strides to be that much stronger. Her focus this year will be blocking and she has already showed a major improvement in that. I look forward to seeing her step up this year as a senior."
Tristan Weaver led the team in blocks as a freshman with 54 while putting down 68 kills. Her blocking will again be key for Eminence, but her hitting game will also need to expand.
"Her height gives her a huge advantage and she knows how to use that combined with her ability to use both hands when hitting against other teams," Brawley said. "It was a culture shock at the beginning (of last season), but she quickly adapted to the speed of the game and ended up bringing just the amount of defense from the front row that we never had. Seeing her get the huge blocks she did brought a different kind of excitement we were not used to. I look forward to seeing her grow this year in blocking and attacking. She will make a huge impact in the outcome of every game."
Peyton Shelton and Brynne Spurgin are two returning varsity players who will have an impact. Faith Stewart, Ryleigh Voyles and Meagan Byerly are three more players that Brawley expects to turn heads this season.
That group hopes to help Eminence build back up for another strong postseason run.
"We are working very hard to build back up a strong team after losing some key players from last year. I do think we will bounce back and do what the Redwings do best and work to be the best team we can be. While it may seem like this will be our down season, I don't see it that way. I see the Redwings surprising several people this season," Brawley said.
Eminence will host Bernie and Lesterville for a jamboree on Aug. 17 before opening the regular season on Aug. 28 at Clearwater.
DOWNLOAD THE O-ZONE APP NOW!
CLICK HERE TO DOWNLOAD FOR APPLE
CLICK HERE TO DOWNLOAD FOR ANDROID