By Jordan Burton (For OzarksSportsZone.com)
All he could do was watch…
Courtney Ramey, widely considered Missouri's top prep basketball prospect, was rendered powerless on Webster Groves' bench, trading in his role as dynamic point for that of a cheerleader and player coach.
Ramey watched as the losses – against elite competition and guys that he knows well from the summer circuit – piled up.
Memphis East (Tenn.) 80-45
Fern Creek (Ky.) 52-34
Hudson Catholic (N.J.) 84-52
Mountain Brook (Ala.) 73-59
Four losses, all consecutively, were twice as many as Webster Grove suffered throughout the course of 2016-17 MSHSAA Class 5 state championship run.
Ramey remembers the play, what seemed to be a routine layup attempt, that turned his senior year into a question mark.
"It was a jamboree game and I went baseline to go up for a layup," said Ramey, "Leon Perry, (6-foot-8 Confluence Prep forward and Division One prospect) who was my AAU teammate, blocked the shot and the force of the block and contact pulled me to floor hard. I used my hand to land and broke my wrist. I knew instantly. I got up and sad it was broke and ran out the gym."
Surgery immediately that night followed by a nearly two-month recovery forced Ramey to miss eight games with his team going 4-4 in that time.
My son suffered a rough injury tonight & broke his wrist in his high school jamboree game.. He is in surgery right now. I ask my prayer warriors to send a special prayer for my son Courtney Ramey. He's expected to make a full recovery in 6-8 weeks. Thanks in advance pic.twitter.com/tOs7R2XlD8

— Terrell Ramey (@Rameybasketball) November 17, 2017
"It was extremely hard because I was trying to tell my teammates what to do but they are used to me showing and leading them in doing it," said Ramey. "Plus, I wanted to play versus the best."
Ramey was eventually cleared and it was back to business as usual.
Courtney Ramey getting his grove back last night after being cleared for practice yesterday. pic.twitter.com/ppP3vWDGz5

— Terrell Ramey (@Rameybasketball) January 3, 2018
Gym time with pops, Webster Grove winning and the Mr. Show-Me Basketball candidate doing his thing.
He dropped 15 points and 13 assists in his first game back, a win over conference foe Marquette. A few days later her went for 10 points, nine rebounds and nine assists against national power Wheeler (Ga.) and 5-star big EJ Montgomery in another dub.
Through two games was averaging 12.5 points, 11 assists and 5.5 rebounds with the healed right wrist showing little effect on his jumper.
While he did have to sit out the prestigious City of Palms event, Ramey and the Statesmen are looking to make up for lost time in this week's Bass Pro Tournament of Champions; the most attended high school tournament in the nation.
They got started with a bang last night by beating Christ the King 64-45 to open the tournament and move to the winner's side of the bracket.
Ramey led Webster Groves in every major statistical category in the win with 20 points, six rebounds and four assists.
CLICK HERE FOR PHOTOS OF THE GAME
The other three remaining teams on the winner's side are loaded at the guard position with 5-star Brentwood Academy 2018 PG Darius Garland (Vanderbilt), 4-star 2018 La Lumiere PG Tyger Campbell and 4-star 2018 Oak Hill PG Will Richardson (Oregon), all in addition to Ramey.
The Statesmen get national power Oak Hill in the semifinals tonight.
Ramey, who grow up playing for his dad Terrell Ramey's highly competitive summer team, is no stranger to seeing the nation's elite.
And, while UCLA (who remains on Ramey's short list along with Mizzou, Villanova, Oklahoma State and Texas) recently offered Campbell as well, Ramey is excited about the opportunity to play some of the nation's top teams with elite talent at his position.
"I have played against them many times throughout my career," said Ramey. "I love playing against great competition and both of them are great players that gets me excited to play against and brings out the best in me. There are a lot of great players and teams in this tournament."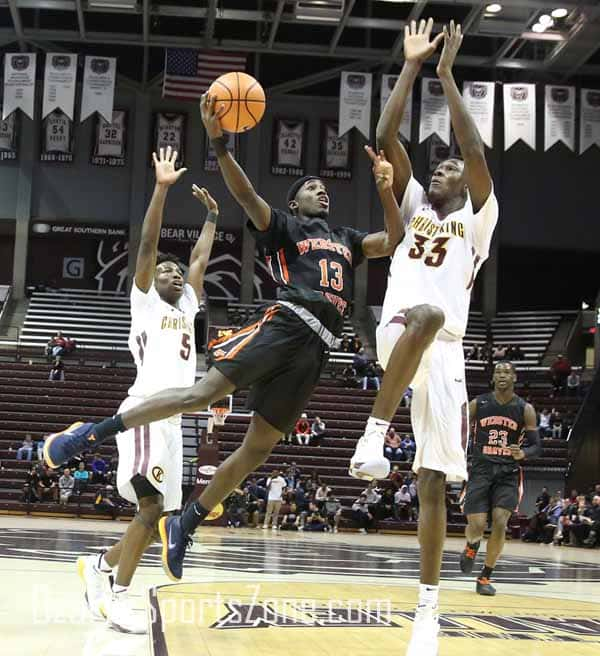 Webster Groves and Ramey are also tasked with restoring Saint Louis' legacy in the event.
Larry Hughes led CBC to a title in 1997 and Jimmy McKinney did the same with Vashon in 2002, but since then the city has struggled to compete.
Hazelwood Central went 1-2 in 2003. In 2005 Webster Groves, with famed skills coach Drew Hanlen, went 1-2 in the tournament. McCluer North went 1-2 in 2008. In 2010 Brad Beal and Chaminade went 0-3. Jayson Tatum did lead Chaminade to a third place finish in 2016, a year they came in nationally ranked.
The Statesmen are looking for redemption not only for the program, but for Saint Louis.
"I saw some of the history from the last time Webster played in it and went 1-2," said Ramey. "There's some great teams in this year and we are good also, but we know we have our work cut out for us. I love being counted out and proving people wrong, so this is a challenge that myself and my team look forward to."
But, through it all, the injury, the decommitment from Louisville and Round 2 of the recruiting process, Ramey has learned some extremely valuable life lessons that exceed the surface of a basketball court.
"This has given me a new appreciation of everything," said Ramey. "It makes you appreciate a lot because I wasn't allowed to do something I love. Any day it could be over, so make every moment count is what I learned."
Webster Groves will play Christ the King (N.Y.) at 9:30 p.m. on January 11.