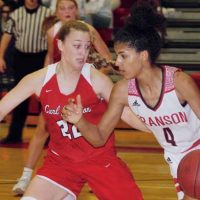 By Pat Dailey (For OzarksSportsZone.com)
BRANSON — In more ways than one, Branson's Priscilla Williams recalled playing AAU ball in her native Houston during the Lady Pirates' 51-45 victory in their Central Ozark Conference Large Schools opener versus Carl Junction on Friday.
The 6-foot-2 Williams was matched up against not one, but two 6-foot-2 Lady Bulldogs in point guard Katie Scott and center Megan Scott. Their size and strength were what Williams was used to seeing on a nightly basis in Houston.
"Everyone was telling me to be on my toes tonight because they had two big girls my size and they were tough to play against," Williams said. "For me, having someone else my size brought me back to AAU, where pretty much everyone is about my height."
Williams stood out by capping her 32-point night with 10 points over the final 2:30. She clinched the outcome from the free-throw line. She was hit on the nose during one foul, but repeatedly drove to the lane.
"In the AAU circuit I played in, you know you've got to go inside strong," Williams said. "They were coming at me hard tonight, too. When I got hit on the nose, everyone was asking me if I was okay and I said, 'Yeah, I've got to stay in and make these free throws.'
"I'm grateful my teammates trust me with the ball and that I'm going to make the free throws. I try to make the free throws for them."
Williams scored 20 first-half points to lead Branson during a 13-0 run that give the Lady Pirates a 28-12 lead. They were up 30-17 at halftime.
But with Williams limited to two points over the first 13-plus minutes of the second half, Carl Junction made it a one-point game in the fourth quarter. The Lady Bulldogs couldn't match Williams' free throws down the stretch.
CLICK HERE FOR PHOTOS OF THE GAME
"We didn't get started like we needed to against a quality opponent," Carl Junction coach Brad Shorter said. "We talked about playing with energy. But we didn't have it. We dug a hole and were fighting back the entire second half.
"I think we got a little tired. We have to make sure we play four tough quarters and not just two, like we did tonight."
Katie Scott's 13 points and Taylor Hughes' 12 led Carl Junction.
Williams' clutch free throws were preceded by a 3-pointer by Lauren Garrison with 3:30 to play. She fouled out seconds later. But her trey left a lasting impact by putting Branson back in command.
"She hit a big one," Bough said. "It put a stop on their momentum. It was almost like when she hit it, a big weight came off of us and you saw us get to the foul line."
Lady Pirates guard Gracie Jaeger was her usual defensive dynamo self.
"The bigger the game is she'll find a way to compete," Bough said. "A lot of times her contributions aren't on the scoreboard, sometimes it's on defense and sometimes it's her leadership. She's the captain of the team for a reason."
Branson (12-3 and 1-0) halted a four-game losing streak against Carl Junction (12-2 and 1-1).
"It's been a good rivalry and it's been a lot of fun," Shorter said. "We're always going to have this kind of battle. We enjoy it. I just wish we could have started this game a little better."
The Lady Bulldogs opened COC play by beating Republic earlier this week.
Both coaches suspect the conference race will be exciting.
"This could decide the conference, you never know," Shorter said. "You always look at what happens at the end. But there are games that happen throughout the season that dictate championships. Branson is going to be tough to beat."
"They won the conference last year and are always one of the heavy favorites," Bough said. "The conference is tough, so getting over one huge hurdle makes this a big conference win. We aren't as good as we're going to get. But we took a big step toward getting there tonight."
Carl Junction 8 9 13 15 – 45
Branson 15 15 8 14 – 52
CARL JUNCTION (45) – Kenzee Shanks 7, Shila Winder 7, Taylor Hughes 12, Katie Scott 13, Megan Scott 6
BRANSON (52) – Gracie Jaeger 6, Priscilla Williams 32, Lauren Garrison 12, Karis Goodwin 2,
Bernard, Pirates whip Bulldogs
Trey Benard showed Friday that Houston native Priscilla Williams isn't the only star from the Lone Star State shining brightly as a transfer for Branson.
Benard, who moved last summer from Beaumont, Texas, poured in a career-high 28 points to help the Pirates start COC Large Schools play on a winning note with a 71-47 triumph against Carl Junction.
Benard swished his first five shots from the field, including four 3-point goals, to account for half of Branson's 28 points in the opening quarter. The Pirates (5-7 overall and 1-0 in the COC) bolted to a 28-5 lead.
CLICK HERE FOR PHOTOS OF THE GAME
Benard scored 22 first-half points. He finished with 28 points, despite sitting all of the fourth quarter.
The Pirates' Zach Johnston, who signed a letter of intent earlier in the day to play baseball at Evangel, netted 10 points.
After falling behind 28-5, Carl Junction (3-8 and 0-2) was only outscored by a point, 43-42, the rest of the way. Alex Baker's 14 points paced the Bulldogs.
Carl Junction 5 18 9 15 – 47
Branson 28 15 12 16 – 71
CARL JUNCTION (47) – Alex Baker 14, Slade Frazier 11, Mason Fox 10, Nakoa Warren 3, Aaron Laudders 1, Teagan Armentrout 1, Will Bebee 7.
BRANSON (71) – Cam Pead 8, Michael Allison 3, Trey Benard 28, Cameron Banks 11, Zach Johnston 10, Aaron Whited 2, Johnny Christianson 2, Jonathan Hale 2, Kyle Sutton 2, Gabe Sylvester 1, Collin Pepper 2,