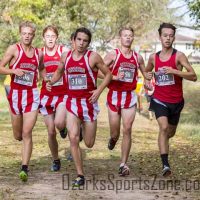 By Dana Harding (For OzarksSportsZone.com)
NIXA, Mo. — When the top ten is frontloaded with the same jersey, calculating a winning team isn't much of a mystery.
West Plains swept the boys and girls events in Saturday's Class 4 District 5 cross country meet, and second place wasn't close in either race.
In the boys event, Ben Stasney led a quartet of Zizzers across the finish line with a 15:55.0 winning time.
Jacob McCrackin (16:01.9), Ethan Hutchinson (16:07.0) and Caleb Boys (16:17.8) stockpiled West Plains finishers in the top five before Branson's Keifer Dooley finally broke the trend with a fifth-place time of 16:20.9.
While the West Plains runners had company for most of the first loop in Dooley and Kickapoo's Brenden Crews, the Zizzers made a significant move around the two-mile mark and began putting distance on the field.
CLICK HERE FOR PHOTOS OF THE BOYS RACE
"The plan was to have a pack and put it up front," Stasney said. "Then, the last lap or last mile, sort of see what we could do. There's a certain time in each race; you never really know when it's going to be, but it's going to be there. You just have to know when to go."
West Plains No. 5 runner, Dylan Hayes, finished less than a minute behind the top four runners in 17:11.7, giving the Zizzers a 27 – 80 victory of second-place Nixa and a 16.18.7 average time.
West Plains head coach Joe Bill Dixon was pleased with his team's performance as the group prepares for the sectional and state rounds.
"Today our five, six and seven all improved," Dixon said. "Today, it didn't appear like there was that big of a gap, and I think we ran pretty well up front. We weren't pushed up front, so it would be interesting to see how much harder those guys would have run had there been some off-colors in there among them, and there will be the next two weeks."
With the top 30 runners advancing to next week's sectional meet in Camdenton, there's a lot of desperate racing in the mid to late 20s.
In a thrilling finish, Waynesville's Bryan O'Barr came from behind to edge Kickapoo's William Lynch for the final qualification spot with a time of 17:39.9. Coming out of the final turn with the finish in sight, O'Barr knew he had to find another gear in order to race again next week.
"I was 31st, and there was someone from Kickapoo about 20 yards ahead of me," O'Barr said. "They were falling behind from the pack that was 30th to 25th place, so I had to pass him to
CLICK HERE FOR PHOTOS OF THE GIRLS RACE
qualify. To get to state is going to take more than what I did today, and I'll just have to see how I feel at sectionals."
Following the boys' dominant finish, the West Plains showcased its bunch-racing ability in the girls race, as well.
All five Lady Zizzer runners finished in the top 15, with Kaylee Hatley's 19:04.5 winning the overall title.
McKenzie Bergman (2nd, 19:24.7), Whitneigh Drown (5th, 20:11.2), Sadie Hutchinson (9th, 20:47.7) and Mia Harris (13th, 21:14.0) helped lead the Lady Zizzers to a 30-91 overall finish over second-place Kickapoo, with an average time of 20:08.4.
Just as she did two weeks earlier in the Ozark Conference meet, Hatley utilized a strong second half to pull away from Rolla's Emma Puetz for the victory.
This time, however, she did it with only one shoe.
Somewhere during the first mile, a brief stumble made the race a bit more interesting, as Hatley finished the race alternating strides between a blue-shoe and a pink sock.
CLICK HERE FOR FULL RESULTS OF THE BOYS RACE
"I just tripped on a rock, and it threw my shoe," Hatley said. "But people have lost shoes before; I'm no different. I just noticed it was gone, and I was like, 'Oh well.'"
Puetz utilized a fast start to open up a sizeable lead during the race's opening mile, putting leaving Hatley and teammate McKenzie Bergman to chase.
Lady Zizzers head coach Alicia Gunter attributed the early gap to a poor start by her team.
" I don't think we could have gotten a worse start in that race if we'd have started 14 times over. We just kind of got boxed in, and those girls were chasing from the start.."
After Hatley's one-shoe finish, even Gunter was surprised.
Honestly, I was so focused on coaching that I never knew that she didn't have a shoe on," Gunter said. "I'm really proud of her for not letting that distract her."
Puetz finished in third with a time of 19:36.5.
The final qualifier for the sectional round was Nixa's Hannah Meadows, with a time of 22:15.7.
CLICK HERE FOR FULL RESULTS OF THE GIRLS RACE
Meadows knew she was in position to qualify coming into the final half mile, which gave her plenty of motivation to grind out the finish.
"I was in 30th, and I just wanted it so bad," Meadows said. "I just knew I had to hold my place the whole time through the finish. I thought, 'Oh my gosh, I actually qualified for sectionals.' That was my only goal this whole race."
Boys sectional qualifiers – Individual
1. 15:55.0 Ben Stasney, West Plains
2. 16:01.9 Jacob McCrackin, West Plains
3. 16:07.0 Ethan Hutchinson, West Plains
4. 16:17.8 Caleb Boys, West Plains
5. 16:20.9 Keifer Dooley, Branson
6. 16:33.6 Brenden Crews, Kickapoo
7. 16:34.1 Sam Knopf, Parkview
8. 16:41.4 Reece Long, Branson
9. 16:41.5 Nicholas Ondr, Glendale
10. 16:48.6 Brady Bauder, Kickapoo
11. 16:56.8 Blake Procell, Nixa
12. 17:04.7 Brendan Fusco, Nixa
13. 17:07.3 Jace Hull, Parkview
14. 17:08.6 Garrett Mason, Camdenton
15. 17:10.0 Brayden Simpson, Lebanon
16. 17:10.5 Francis, Shott, Nixa
17. 17:11.7 Dylan Hayes, West Plains
18. 17:16.6 Zachary Seitz, Branson
19. 17:20.9 Eros Sustaita, Nixa
20. 17.21.3 Zachary Finley, West Plains
21. 17:22.4 Colby Sanders, West Plains
22. 17:24.7 Luke Herman, Nixa
23. 17:27.4 Damian Gonzales, Kickapoo
24. 17:28.3 Alex Frisbee, Rolla
25. 17:32.4 Luke Morrison, Waynesville
26. 17:34.1 Ryan Meadows, Nixa
27. 17:34.7 Ethan Miller, Glendale
28. 17:36.0 Zach Jamieson, Lebanon
29. 17:36.8 Joshua Conaway, Central
30. 17:39.9 Bryan O'Barr, Waynesville
Boys sectional qualifiers – Team
1. 27 West Plains
2. 80 Nixa
3. 102 Kickapoo
4. 122 Branson
Girls sectional qualifiers – Individual
1. 19:04.5 Kaylee Hatley, West Plains
2. 19:24.7 McKenzie Bergman, West Plains
3. 19:36.5 Emma Puetz, Rolla
4. 19:47.7 Anna Weiner, Kickapoo
5. 20:11.2 Whitneigh Drown, West Plains
6. 20:12.5 Madeline Caruthers, Branson
7. 20:38.3 Alexis Barber, Ozark
8. 20:45.7 Krista Hilmas, Rolla
9. 20:47.7 Sadie Hutchinson, West Plains
10. 20:59.6 Brocklyn Barber, Ozark
11. 21:10.3 Mackenzie Ihasz, Nixa
12. 21:10.9 Ashton Melton, Kickapoo
13. 21:14.0 Mia Harris, West Plains
14. 21:18.8 Hannah Collins, Branson
15. 21:21.2 Olivia Holmes, Rolla
16. 21:23.0 Abby O'Connor, Lebanon
17. 21:23.8 Jada Hubbert, Parkview
18. 21:25.6 Nevaeh Page, Lebanon
19. 21:32.2 Skyler Sweezor, Camdenton
20. 21:35.4 Olivia Hall, Kickapoo
21. 21:37.0 Maya Alberhasky, Parkview
22. 21:38.8 Keelee Watkins, West Plains
23. 21:40.1 Madelyn Newsom, Waynesville
24. 21:41.9 Kasey Browne, Branson
25. 21:42.2 Darby Binfet, Branson
26. 21:43.9 Cleo Meschke, Kickapoo
27. 21:54.5 Annslee Glenn, Nixa
28. 21:56.9 Megan Donahue, West Plains
29. 22:10.4 Lane Gott, Kickapoo
30. 22:15.7 Hannah Meadows, Nixa
Girls sectional qualifiers – Team
1. 30 West Plains
2. 91 Kickapoo
3. 100 Branson
4. 113 Rolla