By Matt Turer — @MattTurer (For OzarksSportsZone.com)
SPRINGFIELD, Mo. — Josie Allcock silenced Smithville for seven full innings, and now she and her Monett Cubs teammates will have a chance at history in the Class 3 state championship.
The senior celebrated her birthday by scattering seven hits and striking out two over seven scoreless innings to lead the Cubs to a 2-0 win Friday afternoon, setting up a finals matchup against Notre Dame (Cape Girardeau) at noon on Saturday.
Monett is in the finals for the first time in program history. The Cubs (21-10) had one previous appearance at state, losing in the semifinals in 2014 and finishing third.
"I hate comparing teams because that 2014 team is as good as we've ever had, and I'm not saying this group is better, but it just has a different dynamic to it," Monett coach Ty Goetz said. "They're a tight bunch of girls who pick each other up. It's always next-person-up. That's the difference. They just compete, they battle, and they find ways to win."
After Smithville (23-8) loaded the bases with one out in the bottom of the seventh, Monett had to find a slightly unique way to win.
Lauren Johnson opened the inning with a double for Smithville. Karington Kadel flew out to first. Singles by Kindsey Luebbert and Malea Langus followed. Then, with Smithville's batting leader Kathryn Bean up, Allcock induced a ground ball to Kelli McCallister at third that she turned into a game-ending 5-2-3 double play.
CLICK HERE FOR PHOTOS OF THE GAME
"I'm overwhelmed and still shaking," Allcock said. "Victoria [Gutierrez] kept coaching me through it behind the plate. She kept telling me I've got this, and I was like, OK, I've got this. I can do this. And I knew my teammates were behind me."
"It might have been the most nervous I've ever been, and I'm pretty laid back," Goetz said of the seventh. "But I still had faith in our girls. They've done it all year."
The double play capped a trend of Allcock and Monett's defense stranding Warriors runners in scoring position. Smithville previously left runners at second in the first, second, fourth and sixth innings and a runner on third in the third.
The Warriors never produced more than one hit in an inning until the seventh.
"That's all on Josie. She's such a competitor," Goetz said. "We've said it all year: She's not gonna blow it by you, but she understands her role. She understands that she has to put it over the plate and let our defense work."
After six straight outs to start the game, Monett produced its only runs in the third.
Camryn Wolf doubled off Smithville's Karington Kadel to lead off the inning and advanced to third on a Katie Schmidt groundout. Wolf then scored on a perfectly placed slap bunt between third and shortstop by Kaesha George to put the Cubs up 1-0.
"She probably couldn't have placed it any better. That's as good as it gets," Goetz said of George's bunt.
But the Cubs weren't done. George promptly stole second and came around to score when Katie Kurima hit a rocket to center that was dropped and ruled an error with the Warriors centerfielder backpedaling. Kurima was thrown out trying to stretch it to third.
Monett threatened again in the fourth when Allcock and Ashley Kurima reached second and third with one out after a pair of singles, but Kadel got Wolf to strikeout and Katie Schmidt to fly to left, ending the threat.
Kadel allowed one earned run over seven innings, striking out two Cubs.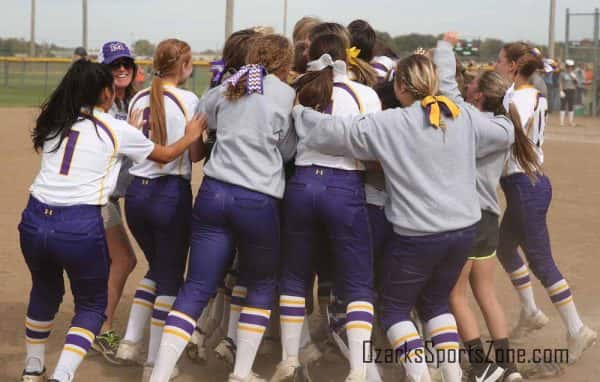 THE NUMBER 22 AND A RALLY ROCK
Monett players have been writing the number 22 on their wrists for extra motivation and a reminder of the team's ultimate goal, with 22 being the number of wins needed for a state championship.
"We're not happy being here and just being a participant. We're not happy just being in the championship game. We're here to win it all. We're prepare the best we can and hopefully get one more tomorrow and end with 22 wins," Goetz said.
The Cubs also have a rally rock with the date Oct. 11, 2017 painted on it. It's the same date on which they beat Rogersville in sectionals, kick-starting their run to the state finals.
"Every game we're like one more game, one more game. We've got it. One more game," Allcock said.
THE MATCHUP
Monett hasn't faced Notre Dame (27-3) and the two don't share a mutual opponent. Class 4 Camdenton beat Notre Dame 11-5 in an early season tournament championship game. The Bulldogs were hitting .411 as a team coming into the tournament. Haliey Kutz will be the likely starter. Kutz (17-1) had a 1.23 ERA and 141 strikeouts in 108.2 innings. The Bulldogs beat Incarnate Word Academy 4-1 in the other semifinal.
Monett will be looking to become the first team with double digit losses to win a state title in MSHSAA Softball history.
SCORING
MHS |0|0|2|0|0|0|0| — |2|7|1|
SHS |0|0|0|0|0|0|0| — |0|7|1|
Cubs – Top 3rd
Kaesha George singled to third, Camryn Wolf scored. — MHS 1, SHS 0
Katie Kurima reached on E8, George scored. — MHS 2, SHS 0