By Denise Tucker (For OzarksSportsZone.com)
In less than an hour, the top-seeded Willard Tigers secured their fourth straight district volleyball title with a 2-0 (25-11, 25-9) victory over Lebanon in the Class 4 District 10 championship Tuesday night at The Pit at Central High School.
Kara Finkbiner, one of four seniors to have started since their freshman year, said she is proud of what the Tigers have accomplished in their career.
"It feels great because everybody is going to remember this legacy that we're leaving," said Finkbiner, who was seeing her first action in two weeks due to a shoulder injury. "It's awesome to play with this team. It's just a family."
The Tigers first had to get past district host Central, which took the first set of the semifinal 25-22, before Willard came back to take the final two, 25-15 and 25-21.
"This was something that these seniors knew," Willard coach Jamalee Hancock said of the district title streak. "They'd gotten the job done the last three years and didn't want to stumble here in their senior year.
"Central gave us a great match. I think, being the one-seed, (Willard) came in with a little bit of pressure, knowing they're expected to win. When Central came out, playing as well as they did, I think that caused us to get timid. We started making some errors we normally don't. So, that was huge getting past that first match."
CLICK HERE FOR PHOTOS OF THE MATCH
And, Finkbiner, along with junior Daisie Cruse, led the way for Willard (30-3-1) with seven kills apiece in the championship. Cruse also added three blocks for the Tigers.
"She was huge in the semifinals and the finals," Hancock said of Cruse. "(Lebanon) didn't have an answer for her and Central didn't either; she kind of carried us. That was big-time having Daisie step up for us."
And, to get to the championship match the Tigers had to get back to "playing Willard volleyball," and relax.
"We had a dance party in the locker room before, so we were together at that time," Finkbiner said. "We just came in fired up and we were ready to win."
Sophomore Emily Terry set the tone early as the Tigers scored eight straight points on her serve. And, with Willard leading 16-9, the Tigers rattled off another seven straight points before sealing the first set on a kill from Cruse.
The second set was more of the same as the Tigers put together strings of seven and five straight points.
"Our blocking did well, our defense was super-scrappy and our hitters just got up there and terminated a lot of balls," Hancock said.
Lebanon (21-11-3), which was coming off a three-set semifinal win over Rolla (25-16, 21-25, 25-23), had trouble getting much going against the Tigers.
"We were definitely excited to make it to the championship match," Lebanon coach Jenny Collins said. "That was a goal, to give ourselves an opportunity. And to win that semifinal, the girls were on a high. But, in a district championship match, you just can't have strings of errors like that.
"Willard's ball control is just exceptional and we knew that coming in tonight. They played at the top of their game and just didn't make many mistakes. We had some nice rallies in game one and came up short, but I felt like there was a streak where we fought hard and things were going our way. We kind of went to that not to lose, instead of playing to win mentality, playing it safe, and it resulted in some errors.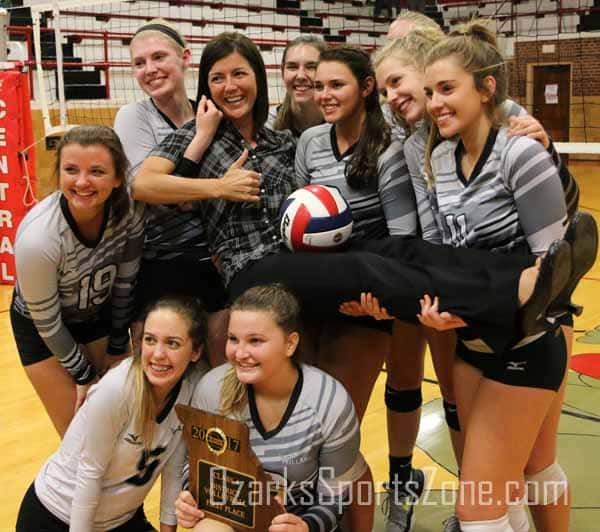 "Kudos to Willard. They are a great team, a great program and we were honored to play in that championship match against them."
Willard will play the winner of the District 12 tournament, which is being played Wednesday at Carl Junction, and includes No. 1-seed Carthage, Republic, Carl Junction and Joplin.
"We've had a great season," Hancock said. "We've got nine seniors leading the way, so I'm as confident this year as any. We're going to give it everything we've got and hope to make it back there (to the final four). It would be a great ending for these girls, for sure."
And, Finkbiner is confident that the Tigers can make it to Cape Girardeau.
"There is nothing stopping us, other than ourselves," Finkbiner said. "We can do it. We can go to state this year – it's our year."