By Pat Dailey (For OzarksSportsZone.com)
GALENA — Just as Caroline Tillack's older brother, Keaton, was part of the School of the Ozarks boys basketball program's first District championship three years ago, she became part of the Lady Patriots volleyball program's first District championship Tuesday.
S of O (22-7-4) pulled out a 25-14, 25-27, 25-22 triumph over Blue Eye in the Class 1 District 7 championship match.
"My Dad told me before the game, 'You need to be the girl in the family who wins a District championship,' so I was determined," Tillack said. "It's mind-blowing we did it."
The Lady Patriots completed an improbable rally in the third set, coming back from deficits of 9-1, 14-4 and 18-13.
Tillack gave S of O the lead for good at 22-21 by tipping the ball over Blue Eye's blockers at the net for a kill.
"That's part of being a smart hitter," Lady Patriots coach Charles Warfield said. "You have to know when you can mix it up and when you can't. Once you start swinging and get a team back on their heels, sometimes you open up those kinds of tips. You have to find the right time to use the right tool."
"I was kind of intimidated by their block the entire night," Tillack said. "So, I was trying to figure out how to make it work. I saw an open corner and tried to go there."
CLICK HERE FOR PHOTO OF THE MATCH
Tillack finished with eight kills.
Lucy Watson delivered an ace with the teams tied at 20-all. Her serve hit the top of the net, but had just enough zip on it to get over the net and land on Blue Eye's side of the court.
"That was nerve-wracking and my heart rate went up really high," Watson said. "I think that was the turning point. It was a momentum shift."
Molly Sparks also recorded an ace to make it 23-21 S of O.
Meanwhile, Blue Eye (19-8-4) was guilty of repeated unforced errors down the stretch.
Watson was part of S of O's defense along the back row that outlasted Lady Bulldogs hitters Kohnnar Patton and Trinity Young. Patton posted 14 kills and Young had 10.
Young provided six kills in the third set alone as Blue Eye broke out on top.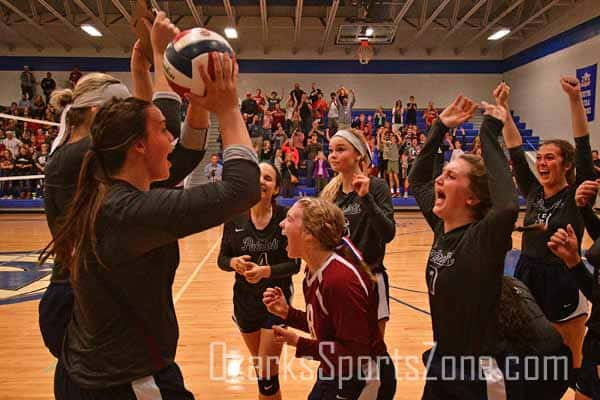 "I was discouraged, but had faith we were going to change the momentum," Watson said. "Sometimes, we look composed, but inside we're freaking out. It's always good to appear to your teammates that you are confident to get the next point and get a side-out."
"The girls in back stayed calm and composed," Warfield said. "Sometimes when you go up against big hitters, you tend to shut down. But our girls did a fantastic job tonight."
Olivia Vinton contributed eight kills and Brooke Housley chipped in with five kills and two blocks for S of O.
In the semifinals Tuesday, S of O downed Galena 25-18, 27-25 and Blue Eye swept Hurley 30-28, 25-7.