By Jordan Burton (For OzarksSportsZone.com)
For the first 13 points it seemed like Lamar was going to run away with the Class 2 – District 11 championship.
On their home floor, the Lady Tigers won nine of the first 13 points and seemed to be rallying behind an electric environment and student section.
But, this wasn't Sarcoxie's first rodeo…
Despite sitting for two hours prior to the match, the Lady Bears remained calm and settled in, winning 15 of the set's final 22 points to steal the first set. Sarcoxie would use that momentum to sweep Lamar 2-0, earning back-to-back district championships.
"They play like that all the time; they're just a really composed group," said Sarcoxie head coach Lindsay Perigo. "If it's a bad point they're able to reset and if it's a great point they're just ready for the next one.
"For them to come here and beat a team like this on their home floor… it's just a great feeling. I'm really proud of them."
CLICK HERE FOR PHOTOS OF THE MATCH
The second set was all Sarcoxie, breaking a 5-5 tie with a 12-2 run that served as the knockout punch.
The theme throughout the match was Sarcoxie's ability to keep Lamar out of system, never allowing the Lady Tigers big hitters to get going.
"We tried to be aggressive with our serve and target certain people to get them out of system," said Perigo. "Our girls are smart volleyball players and we had a talk before the game about what we wanted to take away and they went out and executed it."
The Lady Tigers were 15-1 at home entering Tuesday's district championship.
The loss marks the end of an era at Lamar with seniors Katelyn Mooney, Darrah Bartlett and Kara Beshore all set to graduate after more than doubling last year's win total and changing the culture of Lamar Volleyball with back-to-back district championship appearances.
"Our seniors were essential to the team that we were; without we would've lacked that energy," said Lamar head coach Chelsie Griffin. "The three of them played volleyball together their entire lives and it showed in how they wanted to play for each other and put the team first. We're all hurting but after the game one of the seniors said 'I know it didn't end the way that we wanted, but I wouldn't have wanted to play with any other team' and I think that sums them up pretty well."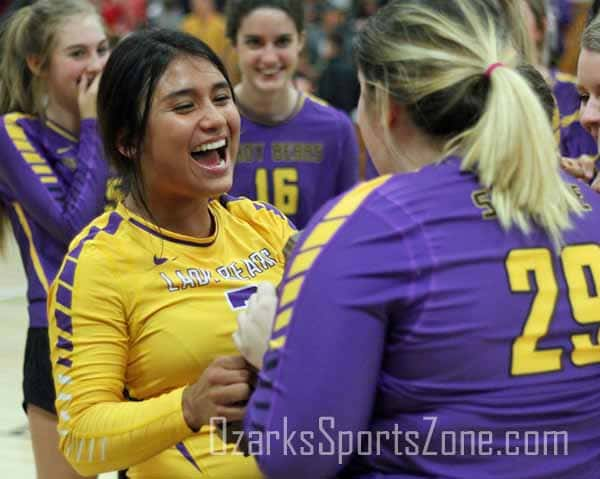 Sarcoxie was led by Peyton Kisling's nine kills. Chelsea Evans added eight, giving her 21 for the night after having 13 kills in the semifinals. Kierston Dodson handed out 22 assists and Destiny Lee was a key part of the defensive effort with five blocks.
The Lady Bears will now head to Strafford on Saturday for a Sectional matchup with Willow Springs.
After having the experience of advancing to Sectionals last year, Sarcoxie and Perigo are excited to have another chance in the playoffs.
"We're ready to do Sectionals again, we feel like we're mentally stronger and more composed," said Perigo. "They told me afterwards that they were super nervous going into the game; they really had no idea what to expect. It was a packed gym, they were at home and really just put too much emphasis on trying to win instead of playing as a team. I think they're much more prepared this time."