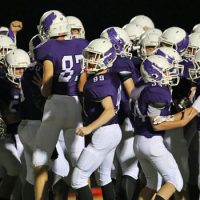 By Jordan Burton (For OzarksSportsZone.com)
The Mid-Lakes Conference always seems to have that one top dog. Last year Fair Grove ran the table. The year before it was Skyline. The three previous it belonged to Strafford. The league will see more parity this year than in recent years which should make for some interesting games. Here's what you should know.
DOWNLOAD THE NEW O-ZONE APP NOW!
CLICK HERE TO DOWNLOAD FOR APPLE
CLICK HERE TO DOWNLOAD FOR ANDROID
Preseason Fan Poll Results
1. Fair Grove
2. Strafford
3. Skyline
4. Ash Grove
5. Marionville
6. Stockton
7. Pleasant Hope
LISTEN: MID-LAKES FOOTBALL PREVIEW PODCAST
Justin Sampson & Matt Turer give their thoughts on the 2017 Mid-Lakes Football Conference. Click play below to listen.
 WEEK 1 HS FOOTBALL PICKS – CLICK HERE
Can Fair Grove repeat?

In short, the answer is yes. The hardest thing to do in sports is to repeat championships, regardless of the level. Let's not forget that the Eagles lost a loaded senior class, but all Bill Voorhis has done at Grove is win games and that shouldn't change this fall. I love what Fair Grove returns on the line with Colton Dame, Hunter Robertson and Cody Gunder. Dame and Robertson are also the two best defensive linemen in the conference. The addition of Devin Deuker can't be understated either. That's a huge line. With bowling ball Noah Sandridge back, Fair Grove will have no problem running the football. But what I like most about this team is Jayden Kensinger returning at quarterback with several weapons on the outside and the fact that Voorhis isn't afraid to let them throw it around. With speedster Isaac Mauldin back (36 catches, 598 yards, five touchdowns) it'll be impossible to load the box. Mauldin could see 100 targets this year, which suggests he could have a monster year. On the other side could be 6-foot-3 sophomore Cole Gilpin, who was the starting point guard as a freshman for the basketball team. He's long and athletic and showed flashes this summer that he could be a legitimate threat on the outside. I also love Stewart Hopkins' story of a hockey player finding his way in football. He just likes to hit things. There will be some holes to plug in defensively and finding new leadership is always an issue, but Fair Grove has to be the favorite with the Sept. 22 game at Strafford likely deciding the conference title.
Strafford is back…

After the amount of success Tim Hester had from 2012-14, Strafford was bound to go through a rebuilding phase. That period lasted two years and consisted of eight one-possession losses that we'll call growing pains. Now Hester returns 20 starters from a team that was competitive every Friday night. I love Kensen White and his senior year will be disgusting. Having Dillon Hester (44 receptions, 579 yards, six touchdowns) is huge. Hester will also be a playmaker in the defensive secondary for Strafford; he has no choice, it's a genetic thing. Strafford returns basically its entire offensive line intact. Strafford's offense hasn't had the same punch that last two seasons but with White and the hogs up front that should change. Trayson Lawler is the new Sam Morton defensively and could approach 200 tackles this year with Mason Foley being a darkhorse to make plays after getting varsity reps his freshman year. Coach Hester has been looking at this group to potentially be a special one for years. Strafford has gone from being the hunter to the hunted, now the Indians are back and hungry. This will be a dangerous team.
What will Skyline look like post Shawn Bryan?

This isn't Brandon Shelby's first rodeo. Back in 2012 he lost Logan Bryan following a 2,380-rushing yard season with 39 rushing touchdowns. The following year his Tigers were one play away from upsetting a state-ranked Osceola team that advanced to the Final Four in the district semifinal. So, life after Shawn Bryan might not be as devastating as you'd expect. There is some good news. Shelby returns quarterback Trevor Russell, who is yet another dual-threat guy in Skyline's system. After passing for 700 yards and rushing for 700 yards he seems poised for a breakout season. Most importantly, Skyline returns four linemen and several returning young skill guys. If Tanner Swearingin and Gage Gunter to acclimate to playmaking roles quickly, expect Skyline to again contend in the Mid-Lakes and in Class 1.
WHERE TO FIND THE O-ZONE PREVIEW MAGAZINE – CLICK HERE
The rest of the conference

Ash Grove was a play away from a district championship in 2016. The question now is will 2017 be a rebuild or a reload? Ryan Long has to replace a senior class that reestablished Ash Grove Football in the conference and ushered in a new era with the move to Class 1. Carrying that on will fall on the backfield tandem of quarterback Chase White (1,700 total yards, 16 TDs) and 1,000-yard back Spencer Eagleburger. But, the Pirates will need to develop depth and experience up front with just Trenton Climer returning, something that only happens with time… Shad Edwards will have a youthful team on paper at Stockton, but lots of kids that have been exposed to Friday Night Lights. Returning Jake Wheeler at quarterback and Will Price to galvanize the offensive line is huge. The biggest question is can an athletic sophomore class step up and make plays at the other key skill position groups. Edwards was able to double the win total from 2015 to 2016, continuing to trend in that direction will be pivotal for the program… Paden Grubbs inherited a young and inexperienced Marionville team with sophomores and juniors that had minimal varsity experience all over the field. Now those kids are juniors and seniors and understand what football on Friday nights is about in the Mid-Lakes. Jake Redus has been on the field at Marionville since his freshman year and is coming off a season in which he averaged nearly 20 yards per catch. He will again be one of the top two-way skill guys in the conference. Most of the Comets will have to go both ways… Scott Wolf is entering his third year at Pleasant Hope and he has several guys that are two and three year starters for him; Pleasant Hope only had four seniors last year. He plans to install a more spread offense this year featured around Jeremy Rotramel will should see plenty of touches in space. The Pirates are still looking to change the culture of a program that hasn't had a multi win season since 2011.
Preseason Awards
Champion: Fair Grove
I'm torn between Fair Grove and Strafford here and that game should be a war. I like Fair Grove because this is a group that won last year and saw what it takes to win at a high level. I also love what they have in the trenches; linemen win games in high school football. It'll be tough to contend with their size and experience upfront.
Player of the Year: QB Jayden Kensinger, Fair Grove

He split duties at quarterback last year and completed 75% of his passes. This year it's his show and it'll be must-see TV. With some of the weapons he'll have on the outside like Isaac Mauldin, Cole Gilpin and Elijah Young, he won't have a shortage of firepower. He also has a massive offensive line that'll keep him upright. So, what happens when you have targets and time? Shredded defenses. Kensinger is accurate and efficient with his ball and is great at anticipating throws. He's in the perfect situation at Fair Grove.
Offensive MVP: QB Kensen White, Strafford

There aren't many quarterbacks in the Ozarks that are more physically gifted than Kensen White. I saw him following his freshman year and Coach Hester raved about some of the tools he had. Hester wasn't lying. White is mobile, has a live arm that can make every throw and he improvises better than anyone else in the Ozarks. He showed flashes of what he could be last year, passing for 1,190 yards, rushing for 433 yards and accounting for 20 touchdowns. He reminds me of former Kickapoo quarterback Anthony Cooper. Don't be shocked to see White put up Cooper-like numbers too.
COMPLETE 2017 FOOTBALL SCHEDULES – CLICK HERE
Defensive MVP: DL Wiley Wycuff, Marionville
This sounds crazy because Wycuff weighs 160 pounds soaking wet, but he just makes plays. This is in no way a knock but he reminds me of Rudy because it's pure effort. Watch tape on him and it is play after play of him getting off the ball quickly and using leverage to work his way into the backfield. Nine of Wycuff's 39 tackles were sacks last year. You can't argue with the production. His heart and motor are enough to again earn him All-Mid-Lakes honors.
Breakout Player of the Year: QB Chase White, Ash Grove
White really came into his own last year and really began making great reads out of the pistol. His junior numbers were solid (1,009 passing yards, 601 rushing yards, 16 total touchdowns). Having a full year of experience under his belt will be huge. Ash Grove doesn't return much from last year so White and Spencer Eagleburger will be counted on to make several plays. He will have plenty of opportunities, with his arm and legs, to put up big numbers.
Top Games
Aug. 18
Stockton at El Dorado Springs
Aug. 25
Mountain Grove at Strafford
Fair Grove at Skyline
Sep. 8
Catholic at Fair Grove
Sep. 15
Marionville at Lincoln
Sep. 22
Fair Grove at Strafford
Stockton at Jasper
Sep. 29
Strafford at Skyline
Oct. 6
Ash Grove at Fair Grove
Oct. 13
Strafford at Ash Grove