By Jordan Burton (For OzarksSportsZone.com)
What a time to be alive in the COC Large. For the first time ever, Webb City didn't win the conference title and now there's a legitimate debate as to who will win the league in 2017. This is a first. Carthage is the defending champ, but must replace several horses from last year's team. Ozark and Carl Junction both finished one game back and return insanely loaded rosters and then there's Webb City… who might be the most talented team in the league. The top is loaded and everyone else will be fighting for scraps. The conference again has star power, storylines and some bad blood. Here's what you need to know entering the 2017 season.
OZARK FOOTBALL CONFERENCE PREVIEW – CLICK HERE
Preseason Fan Poll Results
1. Webb City – 1,772
2. Carthage – 1,536
3. Carl Junction – 1,494
4. Ozark – 1,384
5. Nixa – 1,169
6. Willard – 883
7. Neosho – 851
8. Republic – 728
9. Branson – 531
LISTEN: COC LARGE FOOTBALL PREVIEW PODCAST
Justin Sampson & Matt Turer give their thoughts on the 2017 Ozark Football Conference. Click play below to listen.


COMPLETE 2017 FOOTBALL SCHEDULES – CLICK HERE
Can Carthage repeat?

Carthage opened 2016 with a loss to Ozark, then went on to run the table in conference play, including getting the monkey off its back against Webb City; a team that had shut them out in both 2015 and 2014. Carthage will still be good, but it might look a little different. No Keith Guest or Trey Collins running behind wide-body Tucker Edmonson means Carthage might take to the air a little more. Understandably so. Incoming quarterback Zeke Sappington has been praised for his ability to sling the football and he'll have one of the best receivers in Missouri to throw it to in ultra-athletic 6-foot-1 senior Arkell Smith. Dillon Lancaster will be a larger piece of the puzzle offensively and will again be a headache for everyone else defensively. The question(s) for Carthage is can they continue to be physical enough up front and can they fill some holes defensively. No Logan Kabance will be tough and no Keilan Moore will be even tougher, so the secondary will also need some retooling. Carthage opens its new football Mecca by hosting Ozark, before heading to Webb City for a Week 2 showdown. Go 2-0 and you're in the driver's seat, 1-1 you're in play and 0-2 you'll need some help. Even if Carthage doesn't win the league, this team is still capable of making a run in Class 5.
Is history repeating itself in Ozark?

Anyone with sense knew the Chad Depee hiring at Ozark would be a good fit. The question was how long would it take to turn things around and he answered that last year. After going 1-9 in his first year, the Tigers went 8-3 last year with two of those losses coming by a combined eight points. Here's the crazy part, Ozark beat Carthage, Carl Junction and Webb City last year but didn't get even a share of the conference championship. In most years, beating those three should mean a banner. The consistency wasn't always there for Ozark, but we've seen this story before. In 2011 Ozark went 3-6, in 2012 they went 7-3 and in 2013 they went 12-2 with a Class 5 Final Four run; this was the year they upset Lee's Summit West. If nobody else will say it then I will… Ozark's Class of 2018 is just like that 2012 crew. There is an abundance of athletic, gritty kids that have carried Ozark in a variety of sports. They're now seniors and looking to create their own legacy. They're also in Year Three of Depee's system. All signs point to this being the peak year. Keep in mind, Depee made deep playoff runs with Monett and much of it points to his football philosophy which travels well – establish the run, stop the run and be physical. The COC is filled with D-1 prospect linemen and senior Cody Lanning (6-foot-4, 275lbs) is among the best. Fellow seniors Nathan Burlage and Bradley Bonewell combined for 1,028 rushing yards last year in a committee approach and very few of those were finesse yards; they're trying to run through people. Jace Gorn commands double teams at the line of scrimmage, which allows the insanely versatile trio of Joe Satterly, Blake Andela and Brock Herrold to get free runs and make plays, which they do very well. Then there's Curt Gracey. Losing him late last year hurt Ozark in district play. He's a kid that is a three-sport standout and just makes plays. Having him back in the secondary, along with Preston Carson, will allow Ozark to be more aggressive in the box knowing there are guys at the back end of the defense to erase mistakes. I'm high on this Ozark team not only in the COC, but also in the grand scheme of things in Class 5.
Is Carl Junction ready to finish?

Doug Buckmaster resurrected Carl Junction Football from a dark place, taking the Bulldogs from the gallows of the Big 8 to the top of the COC Large in a half decade. But, let's talk about some numbers. CJ is 39-8 in that time, but their average 10-2 record each season has yielded just two conference championship and zero district titles; it's safe to say both Buck and the Class of 2018 is eager to change that. We can talk about this defense returning nearly everyone in the front seven, headlined by All-Everything lineman Zeke Wall. We can talk about an offense that returns one of the best running backs in Missouri in junior Ray Weston, part of a unit that returns nine guys total. But ultimately, it's not a physical deficiency that will keep Carl Junction from competing for conference and district titles, it's the mental side. Beating Webb City for the first time in 37 years was huge, but you can argue the district championship dismantling – at home – ate up some of that excitement. Losing to Ozark by three and Carthage by seven reinforces the point that CJ needs to finish football games. That's the bad news. The good news is this may be Buckmaster's most complete team. Quarterback play will be a question mark, but there is size, speed and depth all over the field and with everyone returning along the offensive and defensive lines, it is safe to assume CJ should win the battle in the trenches most nights. Carl Junction opens 2017 at Webb City, at Republic and at home against Ozark. Much like Carthage, the Bulldogs will need to go at least 2-1 in that stretch. If not, they'll need some help in the conference race.
Is Webb City an underdog?

No, they're not; I just needed a headline to make you read this. Webb City isn't back because they never went anywhere. Sure, Webb lost as many games in the last two years as they did in the previous 11 years combined but that just speaks to how dominant Webb City Football has been. So, I hope you enjoyed last year for the "rebuild" that is was because the Cards are back. First, let's just say this… Webb City was one possession away from winning a state championship in a down year. Let that sink in. Now here's the bad news for the rest of the COC. Webb City returns two quarterbacks that took the majority of the snaps last year, its leading rusher from the second half of the season, one of the best offensive linemen in Missouri and a several pieces from a defense that allowed 13.4 PPG over its last five games. Webb City was a completely different animal to end last season and many of those younger guys that were making plays are back. Jordon Rogers and Javis Berlin play football as violently as you can play the game and that attitude is contagious. Look for them, as well as junior Alex Gaskill in the secondary, to help this unit again be one of the best in Missouri. If D-1 prospect Landon Bebee can help galvanize Webb's offensive line, Durand Henderson might insert himself next to Ray Weston as the top back in the Ozarks. I have few concerns about Webb City defensively. However, if the offense struggles to sustain drives and keeps them on the field for far too many snaps, which was the case in most big games last year, the Cardinals could find themselves in trouble in a loaded conference and district that includes a salty Camdenton squad.
The rest of the COC is…

Going to need some help against the top half. I say that half-jokingly. Willard continues to be a solid program under Brock Roweton but last year they lacked consistency. Willard went 4-7, but four of those losses came by six points or fewer. Then there was a blowout loss to Webb City and a pair of two-possession losses to Carthage. Willard isn't far off from the upper echelon of teams and on a given night, they're good enough to beat any one of them. Bringing back Quintin "Q" Batson is a huge relief; he's the most physically gifted quarterback in the Ozarks. Kenny Chambers could be the most dynamic two-way skill player in the league. This team is scary and if they find some consistency they could make some noise in 2017. The schedule did them no favors though. Weeks 4-7, Willard will host Webb City, visit Carthage, host Ozark and visit Carl Junction. Talk about meat grinder… Dustin Baldwin takes over at Republic which is a good thing if you're a RepMo fan because Baldwin has won at every stop. Integrating his new system will be tough, but having dual-threat quarterback Riley Watkins will ease that transition. Baldwin runs a quarterback-friendly offense and many of his guys have seen instant success; Dalton Gulick and Coleman Scott put up major numbers. Also, look for speedy backs Jake Jones and Jaden Duvall to thrive in space. Both backs have been receiving touches since their sophomore year. Watkins, along with senior linebacker Adam Batz, will be counted on for leadership in the new era… Nobody in the conference has been hit harder by graduation than Nixa; there are only so many years you can give up D-1 kids before it's time for a rebuild. The Eagles must find a way to replace its backfield from last year. Rich Rehagen is one of the best in the business so I still expect Nixa to be competitive. Also, look for 6-foot-6 tight end Alex Allen to have a breakout year. Much like older brother Chase, he's still developing and growing into his frame and athleticism. Let's also not forget that Chase caught just 13 passes as a junior before having a monster senior year. Alex, who has offers from Wyoming and several FCS programs, is a more physical blocker than Chase was at the same age. The younger Allen is also a standout defensive end… Branson and Neosho are in similar positions as both programs welcome new head coaches. Anthony Hays takes over at Branson after spending several seasons at Parkview. Hays helped revive a Parkview program that had been a doormat in the Ozark Conference. He does bring back Ryan Still at quarterback. Still can sling it and is much more of a true pocket passer than dual-threat QB. In the past, Hays has been versatile and willing to adapt his offense to his quarterback so don't be surprised to see Still toss it all over the field. Hays is also high on running back Kyle Hunn, who will see plenty of work carrying the ball… Neosho is now under the director of Leon Miller. The Kansas coach is a relative unknown in the COC and his system will be a new to all involved. He does have James Renfro back, who was a stud on both sides of the ball last year.
DOWNLOAD THE NEW O-ZONE APP NOW!
CLICK HERE TO DOWNLOAD FOR APPLE
CLICK HERE TO DOWNLOAD FOR ANDROID
Preseason Awards Predictions
Champion: Webb City
I don't say this confidently, as I feel like Carl Junction and Ozark will also be in the hunt. I'm leaning more towards a three-way tie where Webb City beats Carl Junction, Carl Junction beats Ozark and Ozark beats Webb City, or some variation of the three losing to each other. That would be a hot mess to say the least. But this Webb City team has something to prove and has the best odds of anyone to run the table. Last year, both regular season and postseason left a bitter taste in their mouths. I think getting Cash Link and Cade Beason experience was huge, one or both of them are capable of running the offense. I love what Webb City can do defensively and I think Durand Henderson is going to put up monster numbers. The biggest key will be the perimeter game for Webb City. Alex Gaskill and Terrell Kabala are two athletic kids to have to defend one-on-one. Because of how efficiently Webb runs the veer you have to load the box. If either Link or Beason can be comfortable and confident pushing the ball down the field to either receiver, teams will be forced to have soft boxes which will only make it that much harder to stop the veer. Outside of Ozark and CJ, I'm not sure anyone else as the horses to potentially take away both.
Player of the Year: Ray Weston, Carl Junction

His tape is about as disgusting as they come. Weston reminds me so much of former Florida State running back Dalvin Cook. He's not huge, but he runs with power, has great balance, runs angry and can light it up as a receiver in the slot or coming out of the backfield. He racked up nearly 2,000 yards from scrimmage last year and 24 touchdowns. With inexperience at quarterback, look for him to be an even bigger part of the receiving game. Weston is one of the most talented backs the Ozarks has seen in decades.
Offensive MVP: Quintin Batson, Willard

In a year full of great running backs, Batson is the best quarterback in the Ozarks in 2017. At 6-foot-4, he has the frame, athleticism and arm talent to be a D-1 quarterback, it is just a matter of him putting it all together. He's more of a pocket passer that is athletic enough to beat you with his feet, similar to a Russell Wilson or Jameis Winston type. With Kenny Chambers back, Ethan Burson at tight end and Nate Swadley out of the backfield, Batson will have plenty of options.
Co-Defensive MVP: Zeke Wall, Carl Junction & Preston Carson, Ozark

Wall couldn't be a more fitting name for Carl Junction's all-state senior defensive lineman. He's versatile enough to play anywhere along the defensive front, but he's most effective as a 3-technique tackle. He's explosive at the point of attack and his motor never stops. He eats up double teams and still manages to make plays against the run or pass. His 90 tackles are off the charts for a defensive lineman, but he also allows CJ's linebackers to operate without opposing linemen getting to the second level.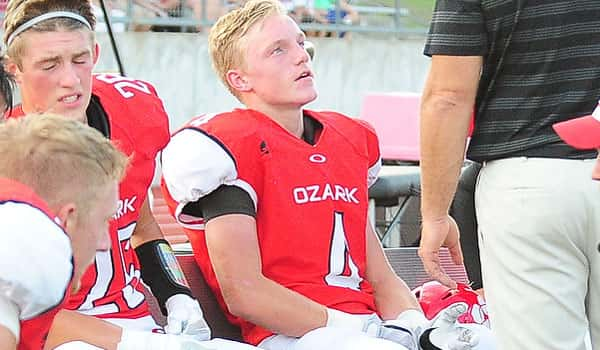 The more film you watch of Carson the more you love what he brings to Ozark's defense. He's not very big, but the 5-foot-10, 170lb defensive back has no problem sticking his nose in there and making a tackle. He led Ozark's secondary with 72 stops last year. Carson is also great in coverage with impressive instincts. He managed to snag four interceptions last year and helped slow Arkell Smith when Ozark beat Carthage in Week 1.
Breakout Player of the Year: Durand Henderson, Webb City

Henderson might be the best running back you don't know enough about. In Webb City's last six games, Henderson averaged more than 100 yards on just 15 carries and scored six times. At 6-foot-1, 175lbs he looks more like a receiver than running back, but his legs never stop moving. He's elusive, but he's also physical enough to finish runs. He doubles as one of the most dynamic kickoff returners in the area. He should take over the feature back role for Webb City which will make 2017 his coming out party.
CLICK HERE TO SEE ALL OF THE FALL SPORTS PREVIEWS
Must-See Matchups
Honestly, there's too many good players in this league to not hand out some more love. Here are some of the best position vs. position matchups you'll see this fall.
Kenny Chambers vs. Arkell Smith
You can look at this one of two ways. On one hand, it's the two best receivers in the area. On the other hand, Chambers is also one of the best defensive backs in the Ozarks. Assuming they matchup against each other, this will be nothing but fireworks. Both are big, athletic kids that have no problem going up and getting the football. Smith (47 receptions, 881 yards, 11 TDs) is like the high school version of A.J. Green because of how long and athletic he is which makes his catch radius seem limitless. Chambers (36 receptions, 829 yards, 12 TDs) is like the local version of Antonio Brown. He's only 5-foot-10 but he can go up and get the football and he can turn any catch into a home run. Both players are standouts in other sports, but both have D-1 potential in football.
Landon Bebee and Cody Lanning vs. COC D-Lines
These two guys almost seem like clones of each other. Both are big, both are athletic and both are extremely explosive off the ball. Most people don't pay to watch individual linemen, but if you happen to catch a Webb City or Ozark game, take a few plays to watch these two guys specifically. There's a reason D-1s have been seeking them out all summer.
Ozark Linebackers vs. COC RBs and TEs
The best linebacking corps in the COC resides in Ozark with Webb City being a close second. The Tigers have a three-headed monster in Joe Satterly, Blake Andela and Brock Herrold that just make plays. They are sensational against the run, which will be perfect for matchups like Webb City and Carl Junction. What will be interesting is how they handle backs and tight ends in coverage. Guys like Ethan Burson and Alex Allen are legitimate FCS/FBS prospects at tight end. Meanwhile, Weston, Kyle Hunt (Branson) and Dillon Lancaster (Carthage) are great receivers out of the backfield. How well Ozark's linebackers, all of whom will have the opportunity to play in college, handle playing in space will decide just how deep Ozark's run is.
ARCHIVED FOOTBALL STANDINGS – CLICK HERE
Top Games
Aug 18
Carl Junction at Webb City
Ozark at Carthage
Aug. 25
Carthage at Webb City
Sept. 1
Ozark at Carl Junction
Sept. 15
Willard at Carthage
Sept. 22
Ozark at Willard
Sept. 29
Webb City at Ozark
Oct. 6
Ozark at Nixa
Oct. 13
Willard at Republic
Neosho at Carthage