This year's All O-Zone Baseball team is loaded with next-level talent and first team all-state selections.  It's no surprise that the group is well-represented by the Class 4 state champ Aurora Houn' Dawgs with Player of the Year Zac Shoemaker (Missouri Southern signee) and Pitcher of the Year Wyatt Sparks (Missouri St verbal).  Class 2 state champ Mansfield also features a pair of players.  The first team features four Missouri State commits, including Hitter of the Year Jordan Fitzpatrick from Rogersville.
PLAYER OF THE YEAR – Zac Shoemaker, Aurora
PITCHER OF THE YEAR – Wyatt Sparks, Aurora
HITTER OF THE YEAR – Jordan Fitzpatrick, Rogersville
1st Team
Mason Dickemann, Sr, Catholic – The future Missouri State Bear wrapped up his Irish career with outstanding numbers on the mound and at the plate.  Dickemann went 6-1 with a 1.43 ERA and 67 strikeouts in 54 innings pitched.  He also hit .439 with 23 rbi, 31 runs and 10 stolen bases for the 19-win Irish.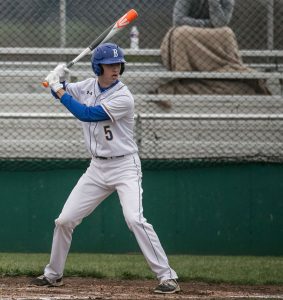 Jordan Fitzpatrick, Sr, Rogersville – Fitzpatrick was the area's premier power hitter this spring with an area-best 13 home runs to go with 36 rbi and 29 runs.  He averaged a home run every other game.  The 6-foot, 175 pound middle infielder is taking his talents up the road to Missouri State next season.

Parker Hanks, Jr, Ozark – The Tigers' junior earned COC Large Pitcher of the Year by going 8-0 with a .81 ERA this spring, including four shutouts.  Hanks struckout 56 in his 55.2 innings of work.  At the plate, Hanks was a plus-bat with a .311 average, 15 rbi and 19 runs.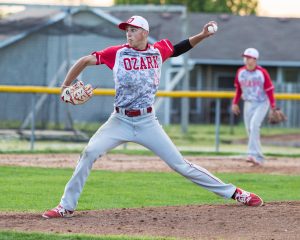 Wiley Miller, Sr, Plato – The final run by one of the Frisco League's all-time greats was his best yet. The Drury signee earned the conference's player of the year after going 8-1 on the mound with a 1.56 ERA and 105 strikeouts in 58 innings.  At the plate, the infielder hit .427 with 38 rbi, 35 runs and 20 stolen bases.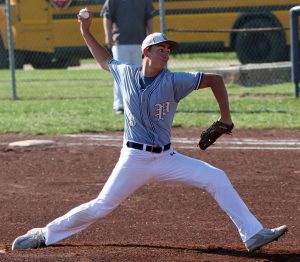 Carter Prewitt, Sr, Diamond – The SRVC Player of the Year put up arguably the best offensive numbers of any player in the area this season, hitting .575 with 10 home runs, 41 rbi and 32 runs.  If that wasn't enough, he swiped 25 bases and went 3-2 on the mound, striking out 75 batters in 45 innings, including an amazing 18 Ks in a Lamar Tournament championship win over Butler.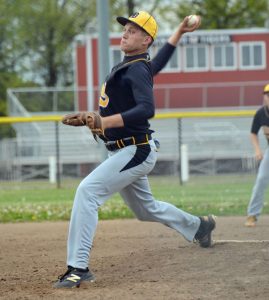 Connor Sechler, Sr, Bolivar – After setting numerous passing records for the football team and helping the basketball team to a Class 4 runner-up finish, Sechler led the Liberators this spring with a 6-2 record, 1.24 ERA and 101 strikeouts in 56.2 innings pitched.  With a fastball in the high 80s Sechler looks to take his game to an even higher level at Missouri State next year.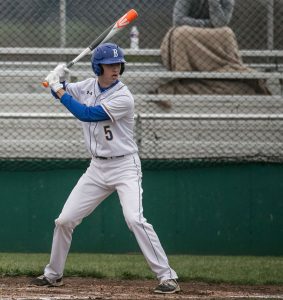 Zac Shoemaker, Sr, Aurora – It's hard to imagine any player in the state of Missouri had a more impressive campaign than Shoemaker.  The big, tall lefty earned Big 8 Player of the Year going 12-0 with a microscopic .28 ERA (1 earned run), striking out 116 batters.  The Missouri Southern signee was a big reason for the Houn' Dawgs' Class 4 state championship, also hitting .381 at the plate.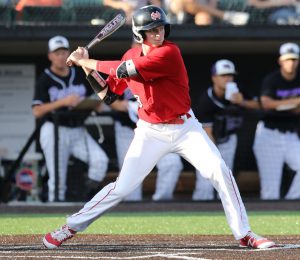 Wyatt Sparks, Jr, Aurora – Sparks followed up his impressive sophomore campaign with an even more dominant junior season.  The Missouri State signee went 8-2 with a .87 ERA and 121 strikeouts.  With a fastball touching 90 mph, Sparks was a big-game pitcher, tossing 1-hitters against state-ranked Monett and Catholic, along with a complete game win in the state semifinal.  Also a .380 hitter, the Big 8 must endure one more season of Sparks.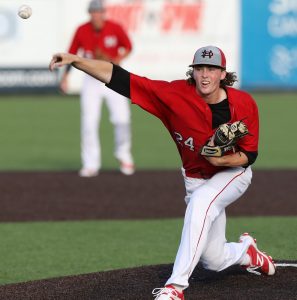 Logan Thomazin, Jr, Walnut Grove – Just a day after leading the basketball team to a Class 1 state championship Thomazin didn't skip a beat on the diamond.  The junior hit .515 with 5 home runs, driving in 23 and scoring 40 runs.  Also the Tigers' ace, Thomazin went 4-1 with a 1.99 ERA and 74 strikeouts in 34 innings (2.17/inning).  Thomazin is receiving division-1 interest.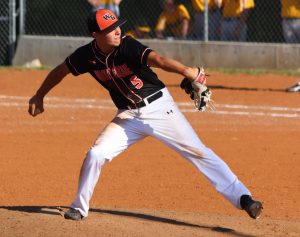 2nd Team
Brock Coffman, Sr, Mtn Grove – SCA Player of the Year, .514 avg, 3 HR, 27 rbi, 29 runs
Spencer Greene, Jr, Mansfield – .451 avg, .543 ob%, 6 HR, 46 rbi
Brett Hammit, Jr, Nixa – Verbal to Nebraska, 451 avg, 4 HR, 14 rbi, 13 SB
Adam Link, Sr, Kickapoo – Ozark Conference Pitcher of the Year, Leadoff Club Player of the Year, 9-2, 1.20 ERA, 64 k, 64 IP
Ian Meyer, Sr, Monett – 6-0, .69 ERA, 63 k, 50.2 IP
Isaac Carlson, Sr, Hurley – Mark Twain Conference MVP, Ecclesia College signee, .508 avg, 29 rbi; 6-3, 1.53 ERA, 71 k, 52.1 IP.
Brant Schaffitzel, Sr, Hillcrest – Ozark Conference Position Player of the Year, Drury signee, .421 avg, .607 obp, 35 runs, 2 strikeouts in 114 plate appearances
Connor Spunaugle, Sr, Lincoln – 8-1, 1.18 ERA, 67 k, 59.1 IP; .390 avg
Jonah Williamson, Sr, Mansfield – 9-0, 1.20 ERA, 55.2 IP, 47 K, .392 avg, 23 rbi
3rd Team
Bill Ashley, Sr, Pierce City – .551, 40 rbi, 34 runs, 25 SB
Alex Aubuchon, Jr, Hermitage – .536 avg, 4-4, 1.80 ERA, 93 K, 42.2 IP
Will Duff, So, Catholic – Verbal to Vanderbilt, .472 avg, 4 HR, 29 rbi, 27 runs, 14 SB
Caleb Hall, Sr, Galena – 7-0, .89 ERA, 40 k, 54.2 IP
Noah Lachnit, Sr, Glendale – Leadoff Club Pitcher of the Year, 7-1, 1.45 ERA, 30 k, 48 IP
Hayden McCarthy, So, Halfway – .557 avg, .649 OB%, 28 rbi, 13 SB
Ben Morris, Sr, Willard – COC Large Player of the Year, .372 avg, 6 HR, 35 rbi, 11 SB
Logan Sorrell, Sr, Galena – SBU signee, SWCL Player of the Year, 7-2, 1.86 ERA, 71, 65.1 IP
Hunter Swearingin, Sr, Humansville – 8-2, .63 ERA, 107 K