By Matt Turer — mturer@ky3.com
@MattTurer
Jefferson City, Mo. — Haven Lander is golden again. Republic's senior pole vaulter went back-to-back with Class 5 state titles in the event. Plus, we take a look at Friday's large-Class girls silver medalists from the MSHSAA track and field championships in Jefferson City, including Salem's Baylee Bilyeu, Bolivar's Kelie Henderson and Warsaw's Ashlee Kuykendall.
CLICK HERE FOR CLASS 3 GIRLS PHOTOS
CLICK HERE FOR CLASS 4 GIRLS PHOTOS
CLICK HERE FOR CLASS 5 GIRLS PHOTOS
CLICK HERE FOR CLASS 3 GIRLS RESULTS
CLICK HERE FOR CLASS 4 GIRLS RESULTS
CLICK HERE FOR CLASS 5 GIRLS RESULTS
Lander Keeps Her Crown, Repeats As Class 5 Pole Vault Champ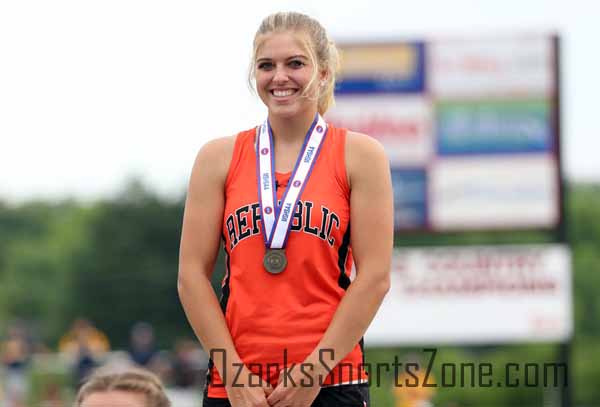 Haven Lander grew up a little bit Friday. Not just figuratively, but literally. The Republic senior celebrated a birthday and gifted herself a gold medal with a second consecutive Class 5 state pole vault championship. That's a pretty good day!
And as far as presents go, this one counts as memorable.
"Being able to come here today and put up 11-09 and break through my season high of 11-06 was amazing," Lander said. "And to be able to win again is just a dream come true."
Pegged as an obvious state title contender coming into 2017, Lander had to battle through an early season injury sustained sometime around the Girls Night Out meet at Parkview. She eventually vaulted herself to an 11-06 during the season but couldn't seem to break through the mark. (One that happened to be the height at which she won state as a junior).
"Breaking through was a lot emotionally," Lander said. "I guess people would say I've been doing good this season, but I wouldn't say I've been doing good because I've been stuck at 11-06 all year."
Lander was one of four vaulters to hit 11-06 Friday, with another being Springfield Central junior Elaina Roeder, who finished fourth. Lander and Rock Bridge senior Jordan Banker both jumped 11-09 on their first vaults. Both vaulters then faulted on all three attempts at 12-00, but Lander took first with fewer overall faults.
"I was a little sad I wasn't able to clear 12-00 but I'm still so happy with what I did today," Lander said. "It's awesome because it's senior year and I'm going out with another win."
Bilyeu Claims A Silver, New Salem Discus Record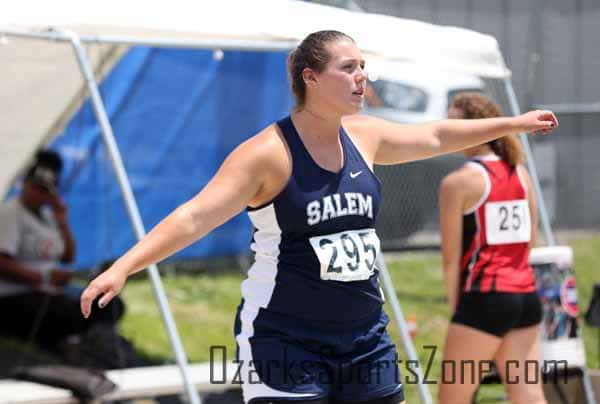 In one moment, Baylee Bilyeu set a Salem school discus record and won herself a Class 3 silver medal. At the time, only one of those were certain.
Bilyeu's silver throw of 128-02 came on her third throw of the final and held up by two inches over third-place Hannah Ricketts of Hallsville.
"Today has been great," Bilyeu said. "I kind of surprised myself. I expected to come in fourth but coming in second was a real blessing."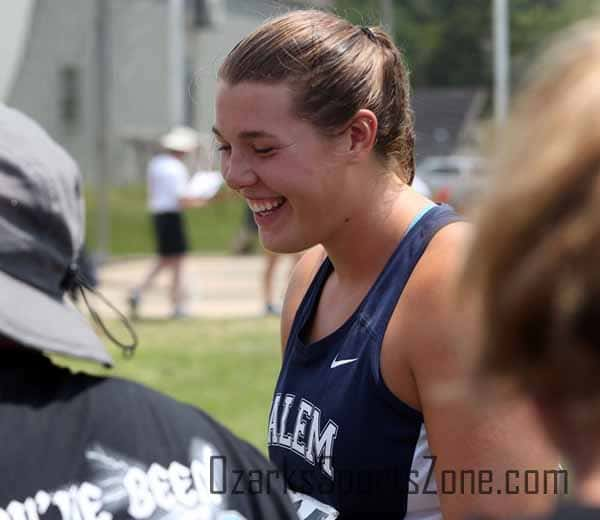 Bilyeu credited a Thursday-afternoon nap for much of her success Friday, adding to the building proof that naps are the key to all life's great successes.
"That may have helped, but I really focused on my form and tried to slow everything down today," the junior said.
With a silver medal in hand and a school record set to go up on the walls at Salem High School, Bilyeu chose the state runner-up finish as the day's biggest accomplishment.
"Salem is super important but runner-up at state is pretty cool. Knowing you're competing against the best of the best is the coolest thing out there.
Henderson 2nd For Bolivar In Class 4 3,200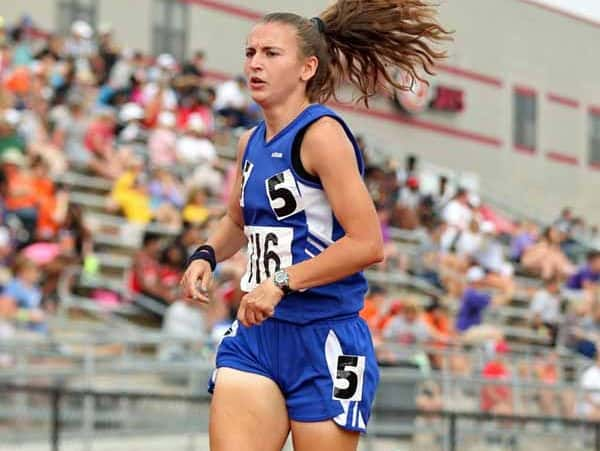 Bolivar's Kelie Henderson and Marshfield's Tabitha Weber have become something of a package deal on medal stands this season. That familiarity lent itself to a bit of pre-race strategy Friday ahead of the Class 4 3,200-meter run final.
With Washington junior Mikayla Reed entering as the prohibited favorite, Henderson and Weber got to talking.
"Our plan was to stick together and on the last lap kind of let go and push each other," Henderson said.
The goal behind the strategy? Ensure a 2-3 finish with budding runners like West Plains freshman Mia Harrison, who finished fourth, coming behind.
"We knew [Reed] was going to be first," Henderson said. "We knew how well she runs. So we're like, OK, let's go for second and third. We've been making top three all season so let's stick together and we got it."
And on the final lap, Henderson (11:19.69) got Weber (11:24.33).
"It felt pretty good," Henderson said. "I know on the last lap she said, 'I'm not breathing,' and I'm like, 'Come on, Tabby, you've got this.'
"I just felt good on that last lap. I got her that one time, but she's an amazing runner. She's so strong, so talented, and she's always pushing me. I'm glad I got to run this race with her. I'm also glad that I get to run our last high school race together tomorrow."
Weber and Henderson are two of six racers in Saturday's Class 4 1,600 who are within 1.5 seconds of the top seed time.
Warsaw's Kuykendall Class 3 State Runner-Up In 3,200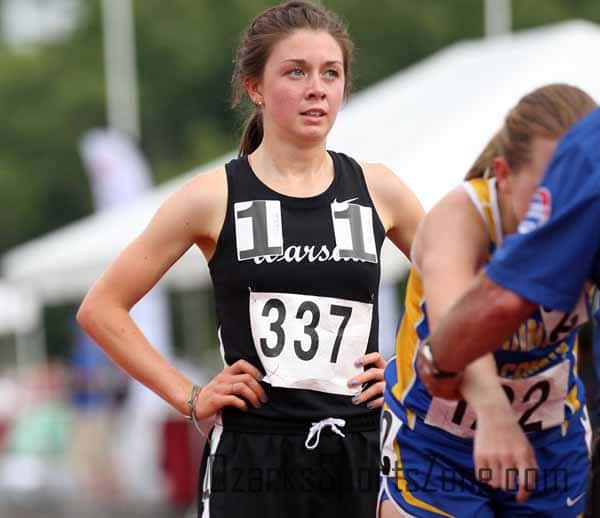 After falling short of the medal stand a season ago, Warsaw's Ashlee Kuykendall is going out with a 3,200-meter silver.
"I'm feeling really good," Kuykendall said. "Last year it was hot and I didn't have a good race. I ended up getting ninth, so it feels good to have a medal. I really worked hard."
Kuykendall (11:22.49) paced Fatima junior Brianna Haller (11:20.12) for the entire Class 3 final, at one point passing Haller but falling back to a close second shortly after.
"I was just trying to see if I could mentally break [her] down," Kuykendall said. "Let's see what she's got. But she had a lot energy and I decided I should probably just stay behind her."