By Matt Turer — mturer@ky3.com
@MattTurer
Jefferson City, Mo. — New Covenant Academy's track and field trio are taking home a state championship. Plus, College Height Christian's back-to-back relay championship, Cole Camp's continued medal run and more from Day 2 of Class 2 state track below.
CLICK HERE FOR CLASS 2 STATE TRACK BOYS RESULTS
CLICK HERE FOR CLASS 2 STATE TRACK GIRLS RESULTS
CLICK HERE FOR CLASS 2 STATE TRACK PHOTOS (TRACK)
CLICK HERE FOR CLASS 2 STATE TRACK PHOTOS (FIELD)
Three-Member New Covenant Academy Celebrates Class 2 Girls Title
Crazy. Awesome. Weird. When you go to state with a team of three and leave state with an overall team state championship that wasn't even on your own radar, these are the words champions use.
New Covenant Academy did just that. In the program's first year competing in Class 2, Claire McCune, Katie McCune and Paige Cummings marched into Jefferson City and stole a championship that was maybe theirs to steal in the first place.
"It's really crazy. It feels really weird. It's awesome," Cummings, a sophomore newcomer who took home Friday's Class 2 pole vaulting championship after picking up the sport this January, said.
"Claire and Katie are awesome. It's just a good feeling."
True.
The McCune twins were awesome this weekend, as Cummings put it with the widest of grins and happiest of looks while holding the team's trophy Saturday afternoon. It began Friday, when Claire took first (11:16.86) and Katie third (11:30.85) in the 3,200-meter run. It continued Saturday, when Claire took first (5:05.21) and Katie second (5:08.53) in the 1,600-meter run and then Claire first (2:19.24) and Katie sixth (2:24.49) in the 800.
The 800 is the race that may have decided the championship. Claire's final push gave her a photo finish first, beating Cole Camp's Lainy Williams by .03 seconds, a difference between 10 team points and eight. As for Katie, her .05-second advantage over seventh-place finisher Allie Gibbs gave New Covenant three points instead of two. If the two had finished second and seventh, there would be no championship. If one had finished a spot below where they did, it would be a tie for the title, at best.
"Winning is very difficult," New Covenant Academy coach Ken Jones said. "You've got to have the people coming in and running great races, but you've also got to have a little luck, and we had a little luck today.
"Without Paige winning we get third or something like that. Then Katie and Claire just run tough races. They've been improving all year long and they really just executed today and it's great to see."
Katie and Claire's 1-2 finish in the 1,600 was the first time the two have held the top-two podium spots at state in their careers.
"I was just so happy at the finish. I looked back and I was just so happy to see her. Then we hugged and it was just the best feeling ever seeing her finish after me. It was awesome," Claire said.
"I didn't want to get third again," Katie said. "I just thought how cool it would be for me if we were to go 1-2 in a state meet, so that was just motivation to get there."
College Heights Goes Back-To-Back in 4×800, Johnson 2nd In 400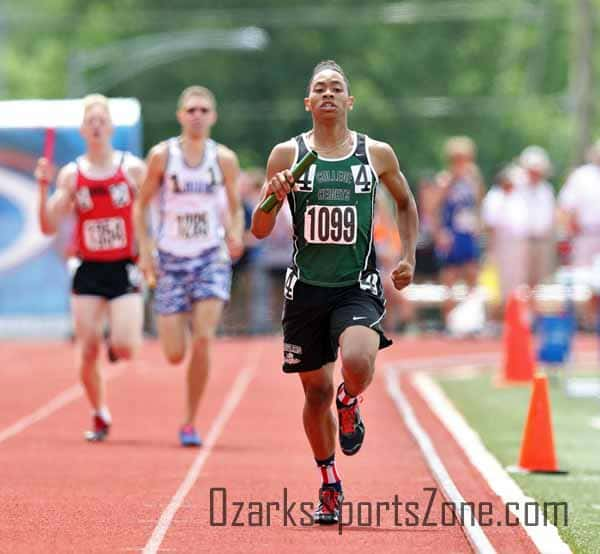 College Heights Christian is bringing back a second consecutive Class 2 4×800-meter relay state title.
The grouping of Bennett Satterlee, Jonathan St. Clair, Scott Lewis and Jonathan Johnson easily bested runner-up Russellville (8:12.04) with a time of 8:08.39, and if you think this was championship or bust for these four Cougars, it was.
"It was for me," Satterlee said. "Once you've been at the pinnacle, it really doesn't feel the same just to have a bronze or silver medal."
"To do anything worse than first wouldn't be our best," Lewis said. "As a Christian school I think we have that added advantage of not doing it just for man but doing it for God too. With that behind us we can do a lot more because we know our best is within our reach."
Lewis and Johnson, both seniors, have been running together since childhood. Saturday's state title ensures that they'll be entering the next stage of their lives as champions.
"This year's title definitely feels more special because it's our senior year and nobody can take it away from us," Johnson, who took home an individual runner-up in the 400-meter dash later Saturday, said.
Johnson finished his 400 in 49.38, just behind Brentwood senior Kaylon Jenkins (49.05). He took fifth in a tight 200 (22.69) that saw the top-five runners separated by just 0.30 seconds.
"I'm more prepared for [this meet] than last year," Johnson said. "I have a goal and a job to do today, and I just know what to do and I'm just going to do it to the best of my ability."
Cole Camp High Jumps To Silver And Bronze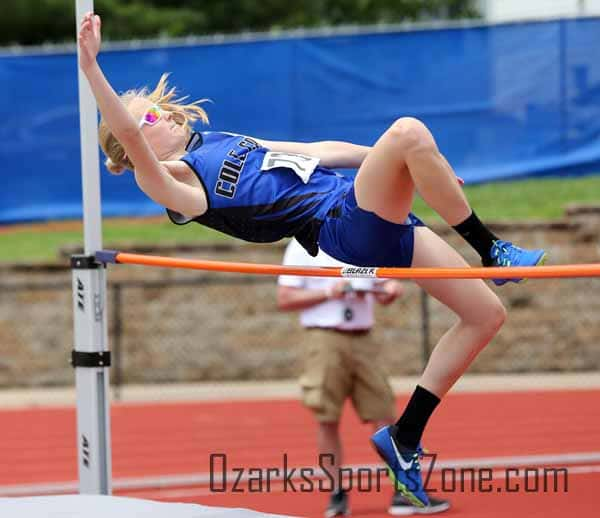 Lainy Williams and Maddi Cook added a silver and bronze in the Class 2 high jump Saturday to their gold medal in Friday's 4×800-meter relay.
"It's not what I was expecting, but it's a good one to end on," Williams, a senior, said. "I'm proud of [Cook], who's doing great."
Williams and Cook jumped a 5-03.00 Saturday with Cook taking second due to fewer faults. Cook had only a single fault before attempting to jump 5-04.00, a height she had to delay to go run the 4×400-meter relay. It seemed apparent that leg fatigue from that race impacted her chances to advance beyond that height.
"I tried not to let it bug me but I think it just kind of got to me in that last jump," Cook said. "My legs were kind of dead, but I feel pretty good and it's a good way to end the season."
Schuyler County senior Rachel Morris took first in the high jump, faulting twice on 5-04.00 before converting on her third jump. Morris went on to jump a 5-06.00.
Keith Breaks Through 4th-Place Barrier in 400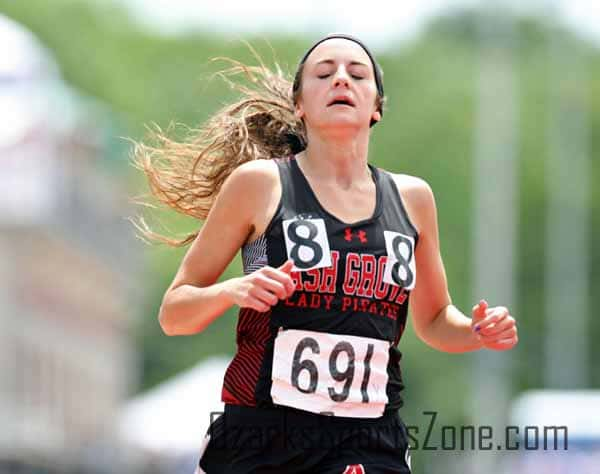 After back-to-back fourth-place finishes at state in the 400-meter dash as a sophomore and junior, Mallory Keith was all smiles on the podium as a Class 2 state runner-up Saturday.
"It feels awesome," Keith said. "It's kind of nice to move away from the past two years and move up. Second is awesome. More than I can ask for."
Keith finished the 400 in 59.49. The athletic senior also found her way to the podium with an eigth-place finish in the 100 (13.04) and a third in the 200 (26.27).
"The 200 is a surprise for me," she said. "I've never run the 200 so I was kind of surprised to be here. But it's a happy surprise.
Doto Shot Put Runner-Up In Experienced Field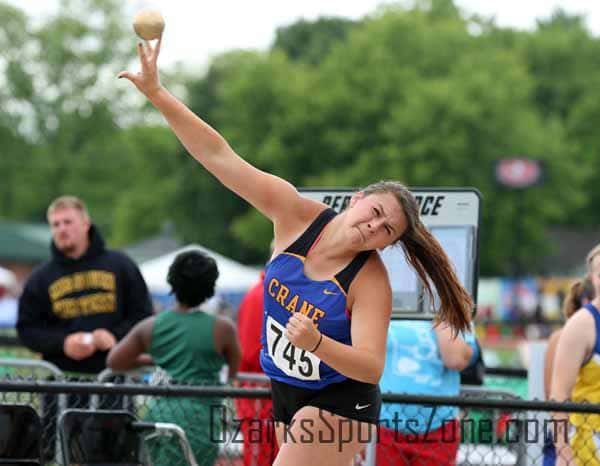 All but one of the top 11 Class 2 shot putters at this weekend's state championships were upperclassmen. That one is Olivia Doto.
The Crane sophomore finished as state runner-up with a throw of 39-03.25, just inches short of Schuyler County senior Megan Haley's 39-06.75.
"I'm proud of myself," Doto said. "I came here to do the best I can and that's what I did. You can't do any more than that."
Doto was visibly emotional after the event, but with two years still ahead of her said she knows her potential in the sport is far from done growing.
"I've had a lot of people tell me little things on how to get better," she said. "But I think it's more mental than anything. Next year I'm going to work harder and I'm going to be better and I will be on that podium next year."