By Matt Turer — mturer@ky3.com
@MattTurer
Jefferson City, Mo. — The storms that pushed through Southwest Missouri Friday held their menacing grimaces to the east of Jefferson City for the entirety of the Class 1 and 2 state track meet.
Class 2 area schools saw four state champions crowned on Day 1 and New Covenant Academy's girls tied for first in the team standings with 26 points. A recap of Friday's Class 2 action is below.
CLICK HERE FOR DAY 1 CLASS 2 TRACK PHOTOS
CLICK HERE FOR DAY 1 CLASS 2 FIELD PHOTOS
CLICK HERE FOR CLASS 2 BOYS RESULTS
CLICK HERE FOR CLASS 2 GIRLS RESULTS
Cole Camp's Gravel Champs
What's the Cole Camp guide to a 4×800 meter relay state championship? First, train on a gravel track. Second, add a runner who has only run the race five times in her life. Third, enter the final 400 meters at least 30 meters out of first place and win by over a second.
Easy enough.
"I honestly don't know what happened (on the last lap)," sophomore Lainy Williams said. "[Linn] just started dying back and [Lafayette County and Eugene] suddenly past me, and I was just like, I'm not going to let them beat me. So I came back and got them."
Maybe it's that home gravel track that pushed Williams down the home stretch, with the comparably cushy course at Jefferson City making her feet feel just a little lighter.
"Practicing on gravel makes this way easier," senior Maddi Cook said. "We just run as far as we can and as hard as we can at home. That's about it."
Cook was a late add to Cole Camp's 4×800, joining a group of three sophomores that includes Braiden Dougherty and Tayler Gudde, along with Williams.
"Coach just decided I was actually in shape to run, so he put me in," Cook said.
"We're a small town, so it's really important if we ever get into state events and it's really cool to win state," Gudde, who ran the best opening slit of any runner in the event, said.
Miller Calls Discus Championship 'Lifelong Dream'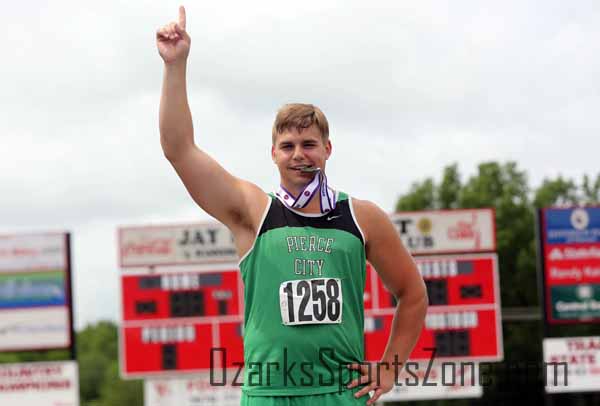 A year ago, this moment seemed a distant dream to Brayden Miller. Sidelined with a torn ACL, the violent spinning, rotating motion of a discus athlete was impossible. A state championship took a backseat to a grueling rehab process. A process that lead to Friday, and a state title.
"It's a long way coming," the Pierce City senior said. "I was throwing pretty bad [after rehab]. I had to work really hard to get to this point. It's almost like a dream come true. One of my lifelong dreams was to get first, and I got it."
And then some. While his medal will forever read a Class 2 championship, Miller's 168-06 throw was good for the longest by any southwest Missouri discuss thrower so far this season, regardless of Class.
"I thought [a championship] was possible but I knew it'd take a lot of work," Miller said. "A lot of blood, sweat and tears had to go into it."
Miller, so nervous in preliminaries that his hand was visibly shaking while holding a cup of water, still came out of the early rounds with the lead throw. That advantage allowed him to settle down in the finals, and probably drink without spilling.
"The nerves were still there in the finals but not as bad," he said. "I was so nervous."
Cummings' 5-Month Path To Vaulting Gold
When you start a sport, it's supposed to take time to get good at it. In baseball, that's what tee-ball is for. Hit a motionless ball off a tee first. If you can do that, you get to have a coach throw to you from three feet away. If you're lucky, over a decade will pass and you might start on your high school varsity team.
Now a state championship pole vaulter, New Covenant Academy's Paige Cummings kind of forgot how things like that are supposed to work.
Cummings first touched a pole vault in January. Of 2017. Friday, she took home a state championship with a 10-01.00 vault, and was the only vaulter to break 10 feet in her Class.
"I didn't expect to be here," Cummings said. "My goal was to get eight feet for the entire season, so this is crazy. It feels like a dream. It's weird."
It is a little weird. And a lot of amazing. A former gymnast, Cummings was pushed into pole vaulting by her gymnastics coach, who went to college for pole vaulting.
"She told me I should probably try it, so I did," she said.
"A lot of people say gymnasts have an advantage (at pole vault)."
This one certainly does. Cummings helped put New Covenant in first in the Class 2 girls team rankings after Day 1.
Claire McCune Gets Her Individual State Title, Katie Takes Third
New Covenant Academy has become one of the scariest little schools in the state since Claire and Katie McCune were freshmen. The twin seniors made an appearance at state that season, competing in the 4×800-meter relay, but didn't qualify in a single event as individuals.
Friday in the 3,200-meter run, Claire celebrated her first individual state championship (11:16.86) while Katie took third (11.30.85), but it wasn't easy. Claire trailed Steelville's Allie Gibbs (11:26.29) by nine seconds through 800 meters, pulling even and away from Gibbs to win by nearly 10 full seconds.
"I was really excited," Claire said. "I really wanted this one. We've been training all year and our goal this whole season was to get my first state championship."
Gibbs looked like she had built a nearly insurmountable lead around the halfway point of the event, but the McCune's knew that separation wouldn't last.
"That was our race plan," Katie said. "We came into it knowing that's how she races, so we were pretty comfortable knowing that we just had to run…our strategy we've had the entire season."
OTHER NOTABLES
Mansfield's Dylon Berry qualified for the finals in both the 100-meter and 200-meter dashes. He won his premlinary heat in the 200 with a time of 22.63. He took the final qualifying spot in the 100 with a time of 11.37 … Hartville freshman Grace Culver is looking to make a name for herself as she qualified in both the 100 and 200-meter dashes. That included winning her heat in the 200-meter dash … Ash Grove Senior Mallory Keith will have a busy Saturday after qualifying for the 100, 200 and 400-meter dash finals. Crane's Madison Hicks will join her in the 400-meter dash finals after posting the second-fastest time on the day in 60.00 … College Heights' Jonathan Johnson will run four events on Saturday. He qualified individually in the 200 (22.76) and the 400 (50.18) along with on the 1600-meter relay squad. The 3200-meter relay will be his fourth event … Caleb Mooney will represent Richland in both hurdle events. He was fourth-fastest in qualifying in both the 110-meter hurdles (15.73) and 300-meter hurdles (41.81) … Cole Camp's girls 1600-meter relay will look to add to their 3200-meter relay gold from Friday after posting the third-fastest qualifying time in the event