By Matt Turer — mturer@ky3.com
@MattTurer
Hollister, Mo. — For Reeds Spring's boys, call it a repeat. For Bolivar's girls, call it tradition. For the second year in a row, the Wolves are COC-Small track and field champions. For the Liberator girls, that streak is at six consecutive years and eight out of the last nine overall.
Bolivar's girls finished in the Top 3 in 14 events, winning eight outright. Their 215.50 team points was comfortable ahead of Logan-Rogersville's 161. Reeds Spring finished third with 95 points.
"These girls, our seniors, they don't know anything but to win conference," Bolivar coach Vickie Newcomb said. "We come here ready to compete, but we're still training because our big racing starts a week from Saturday."
Individual and group winners for Bolivar's girls included Melayne Bruce in shot put (32-02.00), Anna Wolf in triple jump (35-08.50) and long jump (15-07.00), the 4×800 and 4×200 relay teams, Julia Phillips in the 300-meter (50.71) and 100-meter (15.53) hurdles, Kelie Henderson in the 1,600-meter run (5:12.55), and Kassidy Owens in the 100-meter dash (12.95).
"We'll celebrate on the way home," Newcomb said. "They get the day off on Friday. It's the one day of the whole season we give them off, because when we come back Monday it's hit the grindstone ready and get ready for districts. That's really what we've built for all season. We are just now beginning our peaking phase."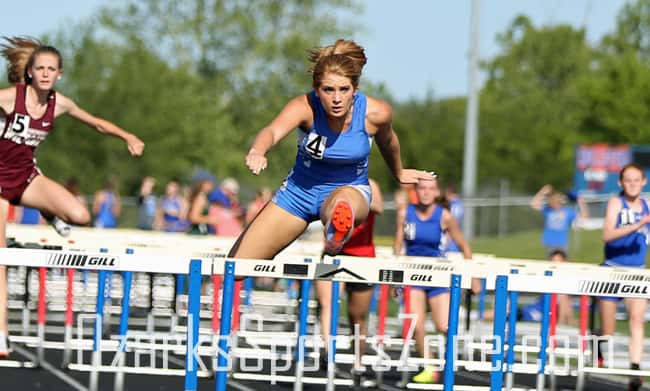 Henderson, Bolivar's top long-distance runner and one of the best in the state, beat another state favorite, friend, and rival in Tabitha Weber in the 1,600-meter for the first time ever.
"It's awesome to race against her because she's always pushing me no matter what. I'm really happy that I beat her but I'm so glad I actually got to race her," Henderson said. "She's taught me so many things and helped me with pacing work and she's just such a good competitor. I was glad to beat her in the mile because that's been my dream is just to beat her. In something. And I got it today."
But Weber got Henderson back in the two-mile (3,200-meter), the senior beating the sophomore by nearly eight full seconds.
"She ran an amazing race," Henderson said. "We just paced off each other and she had the better lap. She had the better race. It was really great to race and compete against her. And this year is her last year, so I'm going to miss her next year."
Weber sang Henderson's praises in response after the 3,200.
"Kelie is definitely competition," Weber said. "Any meet Bolivar is at, I automatically look for her. Today in the mile she really pushed me. I started my sprint a little too early and kind of suffered from that, but she ran a really good race.
"For my two-mile, coach and I really focused on pushing her and letting her lead the race and me trying to relax more and really search-and-destroy on this two-mile."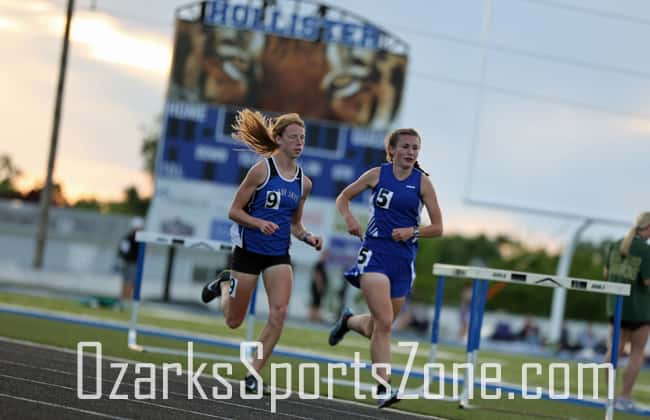 The Reeds Spring boys finished in the Top 3 in 13 events, winning 10 outright. Their 188.50 team points were nearly 50 ahead of second-place Bolivar's 139.50 points. Marshfield's boys finished third with 90.
"The best part of [this back-to-back conference title] is the pride you can take in building a great program," Reeds Spring head coach Sofie Kondro said. "It's getting to see your kids get excited about it and want to be part of something they're going to be able to contribute to and be able to create a legacy."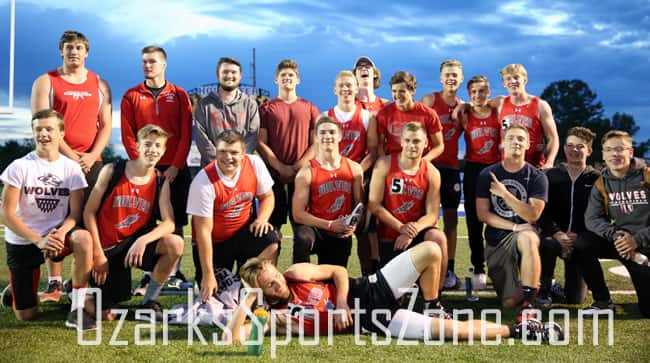 Individual and group winners for Reeds Spring's boys included Xavier McDaniel in the discus (153-08) and shot put (51-11.00), Kyle Modlin in the triple jump (40-02.00), Kelly Newton in the long jump (19-11.00), the 4×200 and 4×100 relay teams, Ransom Allphin in the 300-meter (39.41) and 110-meter hurdles (14.38), and Korey Robinette in the 200-meter (22.37) and 100-meter (11.07) dash.
"We feel really good," Kondro said. "We have a senior class that's been strong since they were freshmen, so this was big for them as seniors just to take another conference title. That's huge. Especially back-to-back."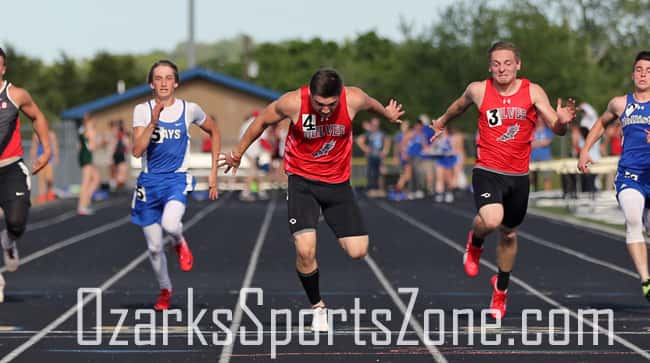 Rogersville freshman Camile Hendrickson was the top individual scorer on the girls side. Hendrickson placed first in the 200-meter dash (26.65), first in the 400-meter dash (1:01.01), was the anchor for Rogersville's first-place 4×400-meter relay team (4:15.00), and placed second in the high jump (5-02.00).
Marshfield senior Daniel Yarbrough was the top individual scorer on the boys side. Yarbrough placed third in the 100-meter dash (11.54), third in the 200-meter dash (23.35), first in the 400-meter dash (51.86), and was the anchor for Marshfield's third-place 4×100-meter relay team (46.62).
Springfield Catholic junior long-distance specialist Stephen Kielhofner looked dominant in the 800-meter (1:56.03) and 1,600-meter runs (4:33.51). Kielhofner easily pulled away from Bolivar senior Nathan Painter in the mile on the final back stretch and edged Painter by 1.5 seconds in the 1,600.
Tuesday was the first time all season that Kielhofner raced the 800.
"Really the first two races I wasn't really feeling too up to par," Kielhofner said. "I felt good in the race but the warm-ups didn't feel too good. Before the warm-ups I guess something just clicked."