By Matt Turer — mturer@ky3.com
@MattTurer
Every other week, OzarksSportsZone.com will release local spring softball power rankings. This week's rankings are through games played on April 18. With just one Class for spring softball, these rankings won't follow our usual dominance-by-class format but will take dominance within districts into account.
Click here for April 5 CoxHealth Power Rankings
1. Purdy (18-1, LW: 1)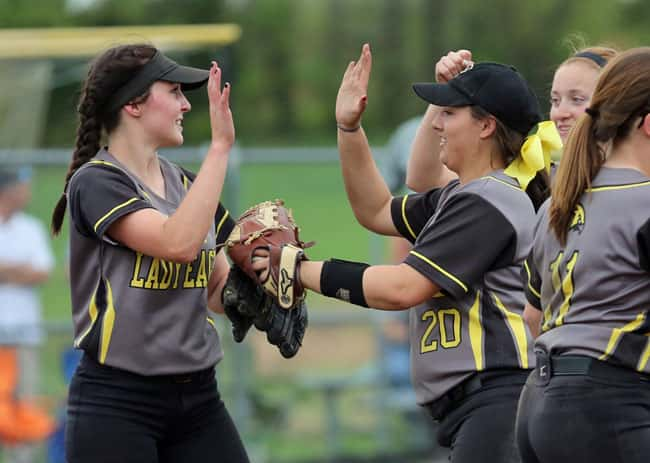 Purdy went 7-0, run-ruled Liberal and Mount Vernon and beat Sarcoxie 10-2 (and Mt. Vernon 9-3) since our last rankings came out. They've now outscored all opponents 220-16 over 19 games and have won 13 straight since losing to Strafford (who they also beat this season) on March 23. The Lady Eagles are batting .438 as a team and have four regulars hitting above .500, led by Rion Boyd's .614 average. Boyd leads Purdy with 16 extra-base hits (five triples), but that power runs deep. The Lady Eagles have 57 doubles, 14 triples and eight home runs as a team, numbers that back their ridiculous team OPS (OBP+SLG) of 1.172. Add that to 113 steals and there's really not much a defense can do. Fielding and pitching has been there as well. Purdy sports a 0.948 fielding percentage, meaning that when batters manage to even get on base against Hallie Henderson, they're not going to get much help getting home. Henderson (14-1) is sitting on a 0.77 ERA, 0.55 WHIP, .155 oOBP and has struck out 150 girls in 88 2/3 innings. For a pitcher who came into the season not known to be the overpowering type, those strikeout numbers are pretty scary.
2. Strafford (16-1, LW: 2)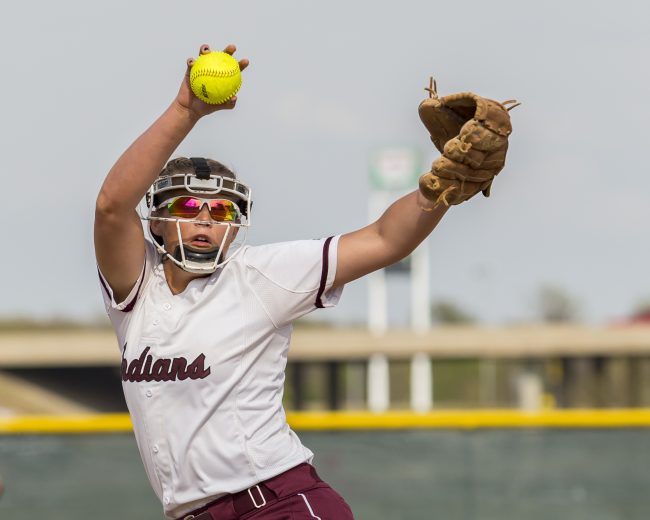 Thirteen in a row now for Strafford since losing to Purdy back on March 20. That includes a 5-0 stretch over the past two weeks with an 11-1 win over Plato mixed in. That Plato final really says a lot as to where Strafford and Purdy stand on the spring softball landscape at this point in the season as Plato might be the No. 3 team in the region. Strafford has outscored opponents 87-2 in April, which is pretty good! The stats I have don't include the Plato game, but the Lady Indians are hitting .387 as a team with a 1.048 OPS. What should be scariest for teams around the state is that Zoey Mullings is back to her old self, lowering her ERA/WHIP from 3.03/1.20 on April 5 to 2.39/1.00 heading into that 11-1 win over Plato. She's allowed just two runs over her last 28 innings. That works.
3. Plato (11-3, LW: 3)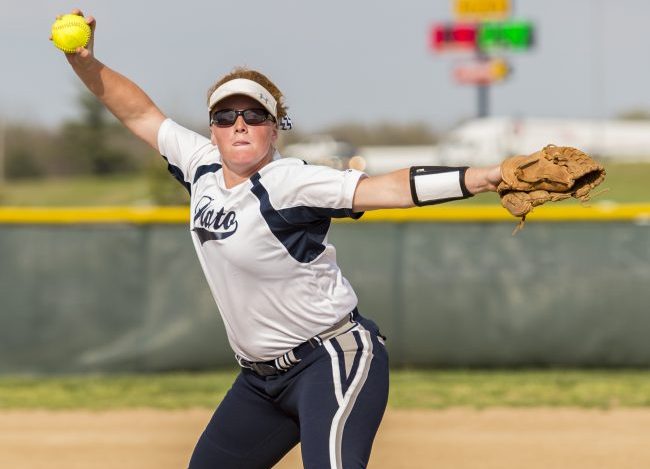 Plato's three losses this season have come against fall softball teams and Strafford. Beyond that 11-1 loss to Strafford, the Eagles have been about what you'd expect them to be against fellow spring softball programs: dominant. That success includes a 10-4 road win over Mountain Grove, which was a big statement win after Grove's hot start. They have a good test coming up against Van Buren, who also beat Mountain Grove, in the Van Buren Tournament on April 22, pending a rainout.
4. Pierce City (16-4, LW: 5)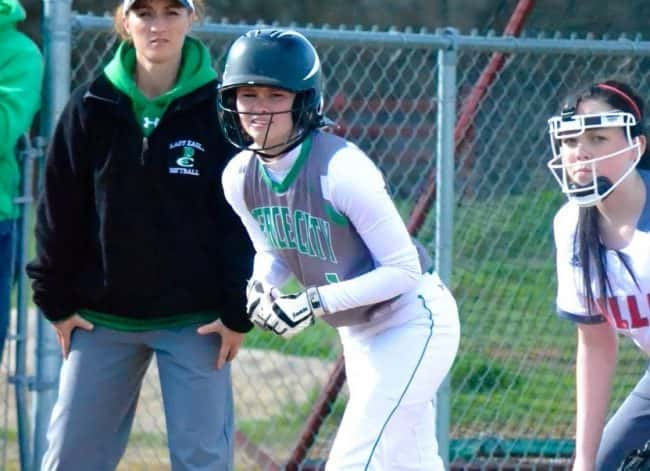 Pierce City remains one of the more intriguing teams after going 7-1 since April 5. Intriguing for a few reasons:
Reason No. 1: That one loss over the past two weeks was a 4-2 loss to Wheaton (7-3). Now, is Wheaton a potential Top 10 team in the area? Maybe. But it's still hard to say. Wheaton does have that quality win to speak of and has played Fair Grove and Liberal to close losses, but it also went eight innings with a .500 Exeter team.
Reason No. 2: Wins over Mt. Vernon (three times), Clever, Southwest, Sarcoxie and Liberal. Those are all quality wins and helps build one of the better resumes in the region.
Reason No. 3: Close losses to Strafford (7-5), Purdy (6-1) and Clever (3-1). Those Strafford and Purdy losses are especially promising. Those teams don't play very many seven-inning games, and Pierce City pushed them.
While I don't have stats, there is lots of potential here just by looking at results.
5. Mountain Grove (12-3, LW: 4)
I still like Mountain Grove a lot despite the 10-4 loss to Plato on April 11. Plato put up four runs in the second inning, three in the fifth and three in the sixth off Laci Collins, who has a dominant statistical combo of a 1.39 ERA and 1.13 WHIP even with that game. The promising thing there is the Lady Panthers' lineup put up four runs on eight hits off Plato ace Kaitlin Garrett, and all four runs were earned. Mountain Grove also dropped games to Dora and Van Buren over the past two weeks. I don't fault them for the Dora loss (fall softball team), and the 3-2 final to Van Buren is actually a good sign with Van Buren sitting at 9-2-1. I was pretty intrigued over Mountain Grove's scheduled visit to Fair Grove on Monday, but that game was rescheduled for April 25 so it remains one to keep an eye on.
6. Clever (13-4, LW: 7)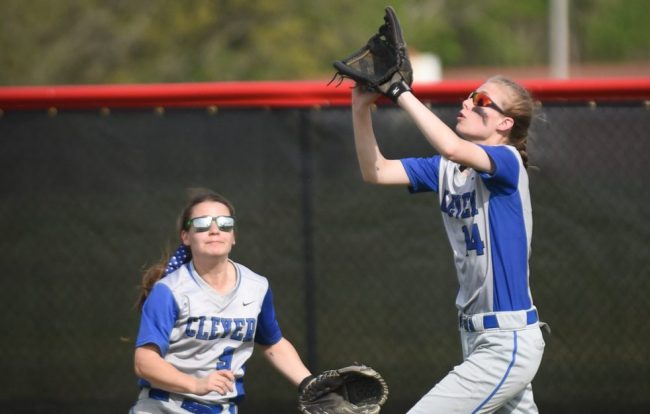 The bats are there for Clever, guys. The Lady Jays have scored 10 or more runs in nine of 17 games and are averaging 11.9 per game. That high average isn't surprising with a .490 team average and 1.302 OPS. This is a team with maybe the most power in the area. Clever batters have clocked 12 home runs and 78 extra-base hits. That output is led by Allison Nolan, who's batting .586 with nine doubles, five triples and six homers this season, all of which is equalling out to a 1.862 OPS. Scary good! The crazy thing is Nolan doesn't even own the team-high batting average. That belongs to Emily Mendenhall's .661 mark and .701 OBP. Regular starters Taylor Menzies, Taylor Farmer and Emily Ledbetter are also all hitting above .500. They're doing all this against a pretty tough schedule that includes games against Crane (twice), Mt. Vernon and Pierce City (twice). Clever is scheduled to play Strafford on Thursday, and if that game isn't rained out, it will be interesting to see how those bats perform against either Zoey Mullings or Alissa Collette. The only fault with Clever comes with sharing a district with Purdy, meaning that 3.73 team ERA might have problems with Purdy's tested mashers and strong defense.
7. Southwest (13-3, LW: 6)
Southwest put up a 6-0 mark since our last power rankings that includes a 3-0 record in the Ash Grove Lady Pirate Classic. I like the 4-3 win over fall softball program Pleasant Hope in that tournament. Pleasant Hope was tough last fall so seeing Southwest come out with a win is a good sign going forward. Home games against Sarcoxie (11-5) and Purdy (18-1) scheduled for next Monday and Tuesday will be good measuring sticks.
8. Lincoln (13-0, LW: UNR)
Tough to judge because a comparatively weak schedule to the others on this list, Lincoln can't be ignored anymore with that 13-0 record, a mark that means the Cardinals stand as the last undefeated team in the region. Lincoln has put up pretty unbelievable batting numbers, but I want to start with pitching and senior Sloan Swearngin. In the 11 games I have stats from, Swearngin has allowed TWO earned runs and six total runs over 53 innings, striking out 97 and walking just FOUR batters over that stretch. A truly incredible ratio. That complete dominance turns into a 0.34 ERA and 0.57 WHIP and includes a scoreless innings stretch of at least 46 innings at one point this season. Those numbers are no fluke, I don't care who you're pitching against. Lincoln is doing it at the plate too, hitting .491 as a team with six starters above the .500 mark. The cool thing is (and this is if the order is right on GameChanger), Lincoln's No. 8 and 9 hitters (Swearngin and Haley Mackey) lead the team in RBIs with 20 and 22, while Mackey leads the entire team with a .606 average. Needless to say, watch out for this team going forward.
(Note: I'm missing two games from Lincoln's stats. Meaning anything listed is through 11 games).
9. Liberal (15-3-1, LW: UNR)

Liberal is another team that pays a little bit with their schedule for being outside of the core group of spring softball powers, but when they've had opportunities closer to high-level competition, they've mostly answered. Beating Fair Grove 7-2 back in March is a nice win, and their 2-1 loss to Pierce City says a lot for what Delanie Freeze has done on the mound this season. Freeze has struck out 169 batters in 90 1/3 innings, going 12-3 with a 2.09 ERA and 0.90 WHIP. Liberal is led at the plate by Mallory Gazaway. Gazaway is hitting .500 with 13 doubles, a triple and two long balls so far this season and also leads the team with 15 steals. Liberal is really pretty consistent from top to bottom in the batting order, hitting .388 as a team. They do have a 10-0 loss to Purdy, but that was a 0-0 game through three innings before errors (seven unearned runs) plagued them.
10. Crane (10-3, LW: 9)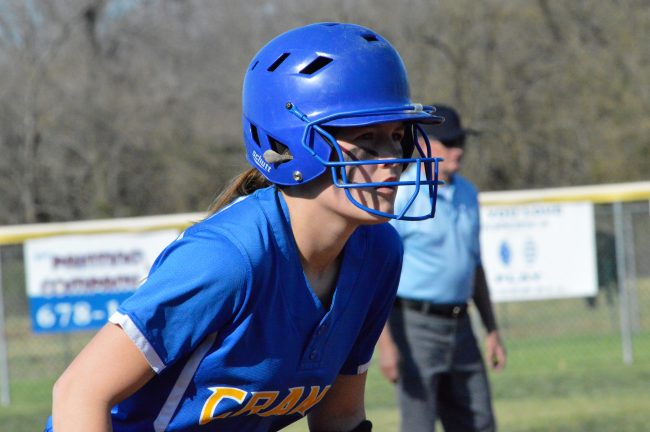 The Lady Pirates showed me a lot by coming back and beating Clever 5-4 in the Forsyth Tournament (and winning that tournament) after losing 14-4 to the powerful Lady Jays just four days earlier. Crane's bats aren't always there as their .296 team average is the lowest team average in these rankings, but they still find ways to win and are in a very winnable district. Olivia Edwards (.455 BA) and Eryn Akin (.448 BA) lead the team at the plate. Edwards has been good on the mound, striking out 71 in 62 2/3 innings, and her 2.79 ERA should drop with that low 1.12 WHIP she's sporting.
Keep An Eye On: Fair Grove (11-4), Sarcoxie (11-5), Mt. Vernon (10-9), Wheaton (7-3)