By Josh Hall
Nixa, Mo. – The Harrison (Ark.) Goblins took a step in the right direction on Saturday.
Now they hope to build from that as the season progresses.
Harrison collected 14 hits and Carson Journagan threw a complete game to lift the Goblins to a 12-3 win against Nixa as part of a doubleheader for the Red and Blue Tournament at Nixa.
"I couldn't be prouder of our kids right now," Harrison coach Greg Crow said. "From where we started the season to where we are now… it's just tremendous. I tip my cap to them for working. We've got a long ways to go, but for as young as we are, that's a big win for us."
CLICK HERE FOR HARRISON (ARK.) VS. NIXA PHOTOS
With a combined seven freshmen and sophomores in its starting lineup, Harrison (4-6) lost its first five games of the season.
But the Goblins have made strides since then.
"It's a big confidence booster for us because we're a really young team," Journagan said. "Now we know we can compete with older teams. I think it's a big turning point for us."
Journagan allowed two earned runs and five hits in seven innings. The sophomore right-hander didn't issue a walk and struck out one, while pitching around two Harrison errors.
"I couldn't be happier for him," Crow said. "He was really good for us as a freshman, and he's just now getting into shape out of basketball season. He's a strike thrower and he competes. He's going to give you everything he's got, every time out there."
Harrison's second game of the day was significantly different than its opener. The Goblins suffered an 11-0 loss in five innings to Kearney in Game 1 before bouncing back in the nightcap.
"We kind of closed that door after it was over," said Quinn Cherry, one of two seniors on Harrison's roster. "It's a new race, it's a new game. We just went out there and tried to win every inning."
In the first game of the day, Nixa (3-5) overcame a seven-run deficit to claim a 9-8 win over Kearney, but the Goblins didn't let the Eagles keep the momentum.
"(Kearney) whipped us, but it was our fault for allowing them to whip us like that," Crow said. "That's just something you've got to grow from at the end of the day."
Nixa jumped out to a 2-0 lead in the bottom of the first after an RBI single by Conner Matthews and a Harrison fielding error. The Eagles didn't get anything going offensively again until the fifth when Brett Hammit delivered an RBI double.
The Goblins took a 4-2 lead after Cherry, a Crowder signee, hit a grand slam to centerfield with one out in the top of the third. Harrison added two runs in the fourth following back-to-back RBI's by Cherry and Tanner Taylor, and tacked on another run in the sixth on an RBI single by Journagan.
Harrison left nothing to chance in the seventh when the Goblins scored five runs on five hits.
"It's tremendous for us to be able to go out there and do that today," Crow said. "We needed that going forward, there's no question."
Cherry was 2-for-3 with five runs batted in while Taylor was 4-for-5 with two RBI's to lead the offensive attack for Harrison.
Peyton Honah was 2-for-4 to pace Nixa at the plate.
"We've had an up and down year, so far," Cherry said. "This will be a good turning point."
Harrison (Ark.) 12, Nixa 3
Harrison – 0-0-4-2-0-1-5 – 12
Nixa – 2-0-0-0-1-0-0 – 3
(W) Carson Journagan – 7 IP, 3 runs (2 earned), 5 hits, no walks, 1 strikeouts, 2 HBP
(L) Talon Cherry – 4 IP, 6 runs, 9 hits, 3 walks, 4 strikeouts
Harrison –Thailer Lovell 1-4, RBI; Colton Shaver 2-5 (2B), 2 RBI; Quinn Cherry 2-3 (HR), 5 RBI; Tannery Taylor 4-5, 2 RBI; Carson Journagan 1-4, RBI; Keaton Brown 2-3, RBI; Damian Ireland 2-2.
Nixa – Peyton Honah 2-4; Brett Hammit 1-2 (2B), RBI; Jack Sanders 1-3; Conner Matthews 1-3, RBI; Chris Legget 1-2.
Nixa Rallies Back From 8-1 Down To Beat Kearney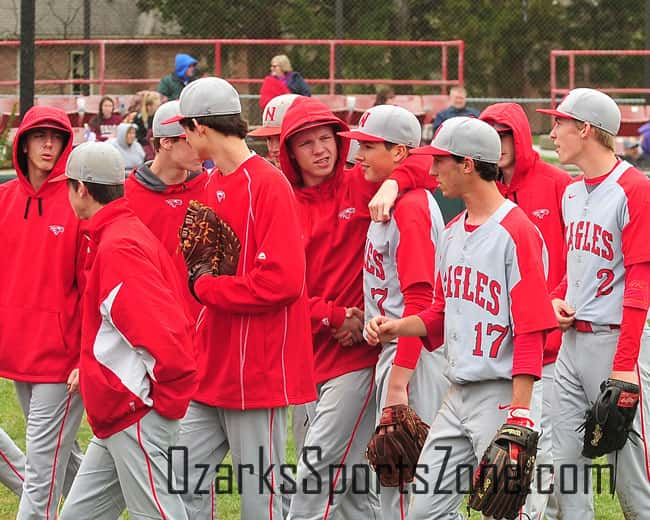 Nixa, Mo. — Ryan Murphy and the Nixa Eagles got off to a rough start on Saturday afternoon.
They both found redemption.
Murphy delivered the go-ahead run with an RBI single in the bottom of the sixth as Nixa overcame a seven-run deficit to claim a 9-8 win over Kearney in Game 1 of the Red and Blue Tournament at Nixa.
"It slowly turned around," Eagles coach Howard Greenwood said. "I tell you what, the way it started, it was like we were the ones that just got off the bus, which made no sense."
CLICK HERE FOR KEARNEY VS. NIXA PHOTOS
Nixa (3-4) trailed the Bulldogs 8-1 after three innings. During that span, the Eagles committed five errors.
Three of those errors belonged to Murphy, who hasn't had the best luck when it comes to health this year. The junior suffered a torn ACL and meniscus during the football season, and was sporting eight stitches over his left eye on Saturday after colliding with a fence during a game against Glendale earlier in the week.
"I've had some injuries over the past couple months from football, so coming back is kind of hard," Murphy said. "Ever since I got my (first) base hit this game, everything kind of fell into place at the end."
Murphy's hit with one out in the bottom of the fourth sparked a four-run inning that was capped by a three-run double by Stephen Belcher.
"You get on a roll in this game, and it just continues to roll," Greenwood said. "I think once we scored those four runs, we thought, 'hey, we can do this.'"
Nixa added three runs in the fifth after getting back-to-back RBI's from Corey Lummis and Chris Legget. Jack Sanders got things going in the sixth with an infield single with one out and Murphy followed with a single to shallow left field to put the Eagles on top.
They didn't look back.
"I just kind of got lucky on it and hit a little blooper over to left and got the game-winning run," Murphy said.
Jake Uber threw four scoreless innings in relief to earn the win for Nixa. The sophomore entered the game in the top of the fourth with the Eagles trailing by seven.
Greenwood knew the potential of his underclassmen after coaching Uber last summer. The right-hander didn't disappoint.
"He had a great summer last year, and I have a lot of confidence in him throwing strikes," Greenwood said. "He will throw strikes, and he can throw three pitches for strikes."
Uber allowed four hits and struck out four in his third appearance this season.
"I was pretty nervous, overall," Uber said. "It felt good to get the win. I was glad to execute."
Nixa 9, Kearney 8
NIXA – 1-0-0-4-3-1 – 9
KEARNEY – 2-5-1-0-0-0-0 – 8
(W) Jake Uber – 4 IP, no runs, four hits, 1 walk, 4 strikeouts
(L) Jake Hagen – 1 2/3 IP, 2 runs, 4 hits
NIXA – Peyton Hanah 3-4, RBI; Stephen Belcher 2-4 (2B), 3RBI; Ryan Murphy 2-4, RBI; Corey Lummis 1-3, RBI; Chris Legget 2-2, RBI; Brett Hammit 1-3; Jack Sanders 1-4.
KEARNEY – Jess Davis 1-2, RBI; Brett Lavigne 1-3; Chris Griffin 1-4; Claytin Noud 1-4, RBI; Brady Holder 2-3, RBI; Brock Willis 2-4; Jaxon Krueger 1-2 (2B).