By John Miller/For OzarksSportsZone.com
In high school baseball, when you put the ball in play, good things tend to happen.
That certainly proved to be true on Tuesday night.
Kickapoo and Ozark combined for eight errors, including two in the final inning that helped Kickapoo get past Ozark 5-3 in 11 innings at U.S. Baseball Park in Ozark.
"That's baseball," Ozark coach Mike Essick said. "One mistake … boy, it can come back to get you."
With the game tied 3-3 in the top of the 11th and a runner at first, Kolton Giefer hit a line drive off the second baseman's mitt, sending the lead runner (Trey Kelley) to third with nobody out. Giefer then stole second, and the throw down was sent into centerfield, allowing Kelley to score the go-ahead run from third. Later in the frame, a wild pitch brought Giefer home.
The two deciding runs in the game, scored on defensive mistakes.
"It's high school baseball," Kickapoo coach Jason Howser said. "You saw the errors tonight. If you put the ball in play, more times than not, and make a high school kid handle the ball, things are going to go your way than if it's just strike three on the other end."
Kickapoo had only six hits in the game, but Ozark had five errors. Of Kickapoo's five runs on Tuesday, four were unearned.
Ozark had a golden chance to win the game in the bottom of the eighth. With one out in the inning, pinch-hitter Joe Satterly it a sinking liner to right, and Kickapoo's right fielder misplayed it. Instead of laying up and letting the ball drop in for a single, the defender lunged for it, turning a single into a triple.
"That was a mistake by our right fielder," Howser said. "We had just told him, 'We're playing balls up. No diving,' and we could see it in his eyes when he was coming in. I guess that's what you sign up for when you coach high school kids."
Kickapoo reliever Michael Barnes bore down, getting a ground out to first and a tapper to the mound from the next two hitters to retire the side, stranding the potential winning run at third base.
"For Michael to stand up there like it was the next pitch, which is what we preach … and … get out of it, I thought that was huge," Howser said.
Barnes was dominant for the Chiefs, tossing five innings of two-hit, shutout baseball. He walked only one and struck out three. Starting pitcher Adam Link went six innings, surrendering three runs on nine hits.
"I thought both of our pitchers … did an excellent job of commanding the zone, especially Michael," Howser said. "He threw a tone of strikes, was real free and easy. He's picked up some velocity and added some pitches to his repertoire."
Ozark also got good work from its pitchers. Starter Forrest Barnes lasted five innings, allowing three unearned runs on three hits. He was relieved by Chuck Hill, who gave up one hit in his first five innings of relief before the Chiefs got him for two hits and two unearned runs in the 11th.
"Chuck threw great," Essick said. "Our pitchers … that's one of the better teams you'll see in southwest Missouri and we played 11 innings and only gave up six hits."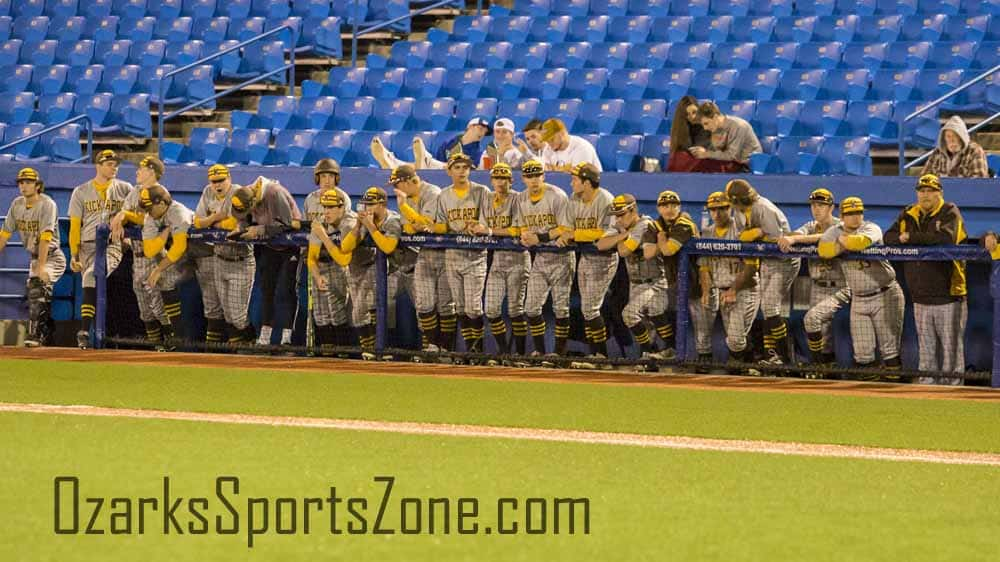 Both coaches saw plenty of room for improvement, but acknowledged the season was young.
"I've said it to (the team), I've said it before, I think we strike out way too much," Howser said. "We're going to try to get better with two strikes, making adjustments so we can, in turn, put the ball in play.  … We've got a lot of work to do offensively. We didn't bunt extremely well tonight … but it's the fourth game of the season. These guys are largely unproven. We like our club and they play hard. We've just got to get better at executing our game plan."
Essick also thought his team's offensive approach could use some tweaking.
"I thought early in the game, we took better hacks," he said. "I thought we were more aggressive. It seemed as the game went on we got … tentative. We had a lot of kids that wanted to umpire rather than hit. I told the kids, 'Mom and dad buys you a $350 bat. I'm gonna swing that thing as many times as I can.' It should be the mentality that you can't walk me. It's high school baseball. I'm going to get hacks. You can't walk me unless we need a walk. …
"I said it and Coach Howser said it. Both clubs have good pitching and good defense. I don't know if either one of us could hit our way out of a wet paper sack."
Kickapoo 5, Ozark 3 (F/11)
Kickapoo    0    0    1    2    0    0    0    0    0    0    2    5    6    3
Ozark          1    0    0     2    0    0    0    0    0    0    0    3   10   5
WP – Michael Barnes
LP – Chuck Hill
Kickapoo: Salyers, Reasoner, Merced, Jones (2B), Kelley, Grimm
Ozark: Hanks 3, Tucker 2, Gracey, Hill, Satterly (3B), Sundlie, Mozley