Presenting the 2016-17 All-O-Zone Boys' Basketball Team…
We went with an 18-player limit, with six each on the first, second and honorable mention teams.
It was very difficult to pick among the best of the best. We had a deep talent pool to choose from.
Selections are based on a combination of stats, the "eye test" (who we consider the best players), and who did/meant the most for their teams.
Players are listed alphabetically on each team.
FIRST TEAM
Cam Davis, senior, Kickapoo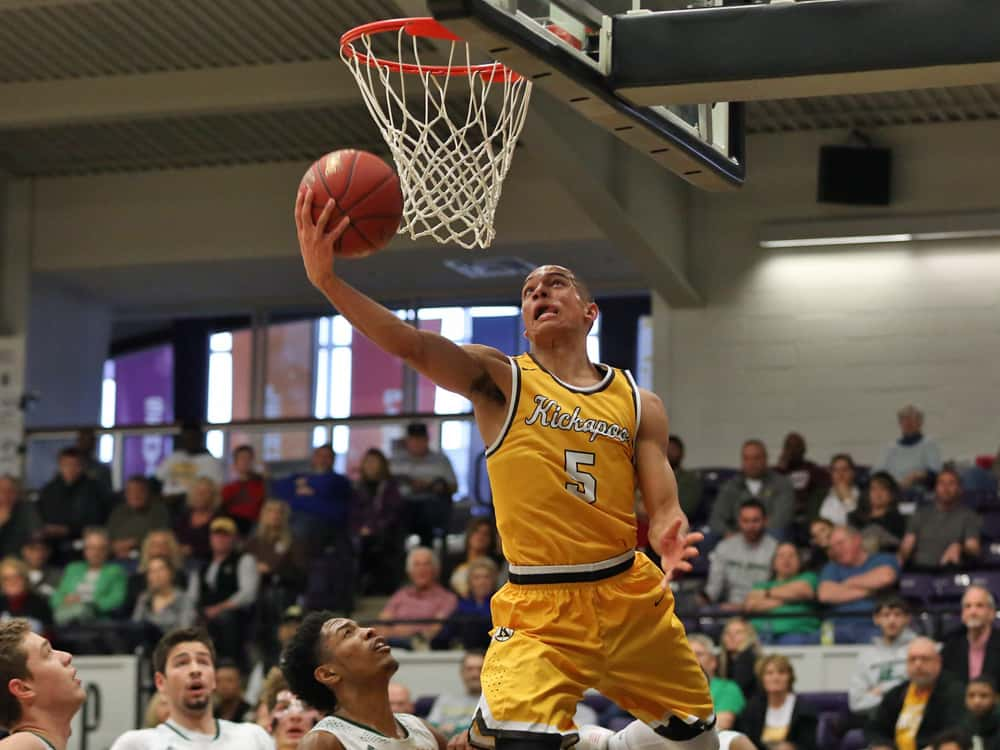 There's an argument to be made (and I may have made one to some of my coworkers) that Davis had the best season, statistically, of any player on Kickapoo. I love what Davis did this season and the attitude/confidence he played with. You can tell playing with the likes of Michael Porter Jr. and Trae Young on MOKAN Elite rubbed off on Davis. The Navy signee was Kickapoo's on-the-court leader and brought tremendous mental toughness to the team. Never flustered, Davis was – in my opinion – Kickapoo's best player during its postseason run. I love his lethal mid-range game and ability to get what he wants, when he wants. Davis was also one of the area's most efficient 3-point shooters. Davis always seemed to make – and want to take – the big shots. If Webster Groves' Courtney Ramey doesn't throw in an absurd shot, we'd remember Davis for nailing a cold-blooded 3-pointer that potentially vaulted the Chiefs to a state championship.
2016-17 stats:  20 points per game, 4.1 rebounds per game, 5.2 assists per game, 1.4 steals per game, 53.8% field goal percentage, 51.1% 3-point percentage, 79.5% FT percentage. 1,227 career points (7th most all-time at Kickapoo).
Brandon Emmert, senior, Bolivar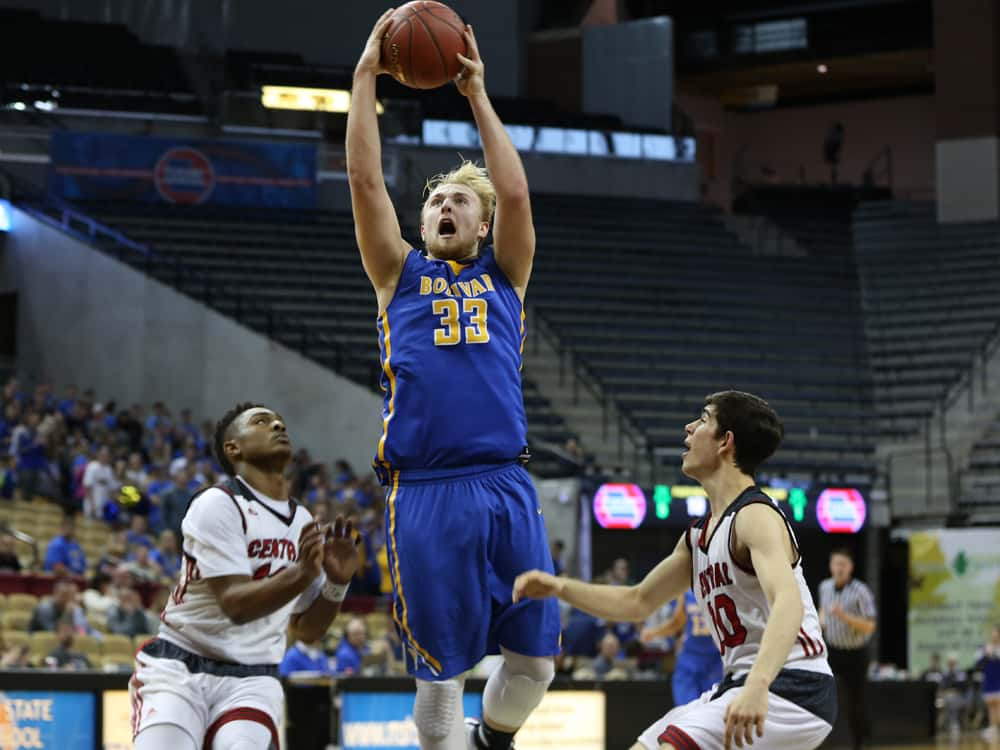 The last of a seemingly dying breed in basketball – a true, back-to-the-basket post presence – Emmert has been a cornerstone player for a very successful Liberators team since stepping onto the court as a true freshman. His style isn't flashy, but it's sure effective. Emmert uses his combination of size, strength, fundamentals and some underrated athleticism to punish teams around the basket. He can score from any angle or spot, and doesn't shy away from contact. He proved he can play with the best of the best in Bolivar's state championship game, as the Central Missouri signee posted 18 points against a Vashon front line that featured Levi Stockard (Kansas State) and Joseph Reece (K-State, SLU, Duquesne offers). Emmert leaves as Bolivar's all-time leader in points, rebounding, blocked shots, field goals made and free throws made.
2016-17 stats: 20.8 ppg, 7.8 rpg, 1.2 blocks per game, 2.2 apg, 1.2 spg. 63% FG percentage, 60.3% FT percentage. 2,045 career points, 941 career rebounds, 154 career blocks. 822 career field goals made, 390 career free throws made.  
Conley Garrison, senior, Bolivar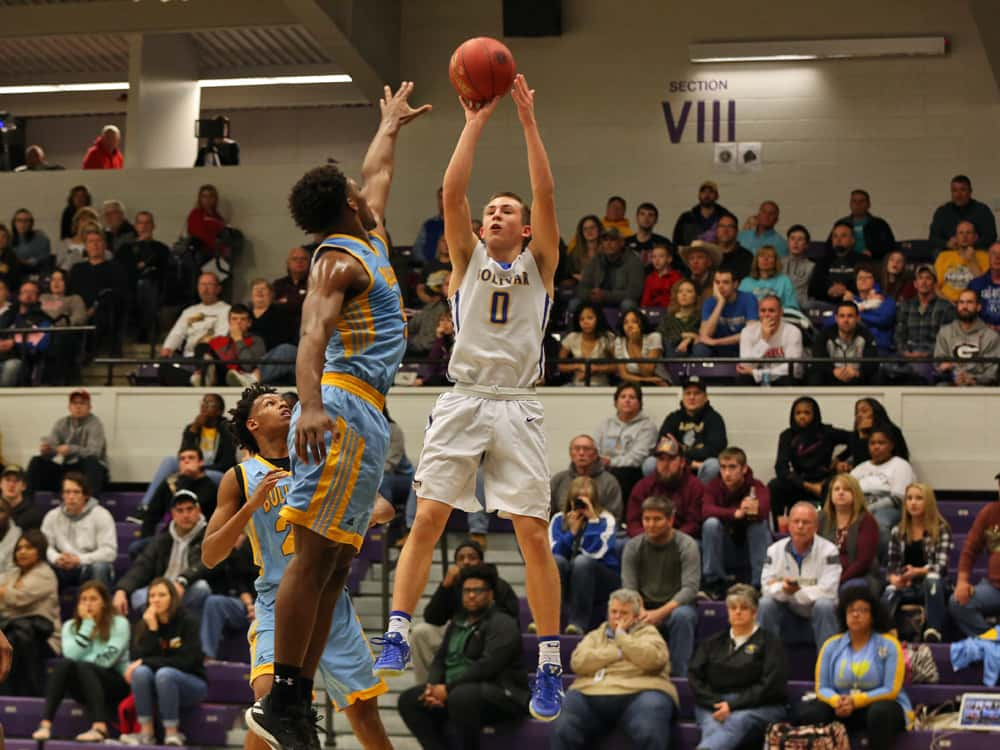 He was already pretty good, but THIS good? Garrison ascended into a premier player on the local scene this year. He nearly doubled his points per game average from his junior season to his senior season. I covered a lot of Bolivar's games, and looking back at some of his clips, I was always impressed with how much elevation Garrison got on his jump shots/finishes at the rim. He has some bounce in his legs and has a knack for hanging in the air for that extra split-second to be able to finish in traffic at the rim, a trait not many guards possess. His handles allow him to create his own shot when needed. He remains an outstanding shooter. Garrison's still unsigned, but he can be a very productive college player at the NAIA or Division II level.
2016-17 stats: 18.6 ppg, 5.8 rpg, 5.7 apg, 1.5 spg. 50% FG percentage, 40.3% 3-point percentage, 74.7% FT percentage. 1,231 career points.
Monty Johal, junior, Glendale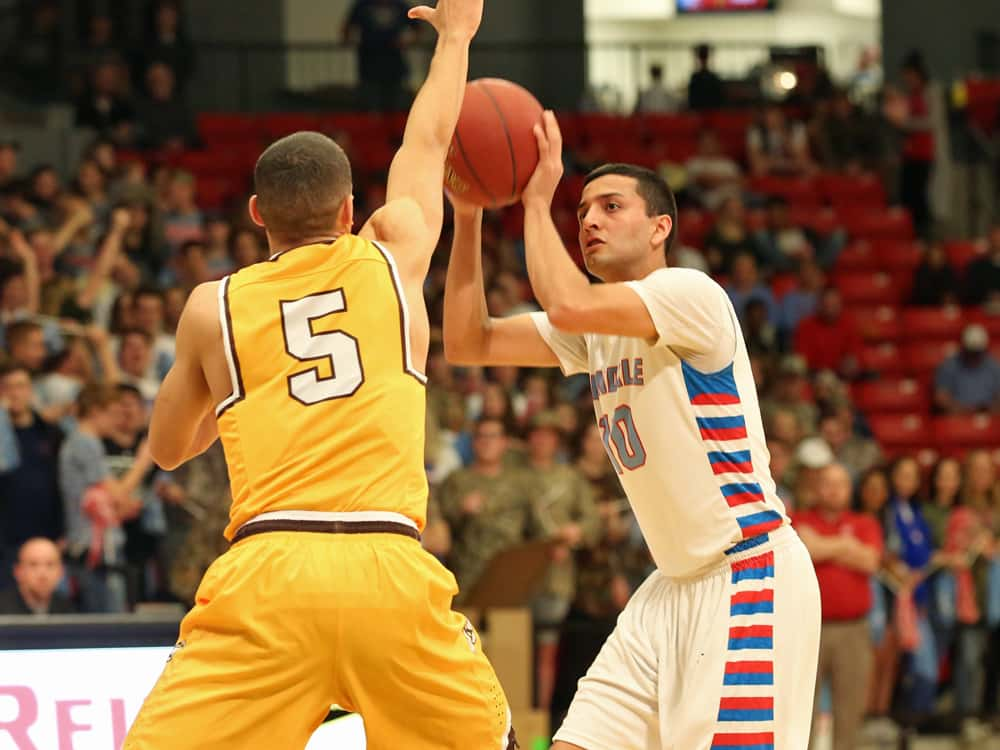 Johal was the catalyst for a D'Antoni ball-like Falcons attack that lit up the scoreboard each night. Johal can – and wants to – score from anywhere on the court. He can work any defender one-on-one in the mid-range, but he's also crafty enough to get to the basket and finish or draw fouls. Unorthodox perhaps, but no one's figured out how to stop it. He's got range, but Johal isn't just a scorer. He was the team's leading rebounder this season and also delivered 2.3 steals and 1.5 blocks per game. Johal set Glendale's all-time scoring record in his junior season and is likely to become Springfield Public Schools' all-time leading scorer – a mark (2,092) held by Dorial Green-Beckham – some time next season. Johal put up great numbers amid a stacked schedule; six of Glendale's seven losses were to opponents ranked in the Top 10 in four different states. Still unsigned, Johal currently has Division I offers from the likes of Jacksonville State, Toledo and Wisconsin-Milwaukee, and could garner more interest this summer on the AAU circuit.
2016-17 stats: 27.6 ppg, 5.8 rpg, 2.7 apg, 2.3 spg, 1.5 bpg. 59 3-pointers made. 57% FG percentage, 36 % 3-point percentage, 79% FT percentage. 1,802 career points.
Jared Ridder, senior, Kickapoo (Player of the Year)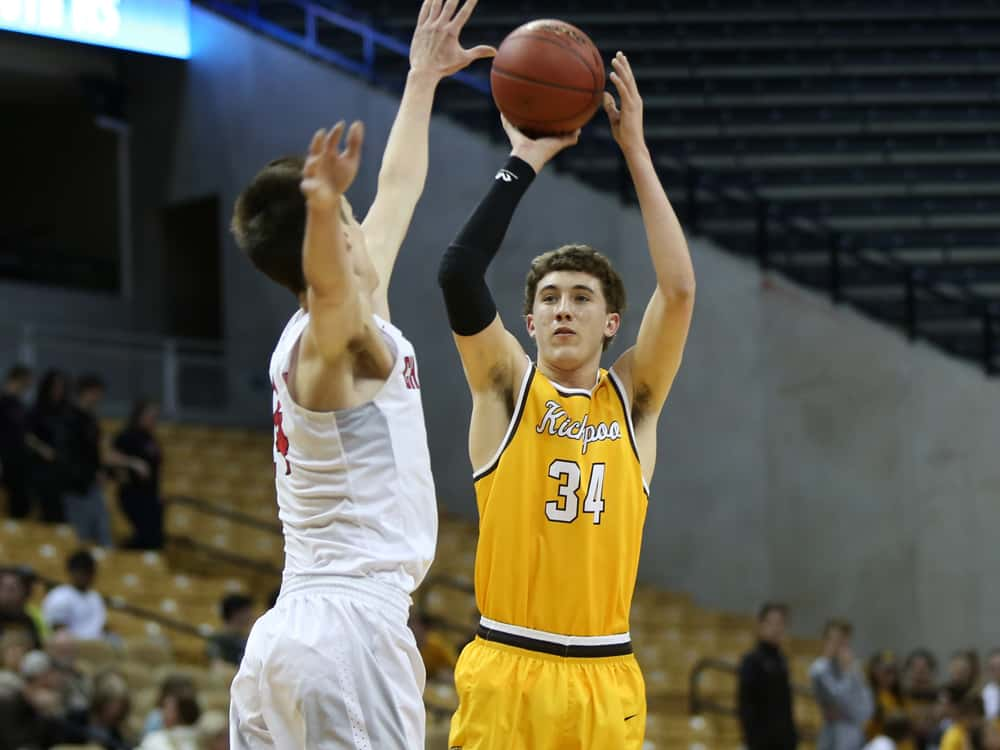 One of the most decorated players the Ozarks has ever produced, Ridder exits as Kickapoo's all-time leading scorer and the top-ranked recruit in Missouri's 2017 high school class, according to multiple outlets. The 6'7" forward is a matchup nightmare at the high school level – he'll shoot over or post up quicker/shorter defenders, or take bigger/slower defenders out on the perimeter and go to work. He has great range and one of the smoothest releases you'll ever see. In addition to being Kickapoo's career scoring leader, Ridder also set Kickapoo's single-season scoring mark this year with 745 points. The Kickapoo High School and MOKAN Elite product will throw up the "X" next school year as he heads to Xavier.
2016-17 stats: MBCA Class 5 Player of the Year. 24.0 ppg, 6.9 rpg, 1.5 spg, 49.4% FG percentage, 40% 3-point percentage, 65.8% FT percentage. 1,628 career points. 
Julius Walker, senior, Greenwood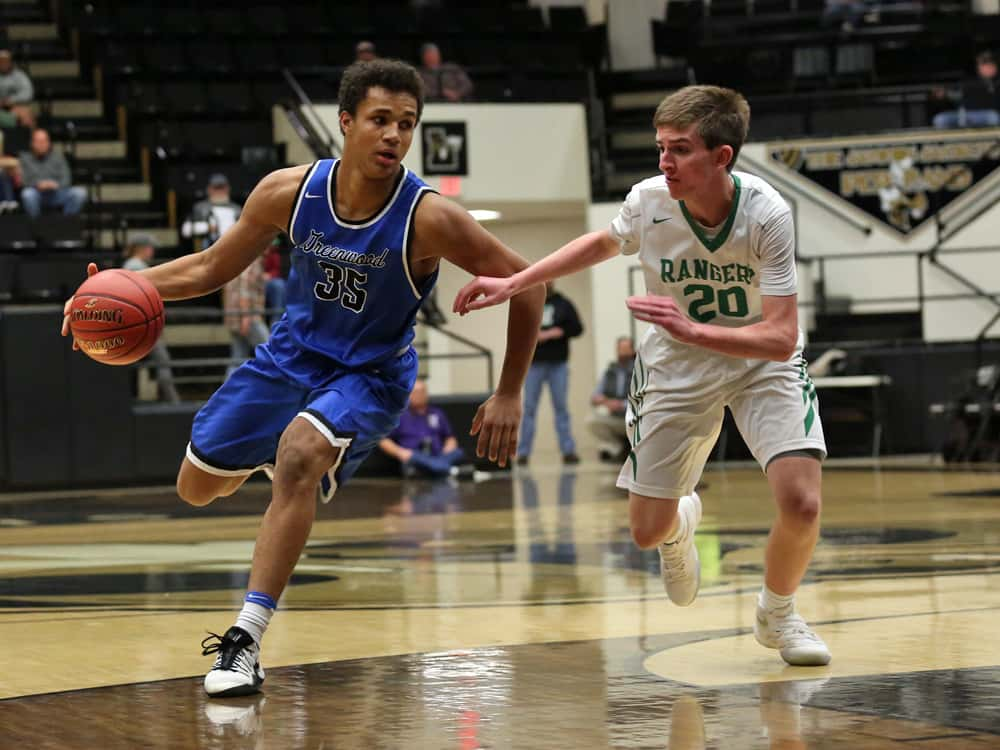 If you emphasize the middle letter of the term MVP, I'm not sure any player in the Ozarks meant more to his team this season than Walker. The four-year starter transformed from a point guard his freshman year into a devastating low-post player over the next three years. Walker has a refined post game and an arsenal of moves. The thing I like about his game is that he's never hurried or rushed around the basket, something a lot of post players can struggle with. He finishes strong and possesses great touch. Walker drove Greenwood to the brink of state, as the Bluejays came up short in the quarterfinals against Crane. Walker, also a standout soccer player, leaves as one of the greatest athletes in Greenwood's storied history. Walker's future may send him back to the perimeter as a guard or wing at the next level, but if he doesn't elect to play college basketball, Walker can always fall back on his strong academics background. He's got brains and game.
2016-17 stats: 28 ppg, 9.5 rpg, 44% 3-point percentage, 65% 2-point percentage. Over 2,250 career points. 
Coach of the Year: Ted Young, Marionville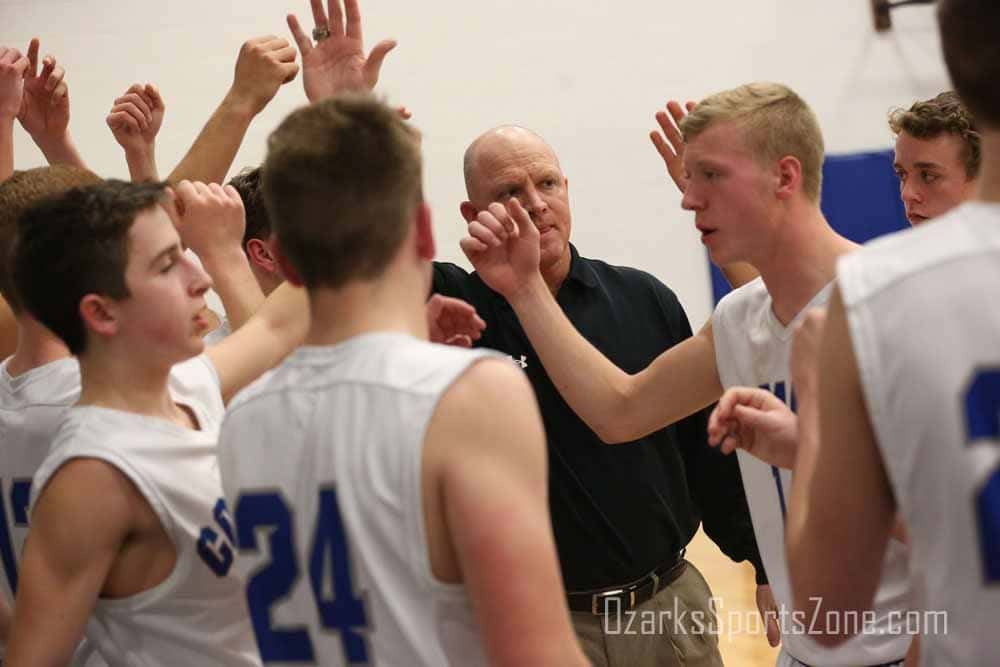 He's still got the coaching chops. After coaching the Marionville girls (and daughter Josie Young) from 2011-2015, Ted Young took a year off from coaching during the 2015-16 school year. He returned to the bench this winter and inherited what most would consider a rebuilding project. The Comets' graduated a 2016 class that include their top three leading scorers in Jacob LaSalle (13.7 ppg), Lathan Kerans (10.4 ppg) and Rane Bateman (12.5 ppg), plus addition varsity players like Mason Clevenger and Tanner Wright. Ted Young was essentially working with two varsity returnees – Aaron Head (3.2 ppg, 2.7 rpg)  and Cole Brown (5.1 ppg) – and host of JV newcomers. The outcome? Marionville cranked out a 24-4 overall record this season and a regular spot in the Class 2 state rankings. The Comets came within a last-second shot of beating Crane in the Class 2 District 11 finals, a Crane team that almost ended up winning a state championship. Marionville adopted a defense-first, get-the-best-shot-possible-on-offense philosophy that made it a very difficult matchup for any team. Ted Young coached Marionville to multiple final fours during the early 2000s, but this may have been his best coaching job to date.
SECOND TEAM

JT Brown, senior, Parkview
Brown had a coming out party at the Blue and Gold, when he dropped a school-record 47 points in an opening-round win over Willow Springs. The 47 points also tied a Blue Division record for points in a game which ended in regulation. Brown was one of the area's top jump shooters and a very efficient scorer.
2016-17 stats: 17.4 ppg, 6.3 rpg, 2.5 spg, 57% FG percentage, 47% 3-point percentage, 64% 2-point percentage, 85% FT percentage. 41 3-pointers made. 
Christian Bundy, senior, Nixa
The latest in the line of talented Eagles big men during the O-Zone era, Bundy played a major role in Nixa winning its fourth straight district championship. Jacob Ruder, Chase Allen and Bundy each had a unique style, but they all found ways to contribute to successful Eagles teams. Bundy was a true low-post scorer and capable of finishing with multiple moves. Bundy's field goal percentage was Chase Allen-level good this season. Allen is Nixa's career leader in field goal percentage. He's big and skilled enough to play at the college level.
2016-17 stats: 18.1 ppg, 6.8 rpg, 69.7 FG %, 70.1 FT %. 
Tyem Freeman, sophomore, Hillcrest
The area's breakout player of the year. Freeman has jaw-dropping athleticism and a rare skill-set for a 6'5" sophomore. I love the attitude/nastiness/swagger he plays with. Watching him against Glendale and Kickapoo, he believed and played like he was the best player on the floor. He was eager and hungry to go up against the likes of Monty Johal, Jordan Walton, Cam Davis and Jared Ridder. Freeman's the lone sophomore on our 18-player All-O-Zone Team, and one of only five non-seniors. Look for Hillcrest to make a lot of noise in Class 4 next season, with Freeman leading the way.
2016-17 stats: 19.7 ppg, 7.1 rpg, 3.7 apg, 1.6 bpg, 2.4 spg. 47% FG percentage, 34% 3-point percentage, 71% FT percentage. 533 points this season
Treydon Rackley, senior, Republic
Ozark County, stand up. The former Gainesville Bulldog transitioned well to the bigger stage of Class 4 and 5 basketball in the COC-Large, emerging as one of the area's top guards. The COC-Large Player of the Year led  Republic to 22 victories, a respectable showing the Tournament of Champions, and nearly to its first district championship since 2014. Rackley finished with over 1,000 career points. He recently committed to play at College of the Ozarks.
2016-17 stats: 15.3 ppg, 4.6 rpg, 51% FG percentage, 41% 3-point percentage, 78% FT percentage, 1.8 apg, 1.4 spg.
Logan Thomazin, junior, Walnut Grove
Everyone loves to shoot the 3, and none more so than Thomazin. The sweet-shooting guard tied the state's career 3-point record as the Tigers won the first state championship in program history. Now with 355 career 3s (tied with Odessa' Paul Rorvig), Thomazin will have a full season to pad his lead in the category. With a big senior season, Thomazin could push for 3,000 career points.
2016-17 stats: 24.9 ppg, 7.8 rpg, 3.8 apg. 135 made 3-pointers. 54% 2-point percentage, 36.9% 3-point percentage, 72% FT percentage. 2,096 career points.
Jordan Walton, junior, Glendale
Not just a shooter. Walton added another dimension to his game this season with his ability to finish on runners and drives to the basket. He said a lot of that came from playing against Oklahoma signee and 5-star guard Trae Young early in the season. Walton will likely end up being the No. 2 scorer in Glendale history and third-leading scorer in SPS history. If not for Johal, Walton would probably own both records by the time his career is over. Walton's established himself as one of the area's elite guards and returns alongside Johal next season to form the top backcourt duo in the area.
2016-17 stats: 22.7 ppg, 4.3 apg, 2.7 spg. 55% 2-point FG percentage, 31% 3-point percentage, 88% FT percentage, 53 3-pointers made.
 HONORABLE MENTION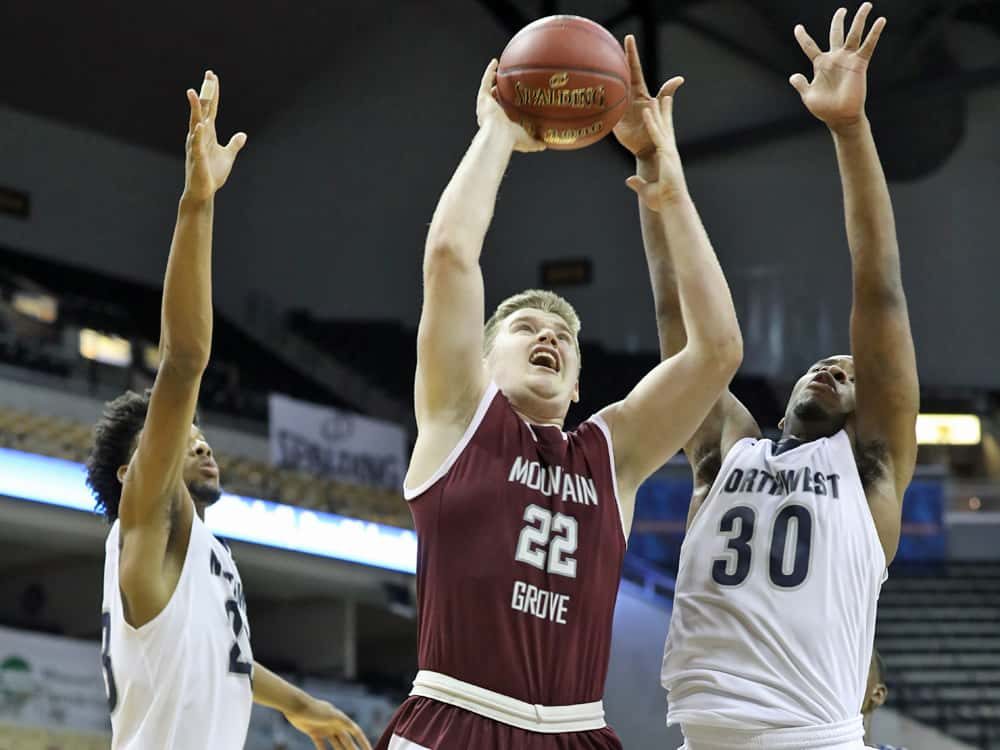 Treye Collins, senior, Mtn. Grove
2016-17 stats: 12 ppg, 8 apg, 38% 3-point percentage, 74% FT percentage. 
Deric Jones, senior, Hartville
2016-17 stats: 21.5 ppg, 8.0 rpg, 52% FG percentage, 70% FT percentage, 41% 3-point percentage. 
Garrett Kesterson, senior, Fair Grove
2016-17 stats: 21.6 ppg, 6.7 rpg, 2.6 apg, 2.2 spg. 52% FG percentage, 74% FT percentage, 42% 3-point percentage.
Quinn Nelson, junior, Ozark
2016-17 stats: 17.3 ppg, 3.0 rpg, 2.7 apg, 1.7 spg. 49% FG percentage, 44% 3-point percentage, 85% FT percentage. 
Jakob Partee, senior, Clever
2016-17 stats: 21.4 ppg, 7.2 rpg, 1.4 spg. 54% 2-point FG percentage, 41% 3-point percentage, 90% FT percentage. 1,792 career points (2nd all-time at Clever).
Nathan Wilson, senior, Licking
2016-17 stats: 21.8 ppg, 6.4 rpg, 2.7 apg, 1.6 spg, 1.0 bpg. 51% FG percentage, 75% FT percentage, 33% 3-point percentage. 1,830 career points.