We put a cap on the 2016-17 high school basketball season (sad face) with our final boys' basketball power rankings. The O-Zone staff ranks the top 15 area boys' basketball teams based on dominance by Class, aka how they stack up pound-for-pound with the other schools in their respective Class.
Strength of schedule and recent success are also factored into the rankings.
Two things to remember for these final power rankings.
Body of work matters.
These are not head-to-head rankings, rather dominance by Class. Kickapoo was no doubt the best overall team, regardless of Class, in our area this season.
Let's begin.
1. Walnut Grove (30-3, Class 1 state champs) – The Tigers brought home the first state championship in program history, defeating Advance 65-62 thanks to a late fourth-quarter rally. With only one starter (Jaron Dishman) graduating and the likes of Logan Thomazin, Hunter Gilkey, Dawson Meinders and Ryan Keith returning, the Tigers will be a preseason favorite to repeat in Class 1 next year.
2. Kickapoo (26-5, Class 5 3rd place) – Kickapoo played the best of the best this season and proved it's a true heavyweight. The Chiefs' five losses – Jonesboro (Ark.), Montverde Academy (Fla.), Greenforest (Ga.), Lee's Summit West and Webster Groves – were against teams that were either nationally ranked or state champions. Jared Ridder and Cam Davis understandably get a lot of attention, but it's easy to understate how talented guys like Travis Vokolek, Isaac Blakeslee, Mitch Closser and Donyae McCaskill are. They'd be stars on a lot of other teams in the area. The Chiefs were a last-second shot by Louisville commit Courtney Ramey from playing in the state championship game. Although Kickapoo lost to Lee's Summit West earlier in the season, the Chiefs have to be left wondering what could have been after seeing Webster Groves dismantle LSW in the finals.
3. Bolivar (27-5, Class 4 state runner-up) – The Polk County Grinders were one of the most enjoyable teams we've ever had the pleasure of covering. A lot of programs try to preach a team-first mentality, but Bolivar's one of the few that I actually felt practiced it. The Liberators' players knew – and accepted – their roles for the benefit of the team. Conley Garrison emerged as a superstar, while Brandon Emmert rewrote his name atop multiple Bolivar program records. Jack Pitts and Connor Sechler also won't be easy to replace in the starting lineup. With only one starter back in Ian Jones, a new chapter of Liberators basketball comes next season.
4. Mtn. Grove (28-4, Class 3 4th place) – Foul trouble hindered the Panthers in the semifinals versus Northwest Academy. Mtn. Grove gave the eventual state champs a battle until the end and proved they belong in what turned out to be a balanced Class 3 final four group. The Panthers transition offense was a thing of beauty; Mtn. Grove and Bolivar passed and shared the ball better than any other teams I watched this season. Senior starters Brock Coffman and SCA MVP Treye Collins leave big shoes to fill, but the Panthers are more than capable of winning their conference again next year and making noise in the Class 3 postseason.
5. Hartville (25-6, Class 2 quarterfinalist) – It was a frustrating end to a great season for Hartville, as the Eagles fell 55-52 in the Class 2 quarterfinals versus eventual state champ Oran. Hartville shot 39 percent from the field, led by six at halftime, and missed 13 free throws overall in the game. I know Crane ended up playing for a state title and was our last Class 2 team left standing, but for my money Hartville was our best Class 2 team this season. If Hartville shoots a normal percentage from the free throw line, it beats Oran and likely ends up hoisting a second straight state championship. The graduation of three all-conference guards – Jace Keith and potential all-staters Dune Piper and Deric Jones – will have coach Brett Reed re-writing the lineup this offseason.
6. Thayer (26-4, Class 2 district champs) – By a degree of separation, Thayer also makes a strong case for being the potential Class 2 state champ as the Bobcats played Hartville down to the final shot in a great sectionals matchup. Senior guard Zyman Langley will be tough to replace, but the Bobcats otherwise return four starters who all averaged around 9-12 points per game this season. On paper, Thayer looks to be our strongest returning Class 2 team next season.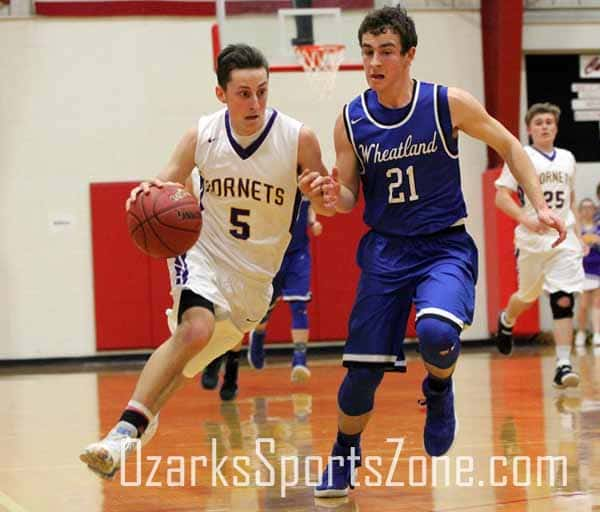 7. Hermitage (27-4, Class 1 quarterfinalist) – Looking back at Hermitage's body of work, the Hornets were probably the third-best team in Class 1 this season, and maybe the second-best behind only Walnut Grove. The Hornets had Walnut Grove on the ropes in two meetings this season: a two-point home loss in the regular season and an overtime loss in the state quarterfinals. Walnut Grove had to mount a late rally in the latter game to keep its season alive. The other meeting saw the teams tied at halftime before Walunt Grove dominated the second half. Hermitage could never get over the Walnut Grove hurdle, but the Hornets still had one of the best seasons in program history by ending a 14-year district title drought. Five senior starters depart, led by the versatile Dillon Meyer (19.5 ppg, 6.9 rpg, 4.3 apg, 2.6 spg).
8. Crane (20-11, Class 2 state runner-up) – The Pirates hit their stride when it mattered most. Crane prevailed in tight postseason games against Billings, Marionville and Greenwood to earn an unlikely spot in the state championship game, where it fell 70-63 to Oran. Would Crane have been our most unlikely state champion ever? I'm sure the Pirates wouldn't have mind. Crane was a .500-level team at the midway point of the season – due in part to leading scoring Dalton Hayes missing a handful of games – but the Pirates bought in and turned their season around by the start of February. Starters Dalton Hayes and Deven White graduate, but I like Crane's chances to take the SWCL next season and return to the Class 2 playoffs.
9. Fair Grove (25-6, Class 3 state quarterfinalist) – Some teams just have your number. Three times since the 2015-16 season, Fair Grove went toe-to-toe with Mtn. Grove, only to come up just short each time. The final meeting was perhaps the most thrilling of the three, a 50-49 outcome in the state quarterfinals won by Mtn. Grove on a pair of late free throws. It was a tough loss to take but Fair Grove left everything it had on the court, Eagles coach Tim Brown said afterwards. Fair Grove graduates three great seniors in Garrett Kesterson, Evan Fullerton and Dalton Cloyd. Look for the likes of Steven Huskey, Cole Gilpin and David Oplotnik to take the reins of the Purple and White next season.
10. Nixa (25-4, Class 5 district champ) – A sour end to the season for Nixa with a blowout loss against Kickapoo in the sectional round, but any time you can hang a district champs banner on the wall, it has to be considered a good year. Nixa hoisted its fourth straight district crown by defeating Republic 52-48 in the Class 5 District 12 finals, avenging a regular season loss to the Tigers in the process. Varsity stalwarts like Christian Bundy, Seth Viebrock and Austin Bracker will be missed, but the Eagles are set to return a standout backcourt tandem in Nathan Elmer and Braeden Combs.
11. Republic (22-6, Class 5 district runner-up) – The remarkable thing about Republic was its consistency. They showed up to play every night, no matter the competition, and locked teams up defensively. Republic battled the likes of Sierra Canyon (Calif.) and Madison Prep (La.) in the Tournament of Champions, but also routinely took care of business against lesser competition. Throw out the 18-point loss to nationally elite Sierra Canyon, and Republic's other four losses came by a total of 15 points. The Tigers this close to entering the Class 5 state tournament with a 27-1 overall record. Much like when the Bekemeier-Geiger-Smith group graduated in 2014, Republic's 2017 senior class leaves a lot of production to be filled and a new-look lineup coming next winter. Republic finishes with at least 20 wins for the fourth time in coach Trevyor Fisher's five seasons.
12. Hillcrest (19-8, Class 4 district runner-up) – Consistency was a challenge at times for the Hornets, but remember that this is a team that beat Bolivar in the regular season then had the Liberators down by 14 in the district championship game. The Hornets took Glendale to overtime in a wild 118-115 game, gave Kickapoo a competitive game, and handily beat the likes of Willard, Rogersville and Lamar. Shahn Clark's playmaking will be missed, but the Hornets otherwise return a promising nucleus and look to be the local preseason favorite in Class 4 next year.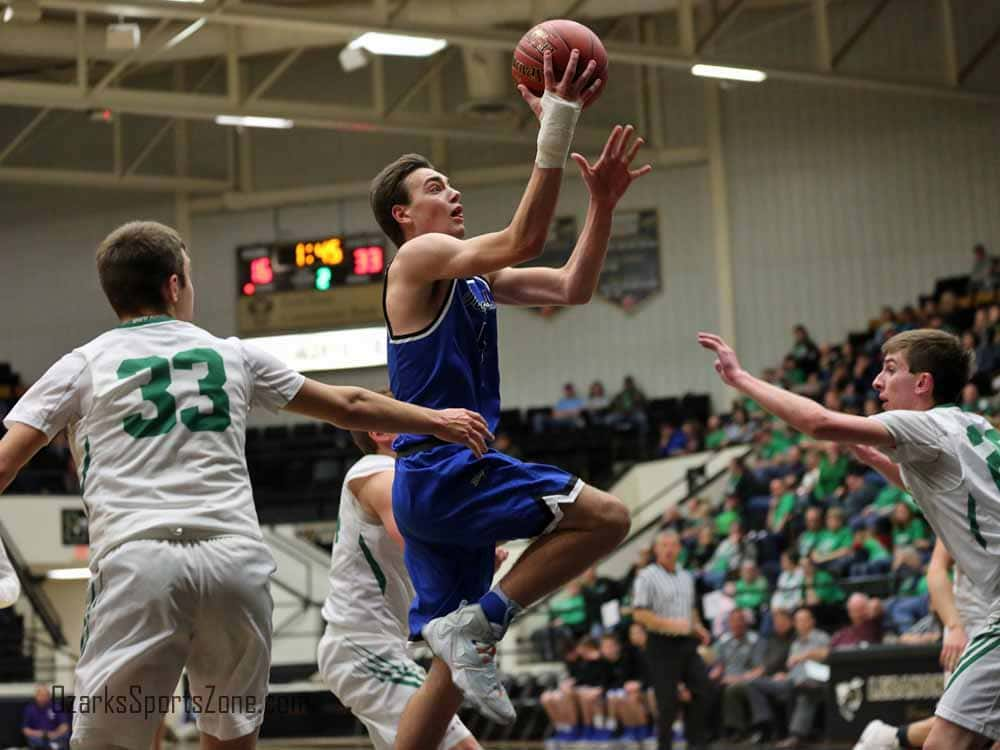 13. Greenwood (25-4, Class 2 state quarterfinalist) – Greenwood's loss to Crane in the state quarterfinals was one that takes a few days – or weeks – to get over if you're a member of the Blue Jays. Greenwood was set up to win that game, but Crane made more plays down the stretch and punched its ticket to state. Despite a questionable strength of schedule, Greenwood proved it belongs among other Class 2 powers by playing the eventual Class 2 state runner-up Pirates so close in the quarterfinals. Greenwood was seeking its first final four appearance in 26 years. A senior class of Julius Walker, Tony Brandt, Wesley Bergen and Garrett Nau added to a great 10-month run for Greenwood boys' sports.
14. Licking (25-4, Class 3 district runner-up) – Like Republic, the Wildcats were one of the few teams in our Top 15 to not to make it out of their district tournament but they still boasted a strong resume. Licking was the Frisco League champ, had a win over Thayer, and close losses to the likes of Mtn. Grove (twice) and Hartville. The senior class won a lot of games and, two years ago, helped end a prolonged district title drought. Nathan Wilson and Brady Smith were one of the most formidable duos in the area
15. Lamar (22-5, Class 3 district champs) – Thanks to Aurora, the Tigers are still seeking their first outright Big 8 championship since 1996. A second district title in four years isn't a bad consolation prize, though. Lamar outlasted Mt. Vernon in a grueling double-OT game to hoist the Class 3 District 12 crown and return to the Class 3 state playoffs for the first time since 2014. Lamar played well enough to win against Fair Grove but fell short, 63-56, in its quest for the program's first sectional win since 1974. Lamar's five-player senior class –Sam Timmons, Luke Hardman, Matt Whyman, Anthony Wilkerson and Trey Mooney – helped the Tigers to one of the best seasons in school history, in coach Tyler Ryerson's first season at the helm.