The practices, the bus trips and the team meals are over. For Liberators senior Conley Garrison, that's the toughest part.
Bolivar's outstanding 2016-17 boys' basketball season ended one win shy of the program's first state championship in 57 years, as the Liberators fell to top-ranked Vashon (27-3 overall) in Saturday's Class 4 title game at Mizzou Arena in Columbia.
Garrison scored 12 in his final career high school game, while classmate Brandon Emmert added a game-high 18 points. Garrison and Emmert are part of a six-player senior class that helped Bolivar reached the state championship game for the first time since 1960, when the Liberators defeated Troy-Buchanan for the Class M title.
"I think it's hard because the season's over, not that we lost," Garrison said. "We don't get to spend the time with these guys any more. I love these guys and love playing with them."
Bolivar's final record reads 27-5 overall with, according to coach Robby Hoegh, no losses.
"I told the kids, 'Five times we've gotten beat, but we've never lost. You only lose a "game when they take a person's heart. Nobody has taken these guys' hearts," he said. "They are all heart. I couldn't be prouder to be their coach, I couldn't be prouder to have my assistant coaches."
Hoegh brought the entire Liberators' roster – reserves, managers and assistant coaches– as well as his own family into the media room at Mizzou Arena for the team's postgame press conference.
He poured his heart out, shed a few tears and thanked the players and community for an unforgettable journey.
Hoegh's father died in December. He said that event gave him a new perspective on the meaning of wins and losses.
"We're glad that we got to do this this long," Hoegh said. "We got to go all the way until the end, all the way together with so many memories. What does (Michigan State men's basketball coach) Tom Izzo say? 'Give me two hours and I'll give you a lifetime of memories.' These guys have given so many people a lifetime of memories. What a great thing.'"
After shooting nearly 60 percent from the field and making 5 of 11 3-point attempts in the semifinals versus Parkway Central, the Liberators were unable to find their shooting touch against Vashon despite numerous open looks via a patient, ball-moving offense.
The Liberators finished 10-for-35 from the field overall on Saturday and made only 2 of 16 3-point attempts.
"If we lose taking the shots we took, I'm completely fine with that," Hoegh said. "I thought we got some good looks. We took the shots we're supposed to take. They just didn't quite fall.
"The kids did everything they were supposed to do. When the ball doesn't fall our way, we still gave great effort, we were still great teammates and we still had winning attitudes all the way through."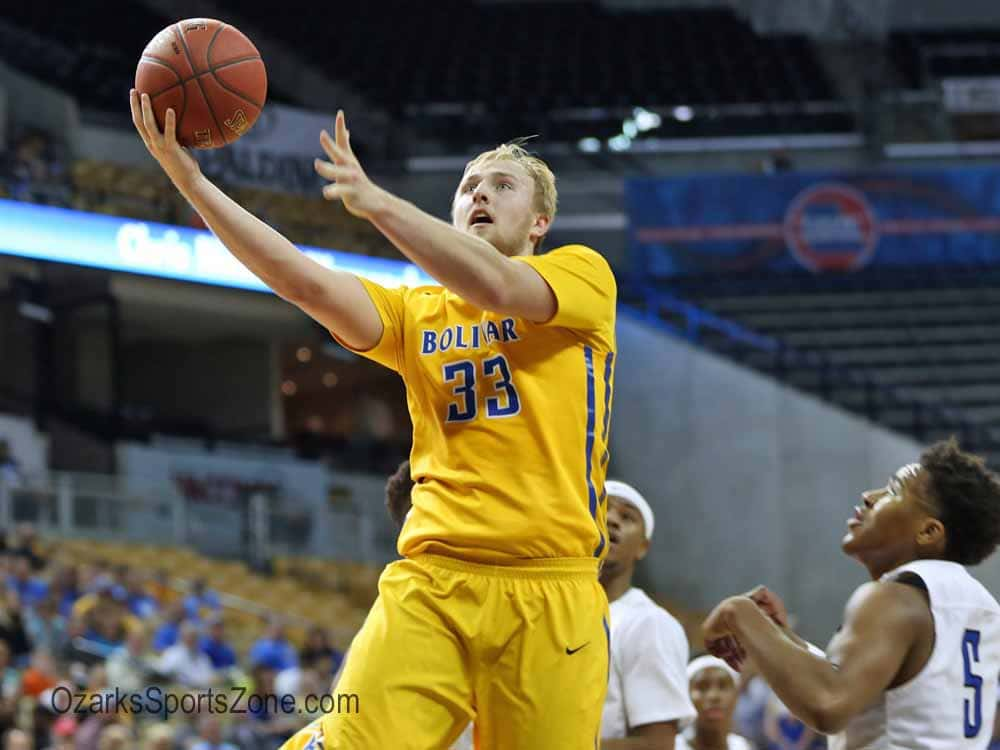 The Liberators were outscored by nine in the second quarter, leading to 20-10 halftime deficit. Bolivar never got closer than nine in the second half.
Vashon ripped off eight unanswered points in about 1:30 during a second-quarter surge, pushing its two-point lead (10-8) up to 10 (18-8).
Late in the game, Hoegh took out his seniors one by one and gave each a hug on the sidelines as Bolivar's season was winding down.
"It's hard to make it all this way and not win it, of course," Emmert said. "Like Coach Hoegh says, 'We're 20-years-down-the-road guys. Twenty years down the road, I'm going to remember each and every one of these guys. It hurts right now, but I know the guys below us are going to keep Polk County Grinding and keep up what we left off."
Vashon got 16 points from Daniel Farris and eight points apiece from Koray Gilbert and Joseph Reece. Senior forward Levi Stockard, a Kansas State commit who was frequently matched up with Emmert, finished with five and seven rebounds.
The victory marks Vashon's second straight state championship and 10th overall, the third-most in MSHSAA history by any boys' team.
"We knew (Bolivar) were going to be a handful," said Vashon coach Tony Irons. "They run what they run, they play how they want the game to go very, very well."
In addition to Emmert and Garrison, Bolivar also graduates starters Jack Pitts and Connor Sechler, along with reserves Hunter Jones and Hayden Lewright.
CLICK HERE FOR A FULL BOX SCORE
Emmert thanked the team's underclassmen and JV players for pushing the Liberators' starters to be better. Emmert added that he couldn't think of a time this season where the Liberators had a "bad" practice.
"We were like a wet towel. We rung out everything we could out of the season," Emmert said. "Every last drop came out. It means so much to be able to play on this team and be a senior on this team."
Bolivar 44, Vashon 32
Bolivar 8 2 7 15 — 32
Vashon 9 11 9 15 — 44
Bolivar – Brandon Emmert 18, Conley Garrison 12, Hunter Jones 2
Vashon – Daniel Farris 16, Koray Gilbert 8, Joseph Reece 8, Levi Stockard 5, Casey Cody-Jackson 5, Mario McKinney 2