The final four debut for the Carl Junction High School girls' basketball team was marred by a forgettable first half and a case of major nerves.
The Bulldogs made no field goals in the first half, falling behind by 27 at the midway point of an eventual 47-24 loss to Incarnate Word Academy in the Class 4 girls' semifinals Thursday night at Mizzou Arena in Columbia.
Carl Junction (27-3 overall) trailed 29-2 at halftime after shooting 0-for-11 from the field and committing 14 turnovers. Its lone points came on free throws.
"(This experience) was new for us, and you could kind of tell," said Bulldogs coach Brad Shorter. "We were jumping into something that we hadn't been a part of before. The nerves, and never having been at the final four before, shook us up a little bit."
PHOTOS: CARL JUNCTION VS. INCARNATE WORD ACADEMY
Despite the halftime deficit, Carl Junction showed some guts and pride in the second half. The Bulldogs outscored IWA 14-6 in the third quarter and by four points overall in the second half.
Megan Scott, who battled foul trouble in the first half after picking up two fouls in the opening minute of the game, led CJHS with 11 points and seven rebounds.
"I'm so proud of our kids," Shorter said. "They played extremely hard in the second half and showed that we belong here."
Carl Junction's first field goal of the game came on a steal and layup by senior Alex Vogt with 6:42 remaining in the third quarter. That seemed to revitalize the Bulldogs, who began the second half on an 8-1 run.
"We knew (at halftime) we had to get together as a team and go out and play hard, see if we could come back in the game," said Carl Junction senior Emma Frack.
Carl Junction found little room to work against IWA's stifling man-to-man defense. The Bulldogs committed 19 turnovers and finished with only one assist.
Incarnate Word shot 19-for-37 from the field overall against CJ's 2-3 zone.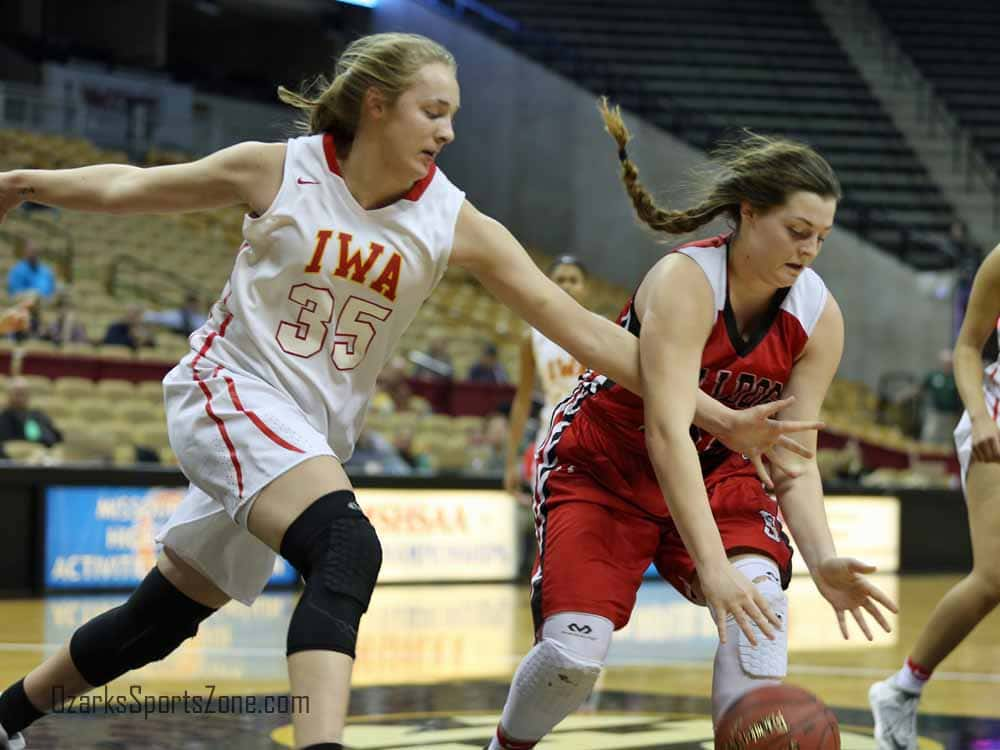 "That's just Incarnate Word Basketball. Defense," said IWA sophomore Kiki Britzmann, who had 10 points and six rebounds. "Our D'ing up turned into great offense. For us, we always try to start it on defense."
It took IWA (27-4 overall) about six minutes to make its first field goal of the second half. Britzmann's layup at the 2:23 mark of the third quarter pushed IWA's lead to 32-9.
Carl Junction crept within 17 early in the fourth quarter on a basket by Scott.
The Bulldogs shot 8-for-30 from the field overall, all eight makes coming in the second half.
"I told them, 'Now we know what other teams feel like, sometimes, when we play against them,'" Shorter said about CJ's field goal-less first half. "We've done that to a few teams this year, as ironic as it is. You can't fault them or fault what's going on, it's just a matter of butterflies.
"But they showed (in the second half) what they're capable of. Those kids played hard in the second half and kept fighting."
Carl Junction faces Dexter at 12:45 p.m. Friday at Mizzou Arena in the Class 4 girls' 3rd place game.
IWA faces St. Pius X at 4:30 p.m. in Saturday's Class 4 title game. St. Pius X features Missouri State signee Abby Hipp, who had 21 points and 14 rebounds in the team's 59-34 semifinals win over Dexter on Thursday.
IWA is seeking its eighth state championship in program history and sixth this decade.
Incarnate Word Academy 47, Carl Junction 24
CJ 1 1 14 8 — 24
IWA 15 14 6 12 — 47
CJ – Megan Scott 11, Lauren Walker 5, Alex Vogt 5, Shila Winder 2, Dani Wrensch 1
IWA – Nakayla Jackson-Morris 11, Kiki Britzmann 10, Naomi Johnson 8, Marisa Warren 7, Grace Fortmann 5, Rickie Woltman 4, Sonya Morris 2