By Riley Bean
Bolivar, MO – It's not over 'til it's over.
Bolivar knows that better than anyone, especially after Saturday's epic come-from-behind effort on their home floor to win their third-straight district championship.
Hillcrest began this game with a purpose.  They jumped out to a quick 7-2 lead and carried a 28-16 lead into halftime.
In fact, they didn't let up until late in the third quarter.  Hillcrest led 38-25 midway through the third, but Bolivar closed the quarter 8-2 run, setting up an incredible finish.
The fourth quarter absolutely belonged to the Liberators.  Hillcrest scored four of the first six points in the fourth, but did not put the ball through the net for the rest of the game.  Bolivar went on a 13-0 run to end the game, securing the district title in front of their home crowd 48-44.
"I was just so proud of our kids," said Bolivar coach Robby Hoegh.  "They kept coming over and we all were clicking our 'forget it' button.  When we hit our chest, we gotta forget it and we gotta move on.  Just so much fun to see our kids, and very rewarding because this group has just done such a good job of playing selfless basketball, of loving each other and I couldn't be more proud of this team."
Brandon Emmert had a special game.  He scored a game-high 27 points and became the all-time scoring leader at Bolivar High School in the process.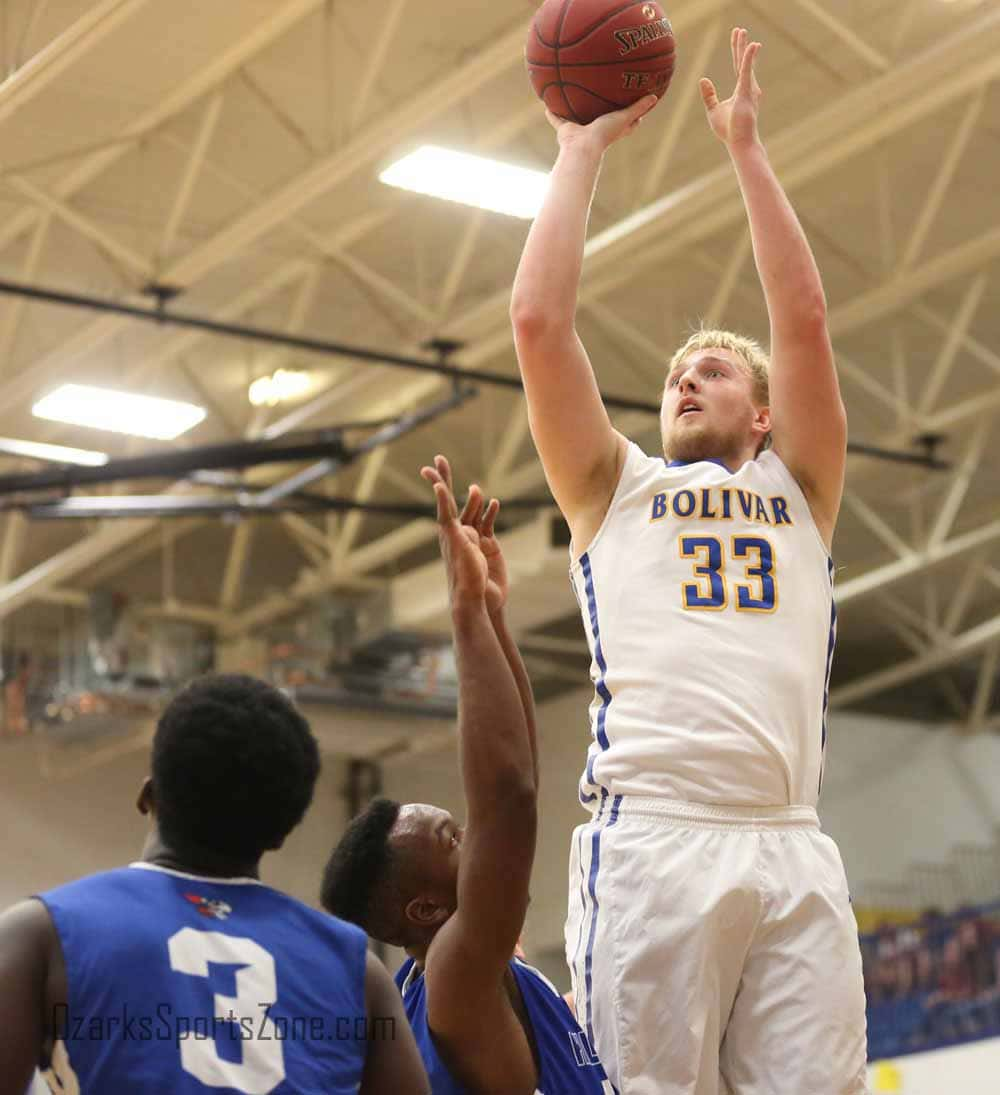 "It means a lot to me to get this record because I know that my name is going to go on it, but my team is going to be remembered for it," Emmert said.
"I've never played with a team that had more of a sense of urgency to just go to the next play, keep trying for the next play, not trying to put a 30-ball up on them all of a sudden because you can't do that.  You've got to play one possession at a time.  We got stops.  I think we held them to four in the fourth quarter and that's big time.  That's how you win championships, is with defense."
Hillcrest senior Shahn Clark had a terrific game in the loss, scoring 21 points and acting as the catalyst to establish the big lead early on.
Clark and Emmert were the only two players to score in double figures in the game.  Bolivar just proved to be too tough down the stretch.
"On the back of our shirts, we've got #Believe," said Emmert.  "Our team doesn't give up no matter what."
After winning the district title for the third time in a row, this one will stand out because of the fact that it occurred in Bolivar's gym in front of the home crowd.
"It's our third year of getting the district championship, but the other two were out of the area," Coach Hoegh said.  "They were tough districts, but when you're in southwest Missouri and you're playing a team like Hillcrest and a coach like Coach Brown, and you get to play in front of your home crowd, and you've got two seniors that have just had a remarkable career, and for them to come out and do this, and Jack Pitts stepping up and hitting that huge three, and Connor Sechler diving on the ball, and the intensity of the game was tremendous.  When you're in front of your home crowd in a district final game, and to bring it up and to step it up in those moments, it's something that demonstrates the kids' character."
Bolivar (24-4) advances to the sectional round where they'll play Webb City (15-12) on March 7.
"Just no matter what, like tonight if shots don't fall, we've just got to keep getting stops on defense," Emmert added.  "I'm just proud to be a Liberator."
Bolivar – 7 – 9 – 17 – 15 – 48
Hillcrest – 15 – 13 – 12 – 4 – 44
Bolivar – Brandon Emmert 27, Jack Pitts 7, Conley Garrison 6, Ian Jones 3, Connor Sechler 3, Corey Spindler 2
Hillcrest – Shahn Clark 21, Tyem Freeman 9, Tim Washington 8, Josh Powell 2, Brandt Schaffitzel 2, Malik Starks 1, Sam Terry 1