Branson coach Kip Bough entered the pregame locker room ready to draw motivation from the classic Bible story of David vs. Goliath.
It wasn't needed. His players were already discussing it amongst themselves; most of the week leading up to the game, in fact.
Branson then turned its pregame study in faith into reality as the Pirates slayed Missouri's defending Class 5 state champion.
Harding signee Amanda Kearney poured in a game-high 32 points and Branson got three big baskets late from Lauren Garrison to defeat Kickapoo 58-54 on Thursday night in the Class 5 District 11 girls' championship game at Hammons Student Center. Branson scored 13 of the game's final 15 points.
"I'm really happy for the Branson community and the Branson school district," Bough said. "It's a great school district with great administrators and great teachers who really care about kids. I'm happy to be able to do this and bring this (district title) back."
"Our kids are bringing this back to the Branson school district and Branson community."
Branson saw a 44-39 lead at the 6:53 mark of the fourth quarter flip to a seven-point deficit (52-45) with 4:02 remaining, as Kickapoo seemed poised to put away the Pirates.
Kickapoo had blown out Branson in the district finals the past two seasons.
"The whole week we've been talking about David and Goliath," said Kearney, who became Branson's all-time leading scorer earlier this season and has over 2,000 points for her career. "We were like, 'We're the David.' We never quit believing. The whole time (during Kickapoo's run), we were like, 'We can still do this.' We never stopped believing."
Before Thursday night, Branson's last district title came during the 2007-08 season, when Bough was in his first season as head coach and the Pirates were competing in Class 4 with all-state senior Kelsey Combs.
"We wanted it so bad this time," Kearney said. "We've been talking about it all week. It feels great. It feels like… I don't know… awesome. I just give God all the glory for it."
Besides Kearney, Branson's other hero on the night was Garrison, who was actually scoreless until the final three minutes.
Her first basket drew Branson within 54-51. Later, she swooped in from the perimeter, grabbed an offensive rebound and scored to give Branson a 55-54 lead with one minute remaining.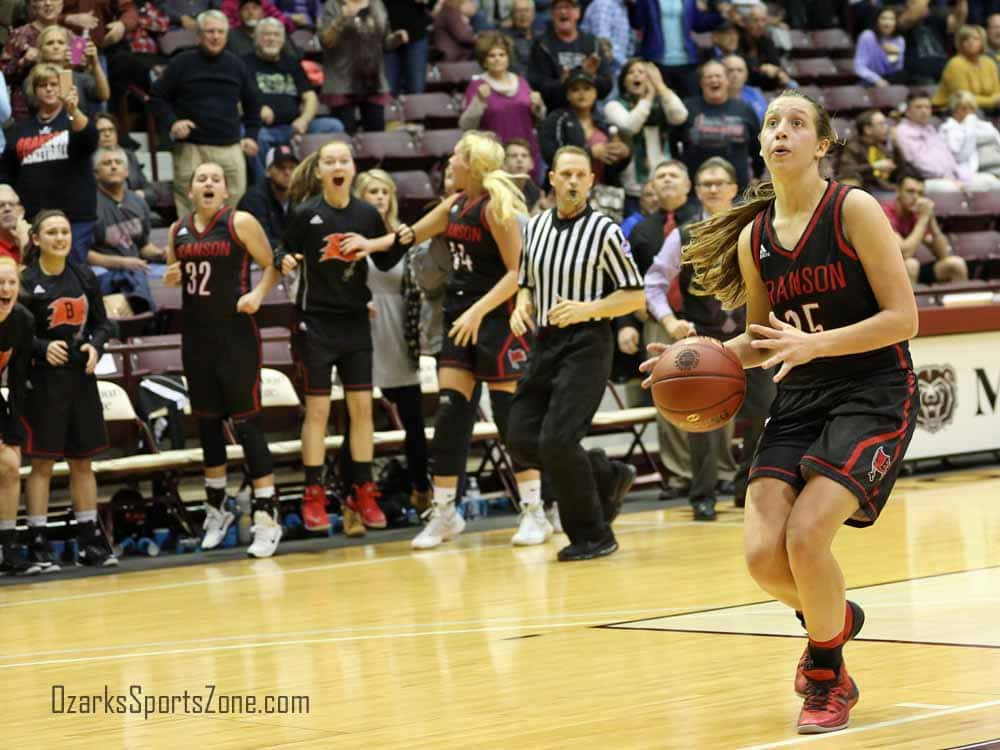 Her final field goal has to be one of the most thrilling in Branson history, as the Pirates grabbed a loose ball on Kickapoo's end (following a missed 3-pointer by  the Chiefs) and found the multi-sport junior up-court for an uncontested layup in the final seconds to seal the victory.
"That was pretty special. It was pretty good," Bough said of Garrison's title-sealing layup.
Jordan Wersinger's jumper gave Kickapoo a 54-49 lead with 2:49 remaining, but proved to be Kickapoo's final points of the game.
After Branson split a pair of free throws with about 18 seconds remaining to push its lead to 56-54, Kickapoo missed a potential go-ahead 3-pointer on its next possession, setting the stage for Garrison's layup.
"We knew they were a great team and were going to be tough to beat – they're amazing," Kearney said. "We knew we had to give it our all to make this happen."
Branson built an early 15-4 lead, which Kickapoo chopped down to 27-26 by halftime. Getting – and maintaining – an early lead was key for Branson, Bough said.
"They can jump on you early and I think being able to get ahead early kind of, if anything, settled our kids down more than anything," he said. "Mentally, for our kids, they said, 'We can do this.' It just set the tone."
Wersinger sparked Kickapoo's fourth-quarter surge with a pair of deep 3-pointers. She finished with 16 points. Jordan Sanders – who will continue her basketball career at Cal-Irvine – had 19 points in her final career high school game.
Kickapoo finishes 23-5 overall and graduates two seniors in Sanders and Ari Acuff.
"(Kickapoo) went on that run and I'm thinking, 'Oh, crap,'" Bough said. "But I tell everybody this: this is one of the most competitive teams I've had. It was like our kids got to see that run and were like, 'Ok, it's time.' I was worried, I'm not going to lie, but now I'm sitting here going, 'that's pretty prototypical of how these girls are.' They're competitors."
Branson improved to 24-4 overall and faces Republic (17-11 overall) at 7:45 p.m. Wednesday at Drury's O'Reilly Family Event Center. The Pirates won 53-45 at Republic on Feb. 6.
Branson 58, Kickapoo 54
Branson 17 10 14 17 — 58
Kickapoo 10 16 13 15 — 54
Branson – Amanda Kearney 32, Terra Utz-Depriest 9, Tori O'Dell 9, Lauren Garrison 6, Gracie Jaeger 2
Kickapoo – Jordan Sanders 19, Jordan Wersinger 16, Hannah Collins 6, Katrice Jackson 5, Ari Acuff 5, Jaden Wiley 3