By Denise Tucker/For OzarksSportsZone.com
Reeds Spring coach Barry Yocom knew his team would have its hands full Monday night.
After all, his fourth-seeded Wolves had lost to No. 5 seed Marshfield just a little over a week ago in a hard-fought game (53-50).
And, Monday night's Class 4 District 9 quarterfinal was more of the same, except this time, the Wolves came out on top with a 51-46 victory, and advance to face top-seeded Bolivar on Thursday night.
"It kind of played out exactly the way we thought it would," Yocom said. "We played Marshfield last week, and it was kind of a physical, knock-down, drag-out game. Those guys are a good team. They play hard, they play physical and we knew it would be exactly the way it was tonight. Any possession, one way or the other, could dictate the game.
"We kind of got down a little early tonight and we had to fight back. Credit to our kids for being able to do that."
After the first quarter, which was tied 10-10, Marshfield led throughout most of the game, taking a 26-18 lead at halftime.
PHOTOS: MARSHFIELD VS. REEDS SPRING
But Troy Froeschle hit a 3-pointer to open the third quarter and spark a 5-0 run for Reeds Spring, and hit another 3 to close the quarter, pulling the Wolves to within 37-33.
That seemed to be the spark that Reeds Spring needed heading into the fourth quarter.
The two teams traded baskets, and then senior point guard Joel Gertson hit a 3-pointer at the 5:15 mark to give Reeds Spring its first lead (40-39) since early in the first quarter. Marshfield's Austin Porter scored on a layup to give the lead back to the Blue Jays, but Gertson hit another 3 (43-41) and Reeds Spring never trailed again, with Gertson going 5-for-6 from the free-throw line to ice the game.
"Joel hit some big shots," Yocom said. "Troy hit two big 3s in the third, but Joel is our senior point guard and we want the ball in his hands. He shot free throws well for us down the stretch in the past and he did tonight. He was 5-for-6, but he hit the four in a row and by that point the game was kind of already there. So, the ones that counted, he hit, which was key."
For Marshfield, the first half of the game pretty much went to plan.
"We felt like we played a pretty good first half," Marshfield coach Damon Seiger said. "We felt like we controlled the offensive and defensive ends of the floor, limited the guys in which we wanted to limit.
"The second half, we lost a couple of guys, and to their credit, they had a couple of guys that, as far as the game plan was, they didn't really fit the bill in regards to the scouting report of being able to shoot the ball consistently. And, credit to their guys – they stepped up and hit some big shots, and then it became a struggle."
Porter, a sophomore for Marshfield, led all scorers with 21 points – 19 of those coming in the first three quarters.
"It's easy to play ahead sometimes, but it's a little bit different when you face a little adversity and you have to play catch-up," Seiger said. "(Porter) stepped up and probably played the best game he's played all year, and that's saying something for a sophomore."
For Reeds Spring, it's the chance to play another day.
"It was a good team win," Yocom said. "We just had to grind it out. It wasn't pretty, by any means, but we'll take it. District wins are tough to come by and it's a good win for our program.
"It's another opportunity to compete, to compete against a class opponent; another opportunity for us to get better, and another opportunity to get two more practices in, which is awesome."
REEDS SPRING 51, MARSHFIELD 46
Class 4 District 9 quarterfinal
MARSHFIELD – 10-16-11-9—46
REEDS SPRING – 10-8-15-18—51     
MARSHFIELD (13-14) – Britt Hill 5, Jarrett Paoni 4, Triston Letterman 7, Austin Porter 21, Bo Atkison 7, Tristen Rouse 2.
REEDS SPRING (18-9) – Logen Plum 15, Lane Carroll 14, Joel Gersen 14, Troy Froeschle 6, Austin Bradfield 2.
Up next: (Class 4 District 9 semifinals) No. 4 Reeds Spring vs. No. 1 Bolivar, 6 p.m. Thursday
Scott catches fire to boost Rogersville past West Plains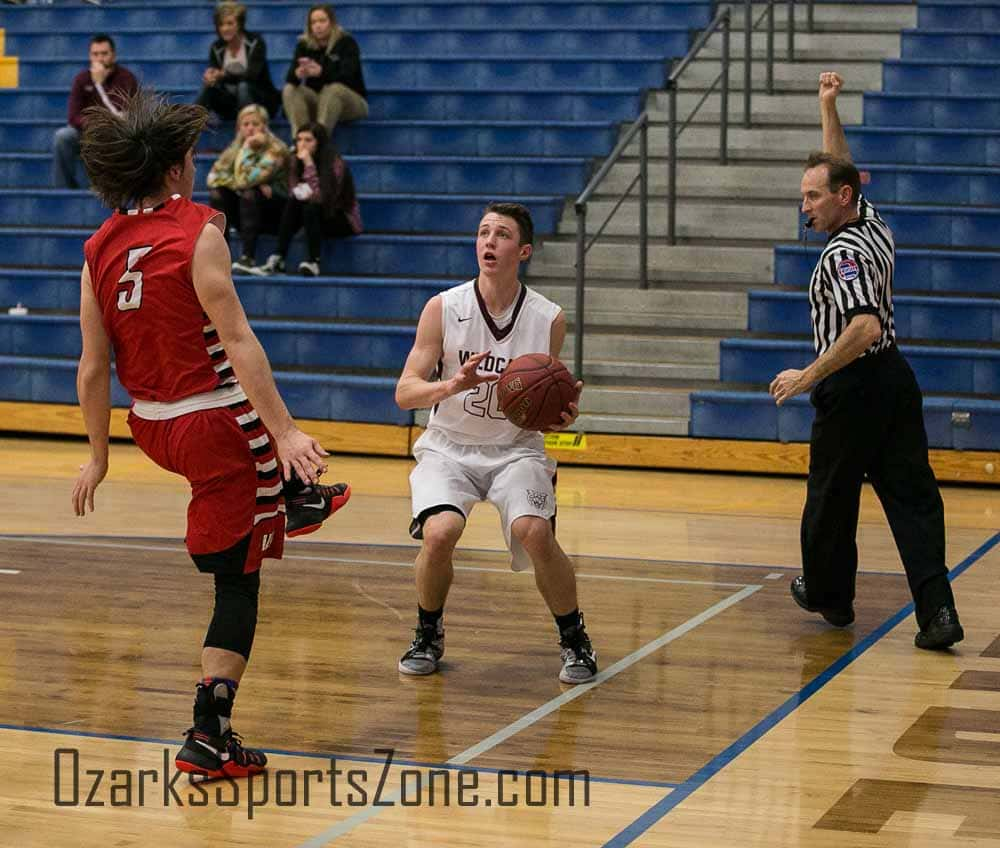 It was anybody's ballgame until Andrew Scott took over in the fourth quarter Monday night.
With a two-point lead (38-36) after three quarters, Scott scored 11 of Rogersville's first 13 points as the Wildcats raced to a 10-point lead on their way to a 70-51 Class 4 District 9 quarterfinal victory over No. 6 seed West Plains.
"I think we finally found a lineup of five guys that were going to play really hard in that fourth quarter," Rogersville coach Mitch McHenry said. "We kind of went a little bit smaller and put four guards on the floor just to play with a little bit more energy and have a little bit more speed out there. We just played harder."
PHOTOS: ROGERSVILLE VS. WEST PLAINS
The Wildcats were up 28-18 at halftime, but West Plains, behind the 11 points of Mitchell Mahan, outscored Rogersville 18-10 in the third quarter to pull within two (38-36).
"That third quarter, we didn't play hard," coach McHenry said. "We didn't play with any urgency. We were pretty passive and not really engaged."
West Plains made the necessary adjustments to make it a game in the third quarter.
"We had a good game plan, we thought we had, for them," West Plains coach Kevin Smith said. "We wanted to just give us a chance in the fourth quarter. They hit some shots against us in the fourth quarter that kind of hurt us, but I've got to give credit to Rogersville. They withstood our run that we made in the third quarter and made some plays in the fourth.
"But, I was real pleased with how our kids battled and did the right things. We made it a really good game for a long time, but I think Rogersville made some adjustments, like we did at halftime, and kind of pulled back into it and took the lead and took control."
And, take control they did, as the Wildcats nearly scored more points in the fourth quarter (32) than the previous three combined (38), behind Scott's outburst.
"(Scott) is really good when he's taking good shots," coach McHenry said. "When he gets open shots, and gets shots within our offense, then he knocks them down. And, during that stretch, we did a great job of getting him the ball when he was open, and he did a good job of making plays when he had the ball in his hands and just making shots.
"And, when we shoot good shots and play within our offense, we're really good."
In the first half, the Wildcats missed several second-chance opportunities and "left about 12 or 14 points around the basket," coach McHenry said.
"And some of that was West Plains. They stayed vertical and challenged our shots, but we've got to be a lot stronger around the basket, and we did a better job of that in the second half."
And, they will need to finish, if they want to get past second-seeded Hillcrest on Thursday night.
"We get a next round," Coach McHenry said. "At this point of the year, you want to be playing your best basketball. I didn't think that was our best tonight, but we survived and right now, we're 1-0 in the postseason and that's all you can ask for. And, we'll try to make it 2-0 Thursday."
ROGERSVILLE 70, WEST PLAINS 51
Class 4 District 9 quarterfinal
WEST PLAINS – 7-11-18-15—51
ROGERSVILLE – 13-15-10-32—70     
WEST PLAINS (6-21) – Mitchell Mahan 21, Garrett Warren 17, Garel McGinley 2, Dalton Ross 2, Austin Wood 1, Camdon Murphy 3, Jake Swope 5
ROGERSVILLE (16-11) – Drew Mac 2, Matthew McHenry 12, Luke Vandersnick 10, Andrew Scott 24, Jackson Von Behren 13, Ryker Strong 9
Up next: (Class 4 District 9 semifinal) No. 3 Rogersville vs. No. 2 Hillcrest, 7:30 p.m. Thursday