By Dana Harding/For OzarksSportsZone.com
Both Republic and Nixa took care of business in Monday night's Class 5 District 12 semifinals, setting up a third-straight championship match between the two schools on Thursday, March 2. The No. 1 Lady Tigers rolled past No. 5 Joplin 58-24 in the early game, followed by No. 3 Nixa's 57-51 victory over No. 2 Neosho.
Thursday's matchup will mark the third time in a row the two schools have met in the district final, with Republic winning the previous two contests.
Republic makes quick work of Joplin
While Republic's lineup might not feature some of the high-profile names of years' past, head coach Kris Flood can still roll out a slew of high-energy defenders capable of simply overwhelming opponents.
From the opening tip, the Lady Tigers smothered Joplin with full-court pressure and attacked the basket whenever opportunities presented themselves.
"We haven't pressed a lot this year," Flood said. "We thought we had an opportunity tonight to maybe throw that in there. It looked good at times and didn't look so good at times. The main emphasis right now is we are trying to get some effort. We've lacked a bit of energy lately, and the kids that are going to get out there and play with everything they have, those are the kids that are going to be on the floor."
Republic raced out to an 11-0 lead and held Joplin scoreless for most of the first quarter.
Kinsley Stewart's 3-pointer with 1:52 left briefly quelled Republic's run; however, the respite was short-lived. The Lady Tigers followed their initial flurry with another run to close the half with a commanding 37-12 lead.
The second half featured more of the same, with Republic stretching its lead into a 48-16 advantage to open the final frame in a turbo-clock position.
Brylee Manes led all scorers with 11 points, followed closely by Republic teammates Taylor Fergen (10 points) and Megan Branstetter (10 points).
Joplin was led by Stewart's 8 points.
Flood was pleased with his group's overall effort and was quick to point out two key elements vital to postseason success.
"Concentration and effort. Those are the two major things we're looking for," Flood said. "It doesn't matter what kind of year you've had, when you get in these situations, you have to have that concentration and effort to be able to execute and to do things right."
Republic 58, Joplin – 24
Republic  15  12  11  10  —  58
Joplin      03  09  04  08  —  24
Republic scoring:  Brylee Manes – 11, Taylor Fergen – 10, Megan Branstetter – 10, Allyson Barrett – 8, Avy Powell-Qualo – 7, Halli Bartelsmeyer – 5, Madison Beckham – 4, Madison Appleberry – 3
Joplin scoring:  Kinsley Stewart – 8, Madison Devore – 5, Andi Wilson – 4, Aydan Perrin – 3, Jillian Lopes – 2, Shelby Beaver – 2
Nixa jumps out to huge lead, survives Neosho comeback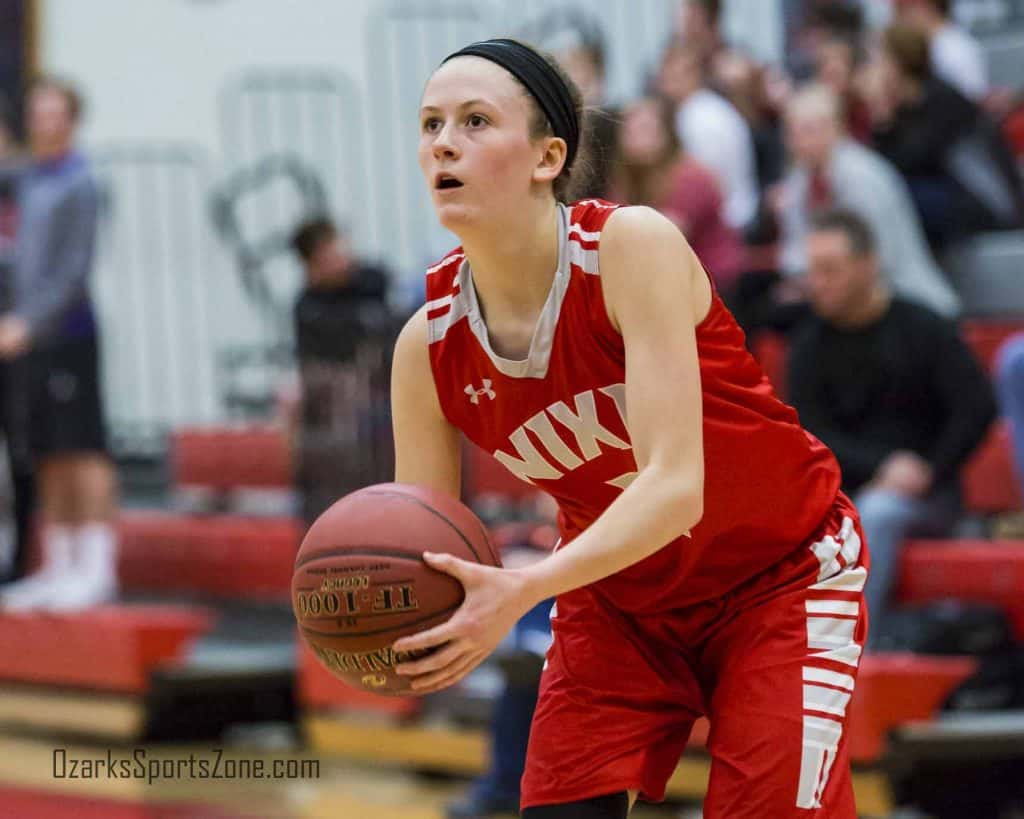 In the nightcap, Nixa held off a late Neosho rally to win 57-51 and stake its claim at the other end of the Class 5 District 12 final.
The Lady Eagles jumped out to an early lead, thanks to a blistering first-quarter performance from long range.
Emily Edwards and Taylor Arnold each hit a pair of 3-pointers in the opening frame and Lakin Copeland added another to key Nixa's 15-3 first-quarter run.
"[The fast start] was more than about this game," said Nixa coach Jennifer Perryman. "We were trying to send a message about our whole season. Everything we went through this season was to get us to this point. We knew we were coming out with a hot start, but I told them in the first time out, 'Don't be content, don't be satisfied, keep going.'"
Nixa's offensive success continued into the second quarter, with Biro leading the charge.
The 6' sophomore knocked down a 3-pointer to open the quarter, and then went to work in the paint, connecting on a conventional three-pointer later on to help stretch the halftime lead to 36-12, Nixa's largest of the game.
Unfortunately for the Lady Eagles, the next 12 minutes served up the cruelest of market corrections, as Neosho forged a frantic comeback behind solid defense and key baskets from Ashley Talley and Makayla Hayes.
Open looks turned into contested shots and turnovers for Nixa, while Neosho began to connect on jumpers at its own offensive end. The Lady Wildcats opened the quarter with a 10-0 run and trimmed the deficit to 42-25 at the end of three.
Perryman lamented the miscues and ineffective offense.
"Our third quarter is our Achilles' heel," Perryman said. "We missed some pretty easy shots, and we gave up some pretty easy shots, and the tide started turning. We had a hard time stopping it. That third quarter felt like an eternity, for sure."
The Neosho rally continued into the fourth and, with 4:41 left on the clock, a pair of free throws from Hayes cut the lead to single digits at 47-38.
Try as they might, though, the Lady Wildcats couldn't close the gap the rest of the way with a final, sustained drive.
Each time momentum seemed to finally be on the verge of sticking with Neosho, Nixa would answer. Biro's four free throws and a coast-to-coast converted steal, Copeland's clutch layup and a final pair of free throws from Halley Wiggins helped ice the game and send Nixa to the Thursday's district final against Republic.
Nixa was led by a quartet of double-figure scorers. Edwards, Biro and Wiggins each finished with 12 points, and Arnold chipped in with 11.
Talley and Hayes each scored 14 to lead Neosho. The duo was joined in double figures by Sydney Linny's 11 points.
Despite the second-half miscues, Perryman was pleased with her team's ability to close out the game with everything on the line.
"This is a district basketball game," Perryman said. "The stakes have raised, it's a little bit of pressure and some of these girls have never played in one before. It's a little bit different, and when it's down on the line, that adrenaline kicks in. Hopefully, that prepared them for Thursday."
Nixa 57, Neosho 51
Nixa       22  14  05  16  —  57
Neosho  04  08  13  26  —  51
Nixa scoring:  Emily Edwards – 12, Kelsey Biro – 12, Holley Wiggins – 12, Taylor Arnold – 11, Lakin Copeland – 8, Lakyn Woods – 2
Neosho scoring:  Ashley Talley – 14, Makayla Hayes – 14, Sydney Linny – 11, Allison Burr – 6, Makenzie Lindsay – 3, Emilee Anderson – 3