Thursday's Class 5 District 11 boys' championship game at Hammons Student Center is set for 7:30 p.m, with Kickapoo facing Ozark.
Suiter rescues Ozark, Tigers win beat Glendale in OT
By John Miller/For OzarksSportsZone.com
To have success in postseason play, your seniors need to step up and play well.
Noah Suiter got that message.
The Ozark senior guard sunk a game-tying 3-pointer with 22 seconds left in regulation, helping Ozark force overtime in a 77-76 win over Glendale in a Class 5 District 11 semifinal at Hammons Student Center on Monday night.
Ozark (19-8) will now face top-seed and Class 5 No. 2-ranked Kickapoo (22-4) on Thursday at 8 p.m. in the district championship game.
"To have a senior do that and keep (the season) going for all these guys is just awesome," said Ozark coach Mark Schweitzer of Suiter, who had only six points on Monday.
Parker Hanks led Ozark with 27 points and 10 rebounds while Quinn Nelson had 26. Glendale got 30 points from Jordan Walton and 25 from Monty Johal.
"Our team and their team could play 100 times, and it would be 50-50 and every game would be decided by five or less points," Schweitzer said.
Glendale (20-7) held a 67-63 lead with 49 seconds remaining in regulation when Nelson drained a deep 3-pointer on the left-wing, his sixth 3 of the game. He made 6-of-9 3s (3-of-3 in the fourth quarter).
"We were down and our season was slipping away by the seconds," Nelson said. "We needed a bucket. I practice shots all the time. I'm always in the gym shooting, so I'm not going to be hesitant in that moment when we need a bucket. I feel confident stepping up and shooting that shot."
After Walton made two free throws, the deficit was 69-66, setting the stage for Suiter's heroics. Johal missed a tough 18-foot jumper over two defenders at the buzzer that would've won the game. It barely rimmed out. Instead, the game went to overtime where Ozark prevailed.
In the first half, Ozark was impatient against Glendale's trapping, intense defense, and it nearly cost them. Glendale had 10 steals of the Tigers' 11 first-half turnovers, most of which came on errant passes.
"(Glendale) does that random doubling, and it's tough," Schweitzer said. "It's really tough because you don't know where the double is coming from, and they play pretty hard."
In the second half, Ozark adjusted. They were more patient, not forcing passes into pre-determined spots, but looking for gaps in Glendale's defense. Ozark turned the ball over only six times in the second half and overtime.
"We took what we saw as a staff in the first half that was open and talked to our kids about it, and they did a better job of getting into spots that were open and we were able to get the ball to those spots," Schweitzer said.
The Tigers got a basket inside for Payton Nichols to start overtime, and never trailed from there. After a Glendale turnover, Ozark played keep away for just over two minutes before Glendale gave a foul, allowing Ozark to extend its lead.
Walton and Johal had no problems getting buckets for Glendale, often scoring over multiple defenders. Walton beat the third-quarter horn on a step-back 3 with a hand in his face. Johal nearly won the game in regulation with a jumper over two defenders.
"Every time they shoot, I feel like it's going in," Schweitzer quipped. "That's just a horrible feeling to have as an opposing coach."
Hanks dominated the paint for Ozark, getting good positioning while finishing at the rim. He made 12-of-16 shots in the game and had five offensive rebounds. At times in the first half, he kept Ozark stable on offense. When they found him inside, he usually finished.
Now, Ozark gets to face a new challenge: Kickapoo. They met in mid-December and Kickapoo won 75-48.
"Hopefully we'll come out better than we did last time," Nelson said. "We know they're really good, but we know we can't back down. That's what we pride ourselves on is fearlessness. We're going to come in, thinking that if we play our best and things go our way, we've got a shot at winning this."
Glendale finished its season with wins in 17 of its final 20 games.
Ozark         13    21    17    18    8    77
Glendale    13    21    17    18    7    76 
Ozark: Hands 27, Nelson 26, Nichols 10, Suiter 6, Gracey 6, Burgess 2
Glendale: Walton 30, Johal 25, Davis 7, Metivier 7, Freeman 7
Parkview plays Kickapoo close for nearly three quarters, Chiefs pull away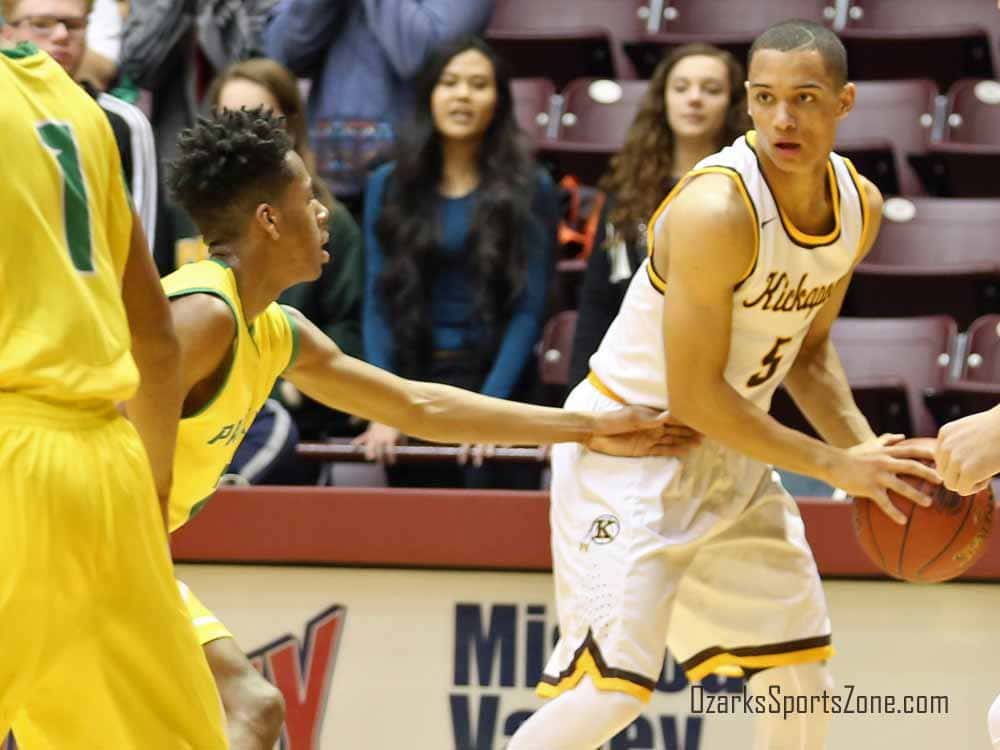 By Nolan Epstein/For OzarksSportsZone.com
After leading by just two points at halftime against a Parkview squad that suffered a 24-point defeat to the Chiefs earlier this season, top-seeded Kickapoo (22-4) found its rhythm – and its swagger – in the second half of play Monday night and ultimately pulled away to a 67-49 win over the No. 4 seed Vikings (18-8) at Hammons Student Center.
The victory not only gave head coach Dick Rippee's club its 12th straight win of the year, it also punched the Chiefs' ticket to the Class 5, District 11 title contest on Thursday night.
But for 16 minutes, thoughts of a looming championship game was the furthest thing from the minds of anyone on the Kickapoo roster as Parkview managed to hold the Chiefs to just 21 first-half points.
"I thought we were a little bit too quick with our shot selection," Rippee said about his team's offensive struggles in the first half. "Our shot selection wasn't perfect, but at the same time, we were taking shots that we could make."
The Vikings held future D-I talents Jared Ridder and Cameron Davis to a combined 11 points in the first two quarters, but thanks to a solid effort from Kickapoo's smothering defense, the Chiefs still found themselves on top going into the locker room and looked to some advice from their head coach to get the engine going.
"[Rippee] was telling us to mainly be more aggressive," senior Isaac Blakeslee said.
That's exactly what the Chiefs did – poking holes in the Parkview zone defense and outscoring the Vikings 46-30 the rest of the way.
Suddenly, the shots that weren't falling in the first half were finding the bottom of the net on a regular basis over the final 16 minutes.
"The guys played with a lot of confidence," Rippe said. "We got some run-outs and got a little separation there in the second half. That always helps everyone relax a little bit."
While Ridder and Davis settled in to score 19 and 11 points on the night, respectively, it was Blakeslee who led the second-half offensive charge by nailing a trio of 3-pointers in the third period and adding one more in the fourth.
All told, the 6-foot-2 sharpshooter hit five shots from downtown and collected 17 points.
"I thought all of our guys on the floor did a great job, but Isaac really was the catalyst," said Rippee. "Somebody had to spark us and I thought he did that."
Despite his early struggles, Blakeslee's positive mentality and undying persistence proved to be the biggest keys in finding the success he was searching for.
"We weren't really attacking in the first half, but I just stuck with it," Blakeslee said. "As a shooter, you've just got to keep shooting and I got some shots falling in the second half."
Kickapoo will play No. 3 seed Ozark in the district championship on Thursday at 8 p.m. Not knowing who his team would be facing at the time, Rippee noted that his squad will be in for quite the fight regardless of the opponent.
"At this time of the year, you play to practice another day and that's kind of where we're at," Rippee added. "We're excited about the opportunity to go practice tomorrow and we'll start preparing for Thursday night. No matter who we play, we know it's going to be a quality opponent."
Parkview – 12 7 12 18 – 49
Kickapoo – 12 9 21 25 – 67
Parkview – Dontae Taylor 16, Lencorya Grady 14, JT Brown 10, Brady Hill 6, Njenga Chatman 3
Kickapoo – Jared Ridder 19, Isaac Blakeslee 17, Travis Vokolek 11, Cameron Davis 11, Donyae McCaskill 9