By Matt Turer — mturer@ky3.com
@MattTurer
Cabool, Mo. — There was never question of where the buckets would come from for Mountain Grove, just of if they would end for Licking.
The Panthers and Wildcats combined for 50 first-quarter points, setting a blistering offensive pace that only Mountain Grove managed to keep up, clinching the Class 3 District 10 title with a 77-65 win behind four double-digit scorers.
Licking connected on 11 field goals in the first quarter and led 27-23 after eight minutes, matching Mountain Grove shot-for-shot, much like in the Jan. 10 matchup between the schools, an 83-82 Grove win.
"In the first quarter, nobody missed," Mountain Grove head coach Duane Hiler said. "That was a clinic on both ends."
CLICK HERE FOR LICKING VS. MOUNTAIN GROVE PHOTOS
The Panthers began taking control in the second quarter, limiting Licking to 10 points and scoring 15 of their own, heading into halftime up 38-37.
Mountain Grove stayed hot out of the break, pouring on 22 points in the third quarter to Licking's nine.
"We went into the locker room and coach told us to keep battling and get on the offensive boards and finish shots, and we did that real well in the second half," Mountain Grove junior Conner McNew said.
McNew finished with 17 points, second on the Panthers to the 19 put up by junior Cade Coffman and senior Trey Collins.
"They're hard to guard," Licking head coach Ben Glasgow said. "You can try a lot of different things and none of them might work. So you've got to be good on offense, and we were in the first half. Third quarter we just weren't."
Mountain Grove opened up a double-digit lead in the third and early fourth quarter. Licking managed to cut that lead to seven halfway through the final quarter but never managed to close the gap further.
"We stopped getting the ball to the basket," Glasgow said. "I don't know if they were clamping down a little more [defensively]. We just weren't getting it to that second level."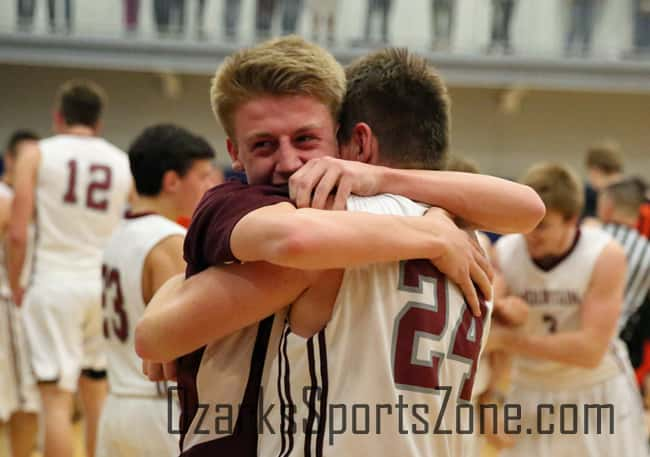 The district title means Mountain Grove is still perfect since the calendar changed to 2017.
"We've been more focused than we ever have before," Coffman said.
The gym in Cabool appeared to be borderline overcapacity, setting up a memorable and loud atmosphere for Saturday night's title game. Mountain Grove students and parents lingered on the floor to celebrate the title with the team afterwards.
"Mountain Grove is a great community," Hiler said. "When you have good kids like this that act right, do things right, play hard, you get nothing but support. We're happy to bring it to them and happy for those kids in the locker room."
For Licking, the loss means the end of an era. The Wildcats are set to graduate some of Class 3's top offensive threats, including Nathan Wilson, Brady Smith, Dillon Smith, Tristen Morelan and Terance Hale.
Brady Smith finished with a game-high 28 points, scoring 17 of those in the first half.
"Hats off to Licking," Hiler said. "They had a heck of a year and they've got some great kids. Wilson and Smith are two of the best offensive players you'll find in southwest Missouri. Being able to compete with them and keep them in check was a tall task for us, but I thought both teams played their tail off."
Licking was visibly emotional exiting the locker room after the loss, a feeling that Coffman lent perspective to.
"Just really hard to say goodbye to that team. Not just the players themselves which are going to be really hard to replace. Just the fact that that team will never be assembled again is really hard to swallow," he said.
"They're a lot of fun to watch play and people like watching them play. They're exciting. It's hard to envision that they'll never be suited up together in a Licking uniform again."
Mountain Grove is set to face Southern Boone (23-3) in the state sectionals on March 1.

FINAL: Mountain Grove 77, Licking 65
Licking 27 10 9 19- 65
Mountain Grove 23 15 22 17- 77
Licking- Brady Smith 28, Dillon Smith 12, Grahm Nicholson 11, Nathan Wilson 11, Clabe Sullins 3
Mountain Grove- Cade Coffman 19, Trey Collins 19, Connor McNew 17, Carter Otwell 13, Brock Coffman 5, Gavin Veach 4