By Matt Turer — mturer@ky3.com
@MattTurer
Galena, Mo. — Top-seed Marionville and 2-seed Crane are set to meet in the Class 2 District 11 championship game Friday night at 7:45 p.m. after winning a pair of tough semifinal battles over 5-seed Galena and 6-seed Billings Thursday night. (Recaps and photos of both games below).
Marionville Paced By Hot Start In Semifinal Win Over Galena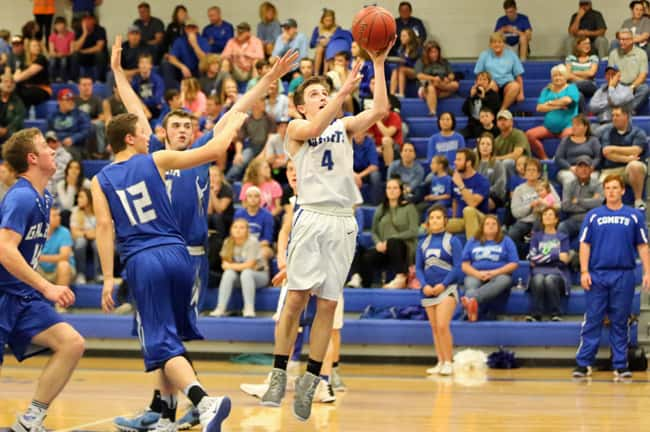 Marionville secured its chance to defend its district title after holding off a late push from tournament host Galena.
The Comets got a game-high 22 points from senior Cole Brown and hung on for a 57-51 win despite allowing a 14-point fourth-quarter lead to be cut to four with 37.2 seconds to play.
"Galena did a good job keeping us in front and keeping us contained in the fourth quarter," Marionville head coach Ted Young said. "We kind of got a little stagnant and didn't move the ball. We did too much one-on-one stuff. But in the end, this time of year, you're just hoping you can find a win somewhere."
CLICK HERE FOR GALENA VS. MARIONVILLE PHOTOS
The win was the third of the season for Marionville (23-3) over Galena (13-16) with the other two coming by two and 22 points.
"They don't make mistakes," Galena head coach Derek Wilson said of Marionville. "They just don't mess up. If they make a turnover, it's rare. They just play good team ball together and they're going to make you make a mistake."
Marionville got off to a fast start, building a double-digit first-quarter lead over Galena and entering halftime up 28-16.
Brown scored 11 of his 22 points in the first half while no one on Galena managed more than four points in the first two quarters.
"Coach Young does a great job instilling his philosophies and his mindset of uptempo defense," Wilson said.
Galena cut the deficit to seven with 2.5 minutes to play in the game and to four on a deep three-pointer by Austin Holt, who connected from deep twice in the second half. Marionville only connected on two fourth-quarter field goals but hit nine of 13 free throws to ice the game.
"The story in my mind is we controlled the ball really well in the fourth quarter. We got a couple easy baskets and forced them to take a couple tough shots that led to our favor. It's unfortunate that it just wasn't enough."
Levi Doyle was 6-7 from the free-throw line in the fourth quarter and finished with 10 points.
FINAL: Marionville 57, Galena 51
Galena 8 8 15 20- 51
Marionville 19 9 17 12- 57
Galena- Colby Sartin 14, Cameron Caulfield 10, Luke Burk 9, Blake Batson 8, Austin Holt 6, Dallas Besperat 2, Caleb Seaman 2
Marionville- Cole Brown 22, Josh Goodman 11, Levi Doyle 10, Brandon Horn 6, Aaron Head 5, Ryan Mayberry 3
Crane Battles By Billings In Contentious Semifinal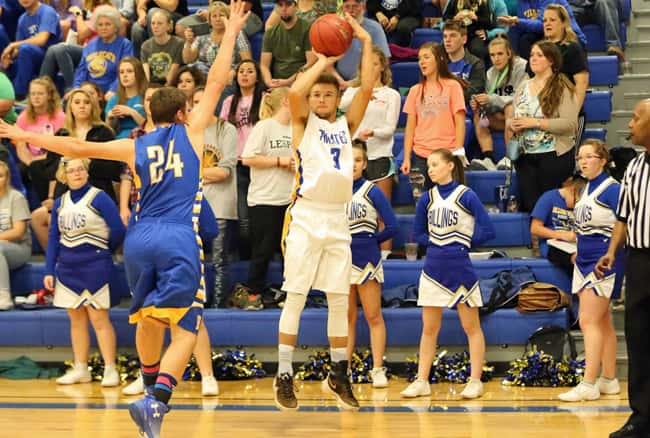 Crane is headed to its fifth consecutive district title game after an emotional and contentious semifinal matchup with Billings on Thursday.
After an 8-0 Billings run erased a 39-33 Crane advantage in the third quarter, both teams stayed within five points of the other over the final 9.5 minutes, with Crane doing just enough for a 55-52 win.
"It's a rivalry game," Crain head coach Craig Campbell said. "Not as big as it was a few years ago, but it's still a rivalry game. Billings we knew was going to be up. I just hoped we matched their intensity and I think we did tonight."
CLICK HERE FOR BILLINGS VS. CRANE PHOTOS
The two teams combined for 32 fouls plus a second-quarter technical on Crane's Dalton Hays for shoving Grant Groves.
"When Hays kid got T'd up and was out, everybody just kind of stepped up and played hard," Campbell said. "I try to be a calming influence on the bench. Sometimes it works, sometimes it doesn't, and I always kind of hope it pays off with the guys on the floor."
Crane (16-10) opened the fourth quarter on a 6-2 mini run to open a 50-45 lead, but Billings (11-15) responded with a 5-0 run, tying the game, 50-50, with 3.5 minutes to play.
Both sides had trouble finding the net in the final 3.5 minutes. Crane took the lead for good at 54-52 with 39.9 seconds left. Billings had two possessions with a chance to tie in the game's final 35 seconds but turned the ball over on each possession.
"I knew we'd be there late," Billings head coach Kendall Tilley said. "One or two possessions there at the end probably cost us. They weren't going to hold it the whole time and they gave us a couple other opportunities. That's the most frustrating. They gave us a couple opportunities and we didn't capitalize."
Billings senior Luke Johnson led all scorers with 23 points with 14 of those coming in the second half.
"We're not very deep but our guys played hard," Tilley said. "I think we could've kept going. We had our shots there at the end to tie it up a couple times and sometimes those just don't go in."
Three Crane starters finished in double figures led by Wyatt Vaught's 15 points.
"It's just one of those games that everybody had to step up and play," Campbell said.
Crane beat Billings by 20 points on Feb. 2.
FINAL: Crane 55, Billings 52
Billings 8 13 22 9- 52
Crane 12 12 20 11- 55
Billings- Luke Johnson 23, Grant Groves 10, Wyatt Wilson 7, Jacob Smith 6, Bobby Brown 4, Tyler Essick 2
Crane- Wyatt Vaught 15, Braydon Cook 11, Tyler Campbell 10, Colton Elder 8, Deven White 6, Brent Williams 3, Dalton Hayes 2