Here's a rundown of the local notable outcomes from Saturday's Class 2 state wrestling championships, which included a Monett duo winning gold and two Bolivar grapplers winning placement matches.
Semerad, Barrientos start Monett off with a bang
Monett had four finalists in Saturday's Class 2 state championship matches.
About 15 minutes in, the Cubs were already crowning a pair of state champions.
Monett freshman Joseph Semerad (106) and sophomore Joel Barrientos (113) struck gold in their respective matches. Monett also placed fourth in the Class 2 team standings.
PHOTOS: STATE WRESTLING CHAMPIONSHIP MATCHES
"It's thrilling, it's an honor," Semerad said. "To know all the hard work we've done and look back on it, it's an amazing feeling."
Semerad trailed 2-1 entering the third period, but tied the match on an early escape then went ahead 4-2 on a takedown with 33 seconds remaining.
Rather than play it safe and wait for the decision victory, Semerad got aggressive and pinned Odessa's Austin Coons.
"I never lost hope and I knew that even if I didn't get that first takedown, I was still going to fight back," Semerad said. "I just kept believing, kept fighting and good things happened."
Added Cubs coach Daryl Bradley, about Semerad's pin: "He got taken down in the beginning, but was relentless and kept scoring points. He was almost in a bad position, ended up scoring and was up 4-2, then got the pin.
"You just don't see that from freshmen very often. You see some kids trying to hang on. He had a pinning hold locked up, ran with it and got the fall. That's awesome."
Barrientos defeated Savannah's Jake Huffman, 7-2. Barrientos had a pair of reversals in the second period and a takedown early in the third.
"The first period, I didn't really start off the greatest," Barrientos said. "I knew I could ride him and get out. Second period, I just kept coming up to my feet and I ended up getting that (fleeing) point from him. Third period, I just continued that movement."
PHOTOS: STATE WRESTLING CELEBRATION AND PODIUM
Huffman was a 46-4 overall senior who placed third as a junior and second as a sophomore. He owned two previous wins over Barrientos, including a 2016 3rd place match that was decided in sudden victory.
"I knew since both of the previous matches were close, that I could finally beat him," Barrientos said. "I prepared all year. I knew what he likes to do, so I knew what to expect."
Monett's other two finalists fell short in their quests for gold.
Monett freshman Gunnar Bradley (132) lost 7-0 to Chillicothe senior Chase Minnick, who entered the match 49-3 overall.
Cubs senior Ian Meyer lost 10-4 to Benton senior Tage McNutt in the 195 finals. Meyer appeared to suffer a knee injury in the third period. The match was momentarily halted as Meyer received medical attention before electing to continue.
The match was tied 2-2 going into the third period, where McNutt scored on a reversal and a three-point nearfall.
"Ian had a great run for us and we're grateful for the four years he gave us," Bradley said. "(The injury) is just part of sports. It's unfortunate for him as a senior."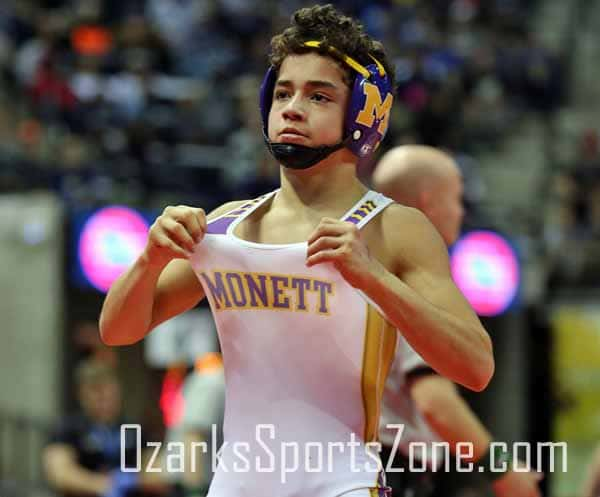 With Karter Brink also placing third at 120 earlier on Saturday, Monett was able to finish fourth in the Class 2 team standings with 117.5 points.
Oak Grove (142) won a state-record 17th team championship. Mexico (132) was second and Savannah third (128).
The fourth-place finish gives Monett its first all-state team trophy since 2009, when the Cubs placed second. Monett won a state championship in 2008.
"We've flirted with (all-state) recently. We've had some chances," Bradley said. "We've had a lot of success, don't get me wrong. We've been in the top 10 several of those years… sixth, fifth, and then ninth last year. This year, we're back. And I think we're going to stay for a while. We've got some good kids coming up."
Fully back from neck injury, Bolivar's Sharp places 3rd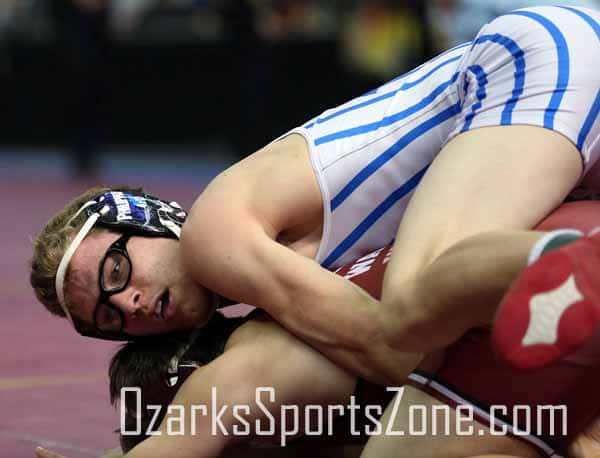 Bolivar junior Daryin Sharp knows a thing or two about overcoming long odds.
Suffer a devastating, life-altering neck injury? Recover in four days and qualify for the state wrestling tournament the next season.
Trail 10-1 late in the third period of your state 3rd place match? Flip the script and score a pinfall victory.
Sharp (40-10 overall) pulled off a stunning win against St. Charles West's Brandon Carbray (42-9 overall) in the Class 2 152-pound 3rd place bout. Trailing 10-0 entering the third period, Sharp got a takedown on Carbray then pinned him moments later with 23 seconds remaining in the match.
"He shot a double-leg, I had his head and just ripped him right to the mat," Sharp said. "I caught him, Saturday night-rided him, threw my legs in and stuck him."
PHOTOS: STATE WRESTLING 5TH PLACE AND 3RD PLACE MATCHES
From the brink of defeat to a glorious victory, just like that.
"It still hasn't hit me yet," Sharp said afterwards.
The outcome was a culmination of a year-long battle that threatened Sharp's way of life.
During a match early last season, Sharp suffered a serious neck injury while attempting a move on an opponent. The prognosis was not good.
"I was throwing a kid, there was a dip in the mat and I caught right on the dip. My opponent tried to roll with me and it caught my neck. Popped it that quick," Sharp said. "It tore all the muscles in my neck and it frayed my spinal cord."
Sharp was unable to walk for about four days.
"I cried a lot," Sharp said. "But God's real."
Sharp has "Philippians 4:13" on his headgear, the bible verse that states, "I can do all things through Christ who strengthens me."
He gave a prematch prayer before facing Carbray.
"Not getting to wrestle here last year, being hurt at the beginning of the season, they told me I'd never walk again," Sharp said. "I'm walking and I'm wrestling again. God's real."
Three-time state qualifier Moffett takes 5th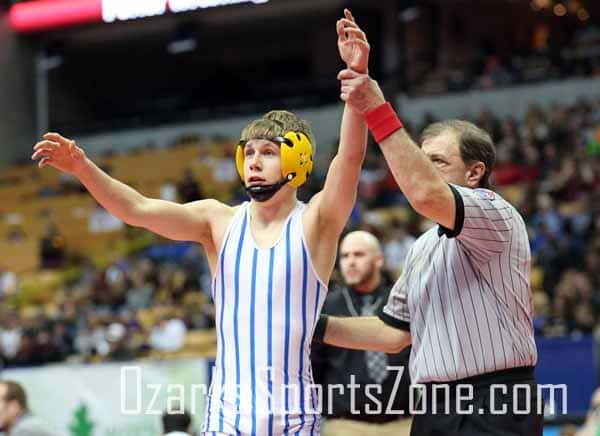 The Liberators had another junior win a placement match on Saturday.
Luke Moffett, who finished sixth last year and was a state qualifier as a freshman, won an 11-5 decision over St. James' Ty Lewis (22-13 overall) in the Class 2 120-pound 5th place match.
Tied 5-5, Moffet took control of the match in the final minute with a reversal and a pair of two-point nearfalls.
"I definitely wanted to finish out today strong, go out there and wrestle the best I can," Moffett said.
Moffett lost 13-5 to Rogersville freshman Jay Strausbaugh in Friday's semifinals. Moffett led the match 2-0 after the first period but Strausbaugh dominated the third period with a 10-3 edge in points.
"In my semifinals (with Strausbaugh), I really thought I had control," Moffett said. "I got a takedown and rode him out pretty easy. It just didn't go my way after that. I got wore out. He has really good conditioning."
Illness hindered Moffett's endurance leading up to state tournament this weekend. He fell ill immediately after districts last weekend and said he's currently about seven pounds below his ideal weight.
Moffett plans to dedicate his offseason to wrestling in as many tournaments as possible. He'll likely move up a weight class or two as a senior next season.
"It really depends where I'm at, how much I grow," Moffett said. "I don't really like to cut weight or dodge people. With Connor Brown in my bracket, I don't think I dodged anyone this year."
Moffett lost a 6-4 decision to Monett freshman Karter Brink earlier in the day in the consolation semifinals.
Goade medals for Cassville in program's first season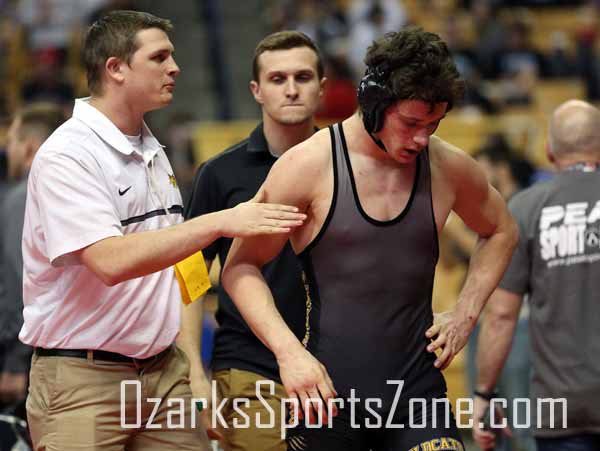 Wyatt Goade wanted to do a little more for the Cassville wrestling program on Saturday.
Despite two disappointing losses, the junior had already done plenty to help put Cassville Wrestling on the map.
Goade, who had already clinched the distinction of becoming Cassville's first state medalist by reaching the semifinals on Friday, dropped a pair of placement matches Saturday on the consolation side of the 170-pound bracket.
He was pinned by Eldon's Dawson Brandt late in a 5th place match. Goade's weekend still ended with all-state honors and a spot on the podium as he finished sixth in Class 2.
"I wish I could've placed higher, but it is what it is," Goade said. "(Brandt) was tough."
Goade and Logan Carlin (160) were Cassville's only – and first – state qualifiers this season. The 2016-17 season marked the first one as a program for the Wildcats.
Goade said he was honored to represent Cassville.
"A lot of people came here to watch me," Goade said. "Everyone in Cassville is rooting for me, texting me. My phone's been blowing up non-stop this week."
The Wildcats aim to have more state qualifiers next year, with Goade and Carlin back for their senior and junior seasons, respectively.
"Making state this year is going to help (the program) a lot," Goade said. "More people are going to come out next year. There's already a lot of talent and there's going to be even more."
Oak Grove star beats Rogersville freshman in 120 finals
Oak Grove's Connor Brown claimed a fourth state championship at the expense of Rogersville freshman Jay Strausbaugh.
Brown, a South Dakota State signee, defeated Strausbaugh by major decision (13-2) in the 120-pound title match.
Strausbaugh finishes his season 43-7 overall. Oak Grove went on to capture a MSHSAA record 17th overall team state championship.