By Riley Bean
Columbia, MO – It was tough sledding for area wrestlers in Class 4 this weekend at the MSHSAA state tournament, but five grapplers managed to place and earn medals on Saturday.
Waynesville and Nixa each had a pair of medalists, while Lebanon had a freshman finish fifth.
CLICK HERE FOR THIRD AND FIFTH PLACE MATCH PHOTOS
CLICK HERE FOR CHAMPIONSHIP BOUT PHOTOS
CLICK HERE FOR PODIUM AND CELEBRATION PHOTOS
Lebanon had four qualifiers in the tournament, but freshman Trevor Christian was the only Yellowjacket to place.  Christian took a decision victory over Sam Rackers from Jeff City 8-4 to earn fifth place at 132 pounds.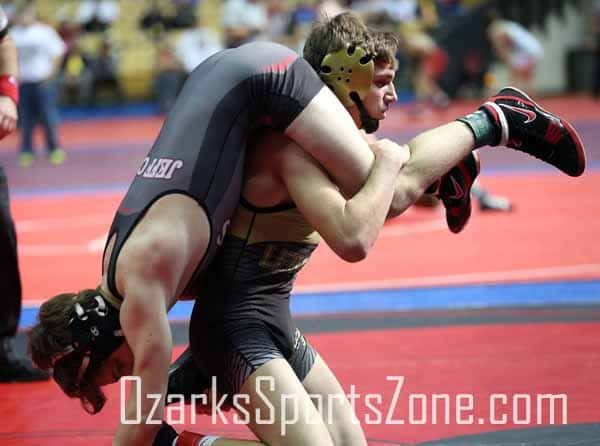 "I wrestled really well, had fun and got a medal," he said.  "As a freshman, that's pretty good… I got a state medal this year, so now I need to get a title.  I've got three more years to do it."
Waynesville's Sean Sax will leave town with a bronze medal in the 126-pound division.  Sax won with a 10-3 decision in his third-place match over Andrew Godier from Francis Howell Central.
In the quarterfinals, Sax was leading Cameron Valdiviez from Rockhurst heading into the third period, but Valdiviez managed a takedown and secured a 6-5 victory, bumping Sax to the wrestlebacks where Sax took advantage and won his next four matches.
"I feel pretty confident," said Sax.  "I got beat by someone who is going to a D1 college.  He's nationally ranked, and I only lost by one point.  I was beating him until then.  But I came back and got the best I could."
Sax has improved upon his finishes at state throughout his career, and he is motivated to reach the state championship bout in his senior year next season.
"My goal since I've been a freshman after I took sixth is I have to place four times.  I've been steadily improving every year.  I took sixth, fourth and now I took third.  Next up the line is second or first."
Teammate Peter Lucitt placed fourth at 145 pounds.  He fell to David Marlow from Parkway South by fall in his third-place match.  Lucitt finished his senior campaign with a 26-3 record after battling a shoulder injury this season.
"[Lucitt] kind of kept the pedal down pretty much all season long," said Waynesville head coach Lucas Smith.  "He got to state last year and this year he finished it off with a fourth-place finish.
"He started wrestling when he was in eighth grade.  So he's a fifth-year wrestler now, and to come from starting out in seventh and eighth grade in our middle school program, capping it off with an all-state at the end is pretty tremendous."
The Nixa Eagles also had two medalists on Saturday.  Donovan Benetti finished in sixth place at 195 pounds, but unfortunately had to take a medical forfeit in his final match.  Oswaldo Garcia earned a bronze medal at 220 pounds.
Garcia lost his opening bout in a 7-5 sudden victory for his opponent Nick Wily from Fort Osage, but Garcia made a valiant effort and won his next five matches to finish in third place.  He earned a 3-1 decision victory over Cortez Woods from Lafayette Wildwood in his third-place match.
"It's all about mindset," said Garcia.  "You gotta get over the first match.  One match at a time.  I looked too far ahead with my first match.  I didn't really focus on it, but then once you face elimination in every match, you just focus on it and you just gotta keep going."
Garcia, a junior, set a new goal for himself heading into his senior season.
"I was hoping to go to the semis this year and try to get a chance at the finals.  It didn't happen, but next year I'll come back stronger and harder."