By Denise Tucker
The Walnut Grove girls and boys clinched Polk County League titles Tuesday night with wins over Fair Play. Recaps and photos from both games are below.
Walnut Grove Girls Upend Fair Play For PCL Title
Fair Play, Mo. — The Walnut Grove Lady Tigers were not going to let Fair Play put a scare in them this year.
After nearly getting knocked out of districts by Fair Play last year, the Lady Tigers jumped out early Tuesday night on their way to a 62-36 Polk County League victory.
CLICK HERE FOR WALNUT GROVE VS. FAIR PLAY GIRLS PHOTOS
They not only matched their boys' team by running through the league with a perfect 7-0 record, they also won their seventh-straight conference title.
"It's really important to these kids," Walnut Grove coach Rory Henry said. "We've built a tradition here and a program that we're proud of, and it was important to know this was going to be a tough game and for a conference championship, so we were really excited about it and proud of what we accomplished."
But last year's district scare was not lost on the Lady Tigers.
"It kind of gave us a bad taste in our mouth, and we wanted to come back and prove what we could do when we're playing like we should be," said senior Raylie Hejna, who led all scorers with 25 points and pulled down seven rebounds.
Walnut Grove jumped out to a 20-5 first-quarter and 37-11 halftime lead – all without hitting a 3-pointer, which is a staple for the team. But Hejna and junior Bayley Harman – who had nine assists, seven of those to Hejna – had the high-low going working to perfection.
"That's something we work on a lot," Hejna said. "We work on the high-low and look for the lobs – I really like lobs. It's fun for me and Bayley. We have that eye connection, so we know what we're doing when we're doing it."
And that combination cured an off-shooting night for Harman, and others, pretty well.
"Raylie came to play tonight," Henry said. "It seemed like she had a different energy about her, a different presence about her tonight. Bayley didn't shoot it as well as she usually does, so we looked to go inside more and I was proud of the way we handled it."
And with districts (Class 1 District 5) starting on Saturday, Henry said his team "wants to get right for the playoffs."
"When we have an inside-out presence like that, I think we were relying on our inside game, we know we have to shoot well to beat good teams," Henry said. "I know it will be there (when districts come).
"When you play defensively, the way we want to, I tell them that we can have an off-shooting night and still have a really good game."
But there's one last task before district play – and that is Fordland on Thursday night.
"We're not looking past Fordland because we want that to be a big win, a statement win," Hejna said. "But our thoughts are to get past Everton and see where it goes from there."
WALNUT GROVE GIRLS 62, FAIR PLAY 36
Polk County League game
WALNUT GROVE – 20-17-12-13—62
FAIR PLAY – 5-6-14-11—36
WALNUT GROVE (21-4, 7-0) – Raylie Hejna 25, Bayley Harman 20, Grace McPhail 8, Kylee Verbeck 4, Grace Miller 3, Myranda McVay 2
FAIR PLAY (12-10, 3-3) – Maysee Harman 10, Paige Harman 9, Dahlia Simpson 6, Christina Bayer 6, Carla Bayer 2, Martha Khadyrke 2, Pantera Mettler 1
Walnut Grove Boys Win Fourth Straight PCL Title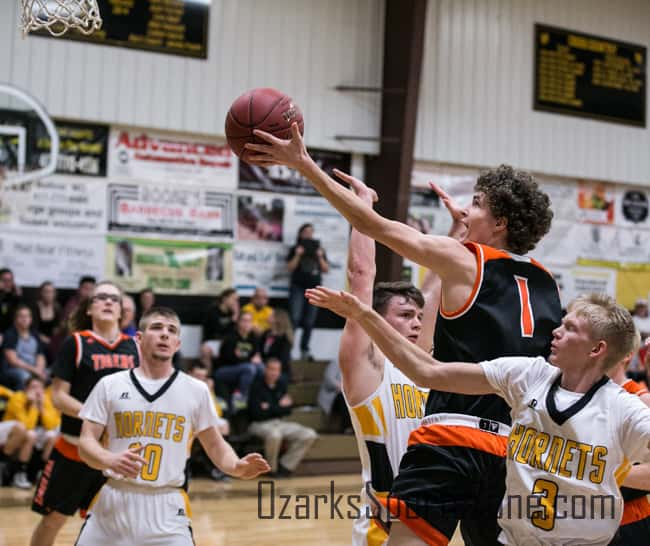 Fair Play, Mo. — The seniors on the Walnut Grove boys' basketball team not only helped make it a clean sweep on their way to this year's Polk County League title, they also made it a clean sweep for their career.
Behind the 30 points of junior Logan Thomazin, the Tigers raced past the Fair Play Hornets for an 80-64 victory Tuesday night and their fourth straight undefeated conference championship.
CLICK HERE FOR WALNUT GROVE VS. FAIR PLAY BOYS PHOTOS
"We had a tough week last week with Hartville and El Dorado Springs back-to-back," Walnut Grove coach Darin Meinders said. "This was a big game. These seniors have gone through their whole high school career without losing a conference game.
"They laid the foundation of what successful Walnut Grove boys' basketball is and to reach that, knowing you can run the table and do it four years in a row."
The Tigers were up one (14-13) after the first quarter, but a 3-pointer by Fair Play's Devon Rovenstine gave the Hornets a 16-14 lead – but it was short-lived. Dawson Meinders answered with a 3-pointer to put the Tigers up 17-16 and they never looked back.
"We started slow and didn't hit shots," Darin Meinders said. "And for us to get into our press, we have to hit shots. At halftime, we were up 10 (38-28), but I didn't feel we were playing with the intensity we need. In the third quarter, we got after it and created the tempo and the pace that we wanted."
Sophomore Ryan Keith, who picked up two quick fouls in the first quarter and had to sit the rest of the first half, busted out in the third quarter hitting three 3-pointers and helping Walnut Grove extend its lead to 59-43.
"Ryan's a great shooter and when he gets on a roll, he can score in bunches. It was nice to see him knock three in a row down."
But Fair Play fought back in the fourth quarter and got Walnut Grove's lead down to 14, after having trailed by as many as 24.
"We just weren't able to pressure them enough and take away their 3s," Fair Play coach Lynn Long said. "We have to be able to limit them to one shot out on the floor. And, I think, what they do so well is get offensive rebounds on misses, and we didn't block out very well.
"We've got to be able to cover them quicker. But the big deal is we can't give them second and third shots."
Camden Welch led the Hornets with 28 points, and Devon Rovenstine added 13.
"Those two guys, I thought, really fought and played well," Long said. "Camden hit some shots, but we needed a little more offense from a couple of other people, too."
And with a fourth straight PCL title under their belts, the Tigers get ready for Class 1 District 5 action against Exeter on Saturday.
"I like where we're at right now," Darin Meinders said. "We're getting everybody back, getting them healthy. You can't overlook anybody. We know Greenfield is a very good ball club, and if we're fortunate enough, we know we'll have to be ready to play. We are back-to-back district champs and our kids expect to win every time out."
WALNUT GROVE BOYS 80, FAIR PLAY 64
Polk County League game
WALNUT GROVE – 14-24-21-21—80
FAIR PLAY – 13-15-15-21—64
WALNUT GROVE (22-3, 7-0) – Logan Thomazin 30, Ryan Keith 13, Hunter Gilkey 13, Dawson Meinders 10, Jaron Dishman 6, Kyle Keith 5, Cole Melton 3.
FAIR PLAY (17-8, 4-3) – Camden Welch 28, Devon Rovenstine 13, Justin Smith 7, Kohner Thomas 4, Justin Viles 4, Ryan Rutledge 3, Logan Underwood 3, Kendal Wright 2.
Fair Play B 68, Walnut Grove B 33