SPRINGFIELD — Tyem Freeman will speak up when he wants to.
It may not be in an interview or a casual converstaion, but you'll hear him on the court. You'll hear what he does to the crowd and the roar he lets out when he's done something you'll watch later that night.
Like Chris Kendrix at Willard and Jalen Norman at Nixa, comparisons made by Hillcrest head coach Joel Brown, Freeman is electric and plain scary in the open court.
The 6-foot-4 sophomore has found his name getting around the Southwest Missouri basketball seen as he's already grown into one of the most physically gifted players in Springfield.
"It's just unbelievable how my name has gotten out there," he said.
You can routinely check Twitter to see him getting the rub from his Ozarks counterparts.
Hillcrest Sophomore @TyemFreeman #viral????????????@OzarksOzone pic.twitter.com/glMlV36XtA

— Team_Lews (@Garrett183277) February 8, 2017
@TyemFreeman pic.twitter.com/ulgu4X7BKM

— chlodog (@ChloeRear) February 2, 2017
"Some of these people I haven't really met before. They know me and it's kind of unbelievable that they do and try to dunk like me."
After a video was release of his vicious dunk over a Branson opponent, Bolivar senior Brandon Emmert tweeted: "Wow. This kid is special."
Freeman is far from the first Internet darling to come through Hillcrest. Trey Starks and Dorial Green-Beckham made national waves with their high-flying. 
Heck, even Brady Petry competed in the inaugural dunk contest in the Bass Pro Tournament of Champions (Freeman took part in January).
Now, highlight jams and general displays of acrobatic air time have become a nightly display for Freeman, who is leading Hillcrest with 19 points per game to go with 7.6 rebounds and 4.2 assists. The Hornets have already surpassed last year's win total with a 16-6 clip so far.
Freeman credits the collective experience that the young core got last season. It was a rebuild year following the Hornets' run to the Class 4 State Championship Game in 2015. Then-first-year coach Joel Brown elected to not give Freeman a varsity jersey until after the new year.
"He was talented enough to start from the beginining of the year," Brown said. "When you're a little more talented than others, it can come easy. By nature, you may not have the best work ethic. I've learned that if you don't deal with that from the start, I'd be dealing with it until his senior year."
That would be a leap away from the mindset Brown had when he first saw Freeman at practice.
"I didn't know a lot (about him). When he first came in, he looked like a long, lanky freshman in high school. I glance him up and down and thought he'd be alright. I didn't know if he'd be that special."
He averaged 6.4 PPG, 2.3 SPG and 2 APG as a freshman. He wasn't the constistent rocket that steps on the floor today, but the hints were there.
"We played a couple games and he was really tentative," Brown said. "All of a sudden, he got the ball and ran out on a fast break, went up midway through the lane and hammered a dunk. Timeout shortly after that and I said: 'Tyem, welcome to the game, glad you got to show up. That was kind of nice."
He continued to progress during the offseason with the MOKAN Elite 15u team, and the results are showing this year. Freeman impacts games more consistently this season, disrupting passing lanes and battling on the boards. 
He contributed to the highest-scoring game in Springfield Public School history on Jan. 24, dropping a career-high 37 points in an overtime loss at Glendale.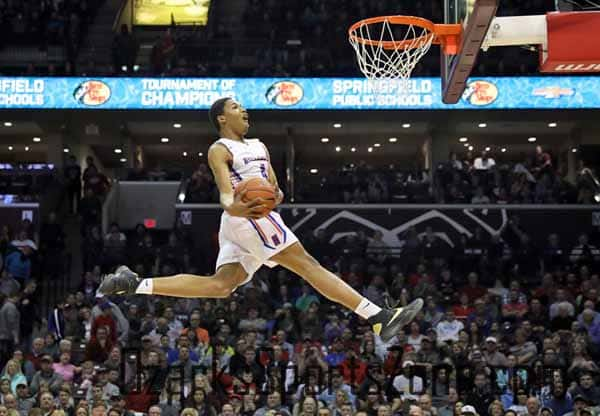 "Playing top prospects in the nation, it gives you that feeling that you want to be better than those players," said Freeman.
It's a fine line for Brown to nurture talent and avoid distraction. He reiterated that he wa sa big fan of the sophomore and probably needs to compliment Freeman more on the things he does well, rather than focusing on miscues.
"Once he caught on to the fact that he couldn't just rely on natural gifts, that he had to work to make this better, that showed a lot of growth for him," Brown said. "He's working on becoming an every day pratice and game player."
Freeman hears the alliteration: "sophomore sensation". It's an exciting concept, as is already drawing interest from schools like Nebraska, Wake Forest, and Creighton. 
There is plenty of winning to do between now and then, and Freeman has more immediate designs of getting Hillcrest back to Columbia. 
"This year, our chemistry is better, how we play as a team is better," he said. "It's everything you can as for as a team."