By Riley Bean
Springfield, MO – Two evenly matched teams squared off in Glendale's gym on Thursday night.  The Ozark Tigers came in to town riding a six-game winning streak, but it was Glendale who came out on top late down the stretch 77-73.
There were nine lead changes over the course of the game.  In the fourth quarter, Ozark's Carter Burgess hit two free throws to give his team the lead 67-65.  That turned out to be the last lead of the game for Ozark.  The Falcons then scored seven straight points and outscored Ozark 12-6 to close it out and secure the win.
The combination of Glendale's Jordan Walton and Monty Johal proved to be too much for Ozark.  Walton's 28 and Johal's 26 led all scorers in the game, scoring 13 of the team's final 16 points and accounting for over 70 percent of Glendale's total scoring on the night.
"When they're in attack mode, they're really good," Glendale coach Brian McTague said of his two junior guards.  "It took a while tonight for them to get going, but once they got going and kind of got that mindset of, 'I gotta go score,' then they were able to get to the basket a few times and that got them going a little bit on their jump shots.  Once they do that and start getting to the free throw line, it just opens everything else up for them."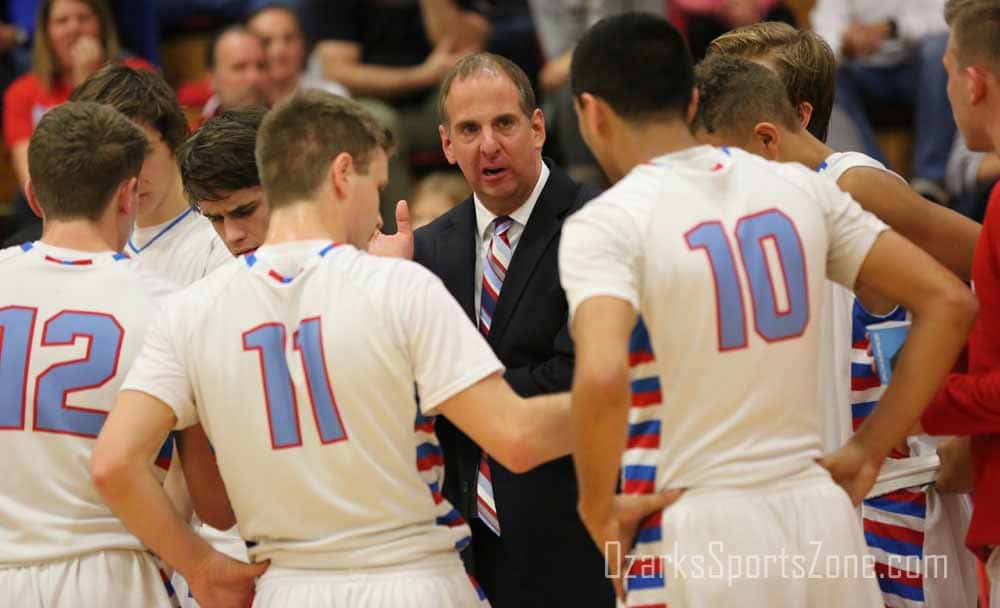 "First of all, I just want to say shout out to my teammates," Walton said.  "They played big tonight.  Most of those shots I was able to get were because they were helping off, so I was able to get in the lane easily.  They create shots for me.  It was great, I can't thank them enough."
It was Walton who drained the final two free throws with just 4.5 seconds on the clock to put his team up four points and out of harm's way.  Glendale sunk 7-9 free throws in the fourth quarter and came up with timely defensive stops in the final frame.
"I think we learned that we're good when we rebound and we're good when we run," Walton added.  "We didn't do that at times, and there were some times that we did that.  We just need to try and put a full game together and be able to do it."
Ozark got 24 points from Payton Nichols – almost all of them coming in the pain – and took advantage of their stature in the front court to stay competitive down to the final gun.  Carter Burgess scored 15, Quinn Nelson scored 14 (four 3's) and Parker Hanks added 13.
"Really, I think we came up short in a highly competitive close ballgame between two teams that were going at it," said Ozark coach Mark Schweitzer.  "We made mistakes, but so did they.  They had some turnovers too.  I thought that they got to a few more loose balls than we did in the second half, so we can learn from that."
Ozark drops to 10-4 after the loss Thursday, but still have a Blue & Gold Tournament title under their belt this season.  They welcomed back point guard Curt Gracey for the first time this season as well.  Gracey is returning from a broken right leg suffered during the football season.
"I think everyone here saw that he contributed, and he's just going to get better each day," Schweitzer said.  "This group is very, very tough, resilient, and they've gone through a lot of adversity that has made us better as we go.  I still think our best basketball is in front of us and yet to be played."
As for Glendale, they improve to 12-5 and will host Branson on Friday.  After Johal's 26-point performance against Ozark, he now needs just 78 points to become the career point leader in school history.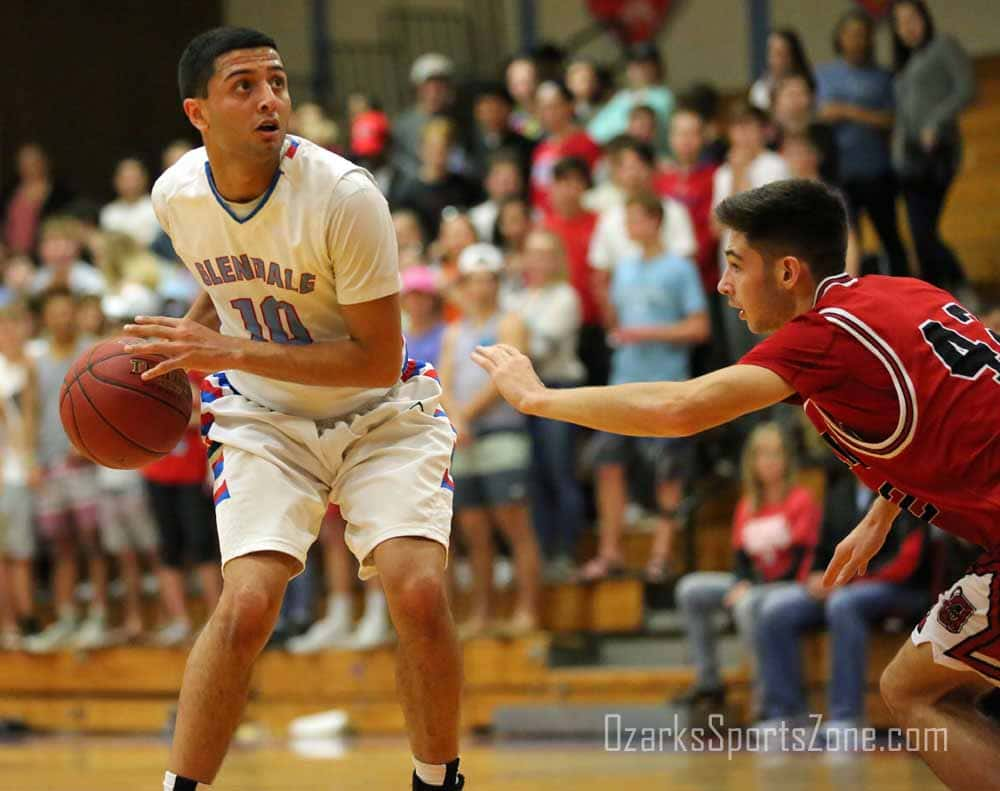 "[The team] will be happy for him," said McTague.  "They're a part of this too, getting him the basketball in spots where he can score from.  On his current pace, it'll be soon.  Again, that's his job.  Everybody on the team has a job to do.  Josh Call, his job is to rebound and get steals, and he had seven boards and seven steals tonight.  Every kid on the team plays their role and does their job, and Monty's job is to go score and he does a good job of it."
Glendale – 22 – 11 – 28 – 16 — 77
Ozark – 22 – 8 – 28 – 15 — 73
Glendale – Jordan Walton 28, Monty Johal 26, Garrett Freeman 10, Jaxon Davis 9, Josh Call 2, Dylan Metivier 2
Ozark – Payton Nichols 24, Carter Burgess 15, Quinn Nelson 14, Parker Hanks 13, Curt Gracey 3, Noah Suiter 2, Garrett Reinke 2