By Jordan Burton
What a difference one year can make…
Sierra Canyon junior F Marvin Bagley III's first experience in the annual Bass Pro Tournament of Champions wasn't as fulfilling as it could have been.
It wasn't that the nation's consensus No. 1 prep basketball prospect didn't enjoy his time in Springfield, Missouri – being a part of America's top high school basketball tournament – it was the fact that Bagley wasn't eligible to play. Forced to watch as his Trailblazers lost to No. 2 Oak Hill Academy in the championship game of the tournament on a buzzer-beater.
Five hours prior to Oak Hill G Tyshon Alexander's game-winning 3, Bagley spent an additional half hour getting up shots in Hammons Student Center during Sierra Canyon's shootaround. Extra work in empty gyms became a staple of Bagley's sophomore season, helping him find comfort after being forced to sit out the entire 2015-16 year following his transfer from Hillcrest Academy in Phoenix
"It was definitely one of the toughest things I've been through in my life," said Bagley. "I've been playing basketball as long as I can remember so not being able to do the thing that I love was tough for me. I had to find other things to do to keep my mind off of it all. I'm happy we got through that. It's behind us and we've moved on from it and we're focused on this year."
Sierra Canyon coach Ty Nichols agreed.
"We had to really manage that process and it was difficult," said Nichols. "Let's be honest, it was not an easy time for him. But Marvin handled it all like a pro. We came into this year with some motivation."
Part of that motivation was getting back to the championship game of the Bass Pro Tournament of Champions, a goal No. 10 Sierra Canyon accomplished with an impressive 76-47 win over No. 4 Findlay Prep behind Bagley's 28 points and 14 rebounds.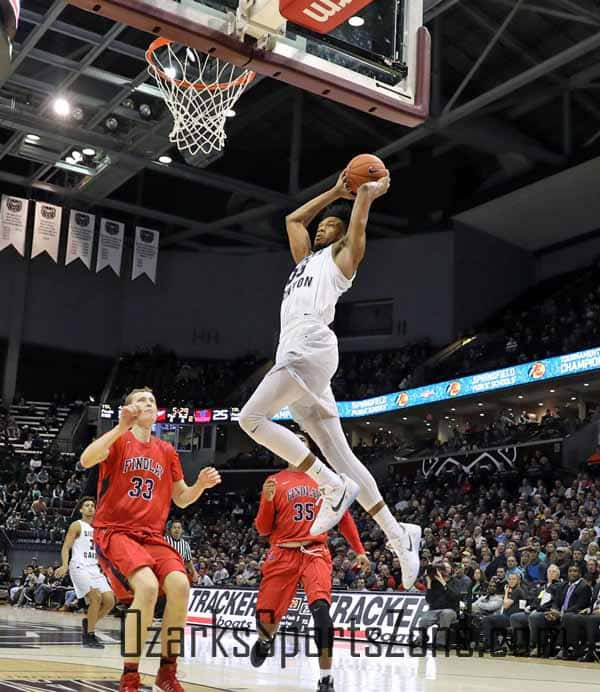 Bagley has helped guide Sierra Canyon to a 14-1 record and No. 10 ranking in the USA Today Super 25. The Trailblazers lone loss came in the Les Schwab Invitational championship against nationally-ranked Nathan Hale (Wash.), 64-62, a team that is led by the No. 1 prospect in the 2017 class in 6'10 wing Michael Porter.
Bagley is averaging 20 and 10 through his first two games at this year's T of C as he continues his redemption tour after having basketball taken away from him last year, with the absence giving him an even greater appreciation for the game.
"Being between these lines is my happy place," said Bagley. "I can just go out here and not worry about anything else besides trying to win the game and be a good teammate. When I'm on the floor between these four lines I'm at peace. I love playing the game, I can't stress that enough; that's what I was born to do.
"God put me here to play basketball and I feel like I have to thank him every day. Most kids don't get to play in tournaments like this and in front of crowds like this so I'm just thankful for the gifts and I know I have to work hard to give it back to him."
Up next for Bagley and Sierra Canyon is No. 3 Memphis East. The Mustangs beat No. 2 Montverde Academy for the second time in a week on a game-winning bucket, this one a walk-off 3 by Alex Lomax. East beat Montverde last week on a dunk by standout sophomore Chandler Lawson just before time expired.
"We're excited," said Bagley. "The championship last year was awesome because of how many fans were here. We play to win championships and every game is getting us ready for that. Our main goal is to win the championship. We came up short last year but our goal is to win and try to be one of the best teams in the country."
Memphis East – coached by former NBA star Penny Hardaway – jumped from unranked to No. 3 in the latest USA Today Super 25 following wins over nationally ranked Montverde and The Patrick School.
That game also guarantees that Sierra Canyon will play three top-4 teams in a four day span, with No. 1 La Lumiere awaiting the Blazers in Springfield, Mass. at Hoop Hall.
Yet another opportunity for Sierra Canyon to take a step towards its ultimate goal of a national championship.
"I'm very confident in our kids," said Nichols. "We're going to compete. We might lose, but we are going to compete and you better be ready to compete against us. If you beat us you're a really good basketball team and we'll tip our hats and move on. You can't get caught up in all of that. You just take it one game at a time, compete against some of the best in the country, and see where it falls."
Sierra Canyon and Memphis East will face off at 9 p.m. on Saturday night for the Bass Pro Tournament of Champions title.